Ted Lasso is a 2020 Apple Tv+ comedy series starring Jason Sudeikis in the lead role along with Brendan Hunt and Nick Mohammed.
Ted Lasso Season 1 Plot
Ted Lasso follows an American coach, an American football coach to be precise who is hired to manage a premier league football/soccer team AFC Richmond in UK.
Ted Lasso Season 1 Cast
Jason Sudeikis as Ted Lasso, an American football coach 
Hannah Waddingham as Rebecca Welton, the new owner of AFC Richmond
Jeremy Swift as Leslie Higgins, the Director of Football Operations for AFC Richmond
Phil Dunster as Jamie Tartt, a young up-and-coming striker, who play for Richmond
Brett Goldstein as Roy Kent, an aging, midfielder
Brendan Hunt as Coach Beard, Lasso's long-time assistant and friend
Nick Mohammed as Nathan Shelley, the team's former kit man-turned assistant coach
Juno Temple as Keeley Jones, a model who works for AFC Richmond
Ted Lasso Season 1 Review
Ted Lasso is a comedy television series which follows Ted Lasso (Jason Sudeikis) as an American coach from Kansas City who gets hired to manage AFC Richmond after he led the Wichita State Shockers to a Division II National Collegiate Athletic Association championship. The main establishing plot for the show is that Ted Lasso doesn't even know an iota about football/soccer. The show eventually explores the characters along with their backstories and developments throughout the 1st season.
Rebecca Welton played by Hannah Waddingham has just become the new owner of AFC Richmond in the divorce settlement from her husband and after a messy divorce she had set her mind to bury the team to the ground that her ex-husband loves and is dear to his heart.
So comes Ted Lasso into the picture as he is given the job to lead the team to the top of the premier league table but with the hidden agenda of ruining the team and he is unaware of.
With a young overconfident and egotistical striker Jamie Tartt who isn't really a team player, a washed up midfielder Roy Kent, who is the captain and is mainly know for winning the Champions league in 2012 with Chelsea, a friends and assistant  Coach Beard who came along with him from USA.
A team kit-man Nathan Shelley who knows about the game of football and tries to educate Ted, a newly team owner Rebecca who doesn't really want Ted to succeed and Ted who is unknown about the game but is optimistic with his approach towards life at all times and believes that he can take the team to glory as he is given the helm for the ride along.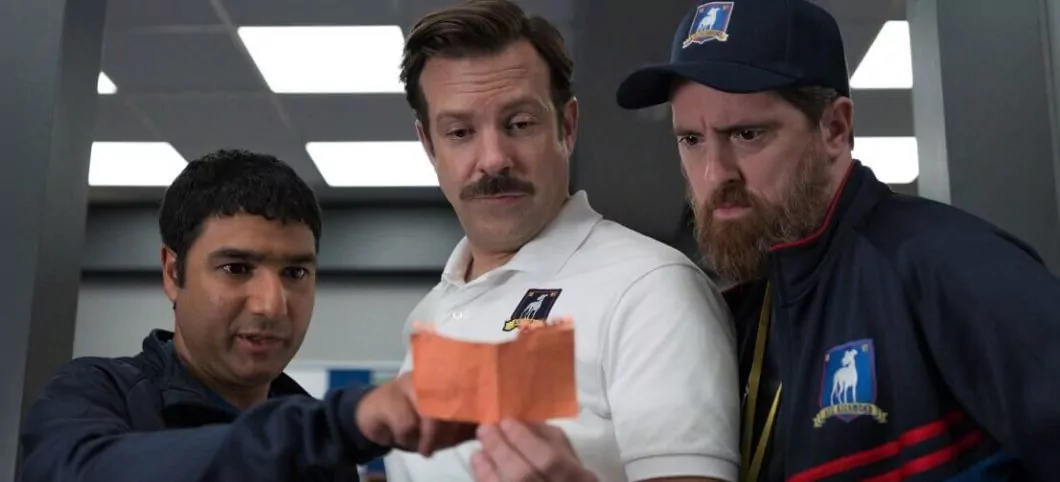 Ted Lasso: Origin of the Idea
The Idea behind the show originated from a sketch that Jason Sudeikis performed for NBC in 2013. NBC sports was promoting their coverage of Premier League in USA and Jason Sudeikis played the character as the new head coach for Tottenham Hotspur FC in a series of advertisements.
A television show was put into works in 2017 based around the character Ted Lasso.
Ted Lasso Season 1: Sorrow in the Optimism
Ted Lasso is character full of optimism, who sees the world in an enthusiastic manner but he has his obstacles. It is known later that Ted accepted the job away from his family as his wife wanted some "space". The exploration of Ted Lasso's vulnerability, the emotions that we see in his eyes, the sadness that he has because of his failed marriage gives the viewers a sense of realism.
He encourages his team and peers to believe that everything will be fine but he is uncertain about his own future. Ted's acknowledgement of the truth that he cannot save his marriage even though he loves his wife gives his character the depth and authenticity that the audience relate to.
She cares for him and he cares for her too, they both tried to ignite the spark that they once had but her tears express the sorrow in her disbelief that she cannot do it anymore and Ted has to accept it. 
Ted Lasso Season 1: Graceful in its Quirkiness
Ted Lasso is a show which makes you feel comfortable, a show which feels like one of those that lets you have a good time, that you put on just for a good laugh, to light up the mood and make everyone chuckle.
Ted Lasso is definitely a show like such but still explores more than what it manifests itself to be. A show that delves into Ted's relationships with his peers and the connections that he builds through his sheer charisma and optimism.
Ted Lasso Season 1 Critical Reception
On Rotten Tomatoes, the season has a rating of 91% based on 65 reviews, with an average rating of 7.94/10. The critics consensus reads, "Warm and winsome, if not particularly hilarious, Ted Lasso fleshes out its promo premise with unrelenting optimism and a charming turn from Jason Sudeikis." It has a score of 71 out of 100 based on 21 reviews on Metacritic, with generally favorable reviews.
The Movie Culture Synopsis
The show is light hearted and cheerful show that explores the life of Ted Lasso. The plot suggests as it being only about him coaching and managing a team in a sport that he knows nothing about but it also analyses his personal life and how he goes through it all with an optimistic mindset. The show is so fun to watch, Jason Sudeikis embodies Ted with the southern accents and makes it seem like he really enjoys playing the character which I am sure he definitely does.
Season 1 of Ted Lasso consisting of 10 episode is available to watch on Apple tv+ and the 2nd season premiers on July 23 on Apple tv+.