Ted Lasso is a AppleTv+ comedy series starring Jason Sudeikis in the lead role along with Brendon Hunt and Nick Mohammed.
Ted Lasso Season 2 Cast
Jason Sudeikis as Ted Lasso
Hannah Waddingham as Rebecca Welton
Jeremy Swift as Leslie Higgins
Brendan Hunt as Coach Beard
Nick Mohammed as Nathan Shelley
Brett Goldstein as Roy Kent
Phil Dunster as Jamie Tartt
Juno Temple as Keeley Jones
Sarah Niles as Sharon
Ted Lasso Season 2 Plot
Season 2 continues after AFC Richmond had been relegated and Ted Lasso tries to get them back in the Premier League. Ted Lasso is living in UK managing AFC Richmond after his divorce and builds better relationships with others as he tries to come in terms with his sadness that has been in him which he tries to hides.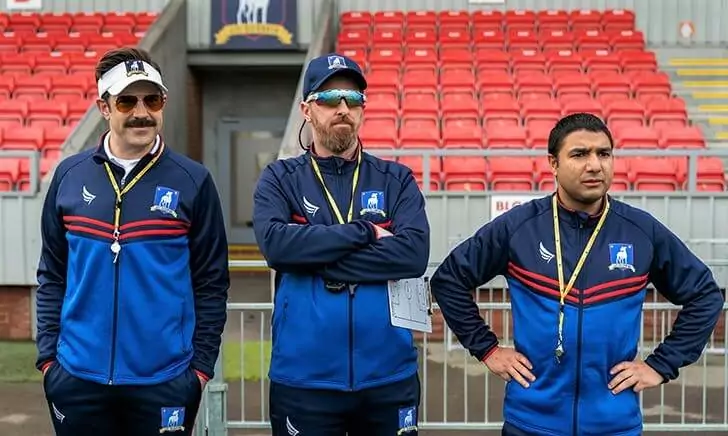 Ted Lasso Season 2 Review
The show Ted Lasso is plate full of wholesomeness with a side dish of hopefulness. Ted Lasso's personality is as addictive as ever as and his manners don't change in any way from the 1st season. Season 2 is as good as Season 1, if not better. The second season of the show puts a light on the lives of others and shines each and everyone's vulnerable side.
The cheerful approach of Ted is the life of the show but when you peek into others lives and see their best and the worst including Ted's, it feels as if the show is taking a look into the mirror and noticing all the aspects that make them human. Below is the individual breakdown and review of the season 2 episodes.
Ted Lasso Season 2 Episode 1 Review: Goodbye, Earl
Ted Lasso Season 2 starts with AFC Richmond playing in EFL Championship and there is unfortunate incident. Dani Rojas played by Cristo Fernández shoots a penalty and accidentally kills the fan favourite dog, Earl. Dani Rojas is the only other character in the show that is as optimistic as Ted and this incident brings out the performance anxiety in him which Ted and Coach Beard refer to as "The Yips" claiming that saying the word is jinxing them.
That leads to the introduction of Sharon played by Sarah Niles who is hired as a sports psychologist for AFC Richmond but Ted is bit sceptical. Sharon does play an important role in the show bringing the best performance out of the players showing that mental health and stability is necessary for everyone. Ted tries to please and make friends with Sharon as he does.
Roy Kent has retired from playing football with an emotional and wonderful retirement speech. He is coaching his niece's football team and is loving it while avoiding the offer to become a pundit for a football analysis show. And all along, Rebecca is trying to reignite her love life and Jamie Tartt is in a reality show which is somewhat like Love Island.
As soon you get into the season, you notice that the show has shifted its tone more towards the characters. Taking a deeper look into their imperfection, showing their vulnerable side and how they help themselves get back up.
Ted Lasso Season 2 Episode 2 Review: Lavender
The 2nd episode, Lavender, Jamie Tartt is eliminated from the reality show and to add to the wound, when the season started, he left Manchester City and now he is unsure about his future as a footballer or as a reality star. 
The opportunities that came to Nate has been helping him for good and showcasing his abilities which we saw in Season 1 but also bringing out his insecure side. Nate's under confidence throughout his life was fueled by his father, which does not help him as we see him be rude and unapologetic towards the kit guy, Will.
We see small strides in the development of Keeley and Roy's relationship and see a change in Roy's emotional side. Roy tries to be a football pundit by showcasing his knowledge and rawness. Roy's nature of being blunt and straightforward, his no bs approach is appreciated by everyone and brings more audience to the show.
Jamie Tartt approaches Ted to talk about getting back to Richmond. Initially, he is refused but joins the team when Ted realizes the need for a player of Jamie's calibre. This episode focuses on Jamie Tartt, as we see him understands that in others eyes, he is not what he thought he was.
When no teams are interested in him and he is asked to consider a career as a reality star, that reality check hits him. The realization that maybe he is not "the f***ing Jamie Tartt" settles in. That is where we see the beginning of the development in him from an arrogant narcissist to a player who is acknowledged and appreciated for his talent and abilities. The worst time in his life shows his vulnerability, bringing out the better side of him off the field.
Ted Lasso Season 2 Episode 3 Review: Do the Right-est Thing
 The main plot in the episode is about Sam, where he opposes the actions of the team sponsor Dubai Air. The other storyline is rekindling the relationship between Rebecca and her best friend, Flo's daughter, Nora. 
The episode shows the beginning of the unfolding of the good side of Jamie Tartt as he tries to better his relations with his teammates by apologizing but it's all in vain. We are introduced to Led Tasso, Ted's alter ego who is always angry, aggressive and violent towards the players, just a rude personality at large. The alter ego, Led is just a way Ted is trying to shift everyone's hostility from Jamie to him. 
Rebecca takes the advice from Roy about kids being interested in the adults life and just wanting to be a part of it. She invites Nora to her office for a day to day work which ignites her curiosity. 
Sam takes steps towards as the title of the episode suggests doing the right-est thing by opposing Dubai Air. He hides the name Dubai Air from his jersey with black masking tape as a sign of protest and in turn motivates his teammates towards doing the same. Definitely, a controversial stand that might affect AFC Richmond's financial condition but he does what was needed to be done.
Episode 3 shows the person that Sam is, who is pretty selfless and kind but his stand against the inhumane treatment of his country displays his compassion towards others.
Ted Lasso Season 2 Episode 4 Review: Carol of the Bells
Well, Its A Christmas Episode! So the episode starts with secret santa among the players and the other guys having a conversation about their christmas plan. Roy and Keeley's plans are hindered because of Phoebe being there, while the Higgins' are exchanging gift as Sam arrives early for the get together they organize every year for players who can't visit their families. Ted is on a video call with his son as he is opening his gift, and is left alone after the call ends. 
Roy and Keeley find out that Phoebe is being mocked at school for having a  stinky breath which might be some kind of a medical issue. So the three of them go out to find a dentist in their posh neighborhood. They eventually find out that Phoebe's medication for her cat allergy is causing her awful breath. 
Whilst Sam is talking to Higgins' kids, few players arrive with their gifts and the excitement can be seen in all of them. All the players have a nerf battle with each other as they are hanging out and enjoying their time.
Ted is all alone, watching Its a wonderful life as he makes himself a drink, just as he is about to cry, he hears a sound from his window, its Rebecca. Ted and Rebecca walk around the neighborhood donating money to street musicians and toys to kids. They walk around till it becomes dark and decide to surprise the Higgins' party.
The episode ends with Rebecca and Ted singing in the street outside Higgins' home and everyone is delighted as they all dance together to the music. It is just a delightful episode where all them are lonely but surpass that loneliness by being with each other.
Ted Lasso Season 2 Episode 5 Review: Rainbow
The episode begins with Nate, as he is trying to reserve a table for his parent's 35th anniversary, at their favourite restaurant on his father's preferred window table. He is denied the window seat, Nate brings up that he knows Roy Kent but to no avail. He comes to the realization that he wants to be famous so people will recognize him and he can get those perks. All of this just to please his father. 
After a bad game, we all learn a new concept known as Rom-communism. To elaborate further, the characters in a rom-com do face minor inconveniences but still find a way to be happy. According to Ted, AFC Richmond's bad streak is just a minor inconvenience. The captain of AFC Richmond, Isaac is not happy with the teams work and is hotheaded.
Ted talks to Roy about Isaac issue. Roy's idea is to bring Isaac to the turf where Roy, himself played and grew up as a kid and became what he is today, to bring out the child in him that loved the game and enjoyed playing it.  
Rebecca has been hitting it off with a mystery man that found on the dating app Bantr.
Higgins informs Rebecca that he received a call from Ryan Reynolds and Rob McElhenney, the new owners of Wrexham AFC, as he makes a comment on the relevancy of their purchase. Higgins tells his story of how he met his wife and fell in love with her to Rebecca and yeah he really is with his one true love. 
As we have seen from 1st season, Nate lacks confidence and doesn't know his self-worth. So Rebecca and Keeley coach him on how to be more upfront when confronting someone when they are intimidating. Nate goes to the restaurant with his family but being in front of his dad, he is nervous about confrontation. He builds up the confidence to ask for the window table and is successful in it. 
We see the development in Nate as he is self-conscious but learns to stand up for himself. Roy comes to the realization that he is not meant to be a football pundit but to be with his team and to coach them, to be their mentor. We see Ted having many small talks with Dr. Sharon and see that as from the very first episode, he has been bottling up his feelings and thoughts still not comfortable with the idea of therapy.
Ted Lasso Season 2 Episode 6 Review: The Signal
AFC Richmond are on 4 games winning streak with a FA cup match against Tottenham Hotspur up next. Ted is as enthusiastic as ever, greeting everyone he meets. Coach Beard is back with his ex, everyone knows it is a toxic relationship but only Higgins is the one who addresses it. 
Rebecca's mum, Debra is here at Rebecca's as she has left her husband. Rebecca invites Ted to a lunch date for the three of them and Keeley too, to lessen the awkwardness or maybe shift it all towards Ted. Ted and Keeley find out from Rebecca that Debra does this every few years, where she leaves her husband but goes back to him when he gives her a generous gift, which eventually does happen in the end. All while Rebecca has been fooling around with other men and also talking to the mystery guy on Bantr.
The mystery guy is later revealed to be Sam. Roy is doing great as the coach for AFC Richmond but he isn't really coaching everyone. Well, he isn't coaching Jamie because of their history and yeah, basically he does not like him. Jamie swallows his pride and talks to Roy about coaching him. Both of them argue but resolve their issue with some not so nice words from Roy, in a typical Roy fashion.
During the match against Tottenham with a score of 1 to nil in the favor of AFC Richmond, Ted experiences anxiety attacks like the ones he used to during his divorce. Nathan takes the handle of the team when Ted leaves and Tottenham equalizes the score. Nathan play leads AFC Richmond to the victory. 
Ted decides to make an appointment with Dr. Sharon, putting behind his speculation towards therapy.
Ted Lasso Season 2 Episode 7 Review: Headspace
Keeley comes to the realization that she and Roy have been living together, working together, commuting together and literally doing everything together. Apparently, Roy doing turns Keeley on and she can't get her work done. She wants some alone time but feels as if saying that might hurt Roy. Nate is joyous about the little bit of fame and recognition that he gained and hopes that his father might acknowledge it but his father has always been critical and still is. 
Ted knocks on Dr Sharon's office for his appointment but is still skeptical. He is up to his antics as he is trying to divert his mind from talking about his feelings. He eventually gets up and leaves, not wanting to continue with therapy.
In the back of his mind, Nate is still not content with himself. His desire to please his father comes in between his work and his ego as he acts rudely towards some players and Will. Coach Beard notices Nate's behavior and talks to him about it. Nate apologizes for his behavior to the players.
The team give a gift to Nate which was Will's idea but one bad tweet gets the better of him and brings out his insecurity as he yells at Will again.    
We see that Sam has been talking to Rebecca on Bantr and it's been few days since she has replied to him. Both of them are unaware of who is the other person. And yeah, Sam's favorite movie is Ratatouille, how can you like this guy even more. Why does he liking Ratatouille worrying?
Ted comes back for his therapy session with Dr Sharon. He reveals his true thoughts towards therapy being bullshit and leaves again. The idea of talking about his feelings takes him back to the place where he and his ex-wife were in couples therapy. Him thinking that he was set up by them just to highlight his mistake in the marriage is what lead to his anxiety attacks.
So Ted comes back for the third time, I guess his emotions are high when he tries to go on with the session but when he thinks about it he realizes maybe he should not quit. This time they have a good talk. 
Keeley confronts Roy about him being around her all the time. That angers Roy and he leaves. Roy has been annoyed and le lashes out on the team. The whole ordeal makes him realize that what he should do for Keeley. So Roy plans a surprise for Keeley with some alone time and a bubble bath.
Ted Lasso Season 2 Episode 8 Review: Man City
Dr. Sharon gets hit by a car, the hospital calls Ted to discharge her and take her home. Ted is surprised with the realization of free healthcare in the UK. Ted takes Sharon home. The walk home lets Sharon opens herself up to Ted and she expresses her vulnerable side to him. She open up to Ted about the fear she felt during the accident.  
Roy is called to Phoebe's school as she has been swearing a lot. And guess where she gets that from? So Roy tells her to stop it as all that swearing didn't really help him but it is not that big of a deal for his job. The habit of swearing might not be the best for her in future which leads them to have a heart to heart conversation. 
Sam receives the news of the oil company that was harming Nigeria has been given orders to stop operating. This joy brings out the courageousness in him, so he asks Rebecca on Bantr to meet and she accepts. So apparently, there is a thing called Isaac cut, where the captain is really good at haircutting and offers his team just one haircut a year. Sam decides to get his Isaac cut. 
Sam and Rebecca reach the place of the meeting but are still waiting for their dates. Few texts are exchanged and the realization hits both of them. Rebecca panics but Sam convinces her to have dinner with him at least, they are at a good place so maybe just a dinner will be alright. After a good date, Sam drops Rebecca off. She makes it clear that it was not a date but they still share a kiss.  
Jamie gets a call from his dad, he wants tickets for the FA cup semi-final between AFC Richmond and Machester City at the Wembley Stadium. Jamie's dad is there to support Manchester City. He never really supported Jamie and has always been patronizing towards him. After the match, Jamie's da comes to the dressing room and demean the team, mocks them. So yeah, Jamie punches him, a much-deserved one if you ask me. 
The Team is at the Wembley stadium for their match. Ted finds out that this is not the same stadium where Queen performed in the 1985 Live Aid, it's been renovated. Honestly, who doesn't wish they were present at the Live Aid. I mean, the performance by Freddie Mercury and Queen is iconic.  
In the match, Manchester City takes a lead of 3-0 in the first half. In the second half, Afc Richmond goes down by 4-0 with an own goal. Nate is furious and says some harsh words to the referee, which gets him a yellow card. Manchester City gets a penalty, they go up by 5-0. AFC Richmond gets obliterated by Manchester City. 
The confrontation between Jamie and his dad reveals some hidden trauma within Ted. The team is devastated but still hasn't lost hope. Rebecca messages Sam and he is outside her house. The episode ends with them kissing.
Ted Lasso Season 2 Episode 9 Review: Beard After Hours
This is a very unconventional episode when we look at Ted Lasso as a show. A look into the life of Coach Beard after the game against Man City. As the title says 'Beard after hours', but this episode is more like a bad day in Coach Beard's life, where he can't seem to catch a break. Exploring more of his life is what was missing from the show but this unconventional and weird episode scratches that itch. It is a unique episode that steers away from the show's narrative but is a wonderful one.   
As Coach Beard is leaving the Wembley stadium after the match, the camera follows him in his journey from sorrow to acceptance and realization. Beard reaches his apartment, leaves for the pub for a drink. There he meets the three Richmond fans who hang out there all day long. This is where his day starts to get worse as he tries to make it better. But in all this, the day of those three fans turns from bad to amazing all because of him. 
They leave the pub after many drinks and go to an exclusive club. They enter in there without memberships, makes friends with a few of the club member, all thanks to Beard's British accent and storytelling. The fans win a good chunk of quids on bets in a game of pool and treat themselves to a ride in a limousine. Beard makes their day even better with an entry to the AFC Richmond stadium.  
Beard sees a woman in a distinctive red dress, he follows her just to enter an empty room where he tears his pants. He is thrown out of the club for not having a membership. The woman invites him to her apartment. This begins a whole lot of antics.
He gets chased by her husband, jumps from the top of the building into a trash can. Escapes from the man on a bus, to realize that he left his phone and wallet behind. Walks into an alleyway, where he encounters Jamies Tartt's dad and his friends. Gets assaulted by them just to be saved by the husband of the woman in a red dress. He finds out that the guy was following him so he can give his wallet and phone back. 
Beard reaches his apartment but breaks his key as he tries to open the door. The UK weather is helpful either, as it starts to rain. Through some coincidence, he stumbles upon the church/club where Jane is. A heart to heart conversation with himself and god makes him realize that Jane is the one he wants to be with.
A path in the church leads to a hidden club, Beard lets himself go and flow with the music. He sees Jane as they both dance to the music.
Ted Lasso Season 2 Episode 10 Review: No Weddings and A Funeral
This is another one of the episode that is unconventional considering the wholesome nature of the show. The episode pivots towards two plotlines, each of them looking into the sorrowful and vulnerability of the characters. 
Rebecca's Dad passes away so she visit the home and the town where she grew up for the funeral. Everyone is not that comfortable with the idea of death and funerals. Keeley and Roy discuss the idea of being dead and the weirdness of being deliberately sad in a funeral. Sassy is here too, as we see her climb to Rebecca's room from the balcony.
Rebecca and Sam are secretly hooking up and seems to going great. Rebecca is genuinely excited about her relationship with Sam. Her joy is heighten and reciprocated by Keeley, Sassy and Nora when they find out about it. But, eventually the sorrow and hatred towards her dad makes her realize that maybe she is still not ready for a relationship.
Even though, the idea of Sam and Rebecca never really sat right with me but their interactions and affection was really cute, especially the talk in the closet. And Sam ending it with,"i am only gonna get more wonderful" was just the cherry on the top.
The thought of attending someone's father's funeral, a father's funeral affected Ted severly. Even if it wasn't in his mind but sub-consciously it was in his head which lead to his anxiety attack. He calls Dr. Sharon for help and she arrives at Ted apartment as soon as she can. Dr. Sharon helps Ted open up about his trauma and let out his true emotions regarding his father, what he hated about him and what he loved about him. 
Rebecca expresses her feelings towards her father. She reveals to her mum that she and sassy caught him with another woman and he did not even acknowledge it. This moment is what lead to her hating him.
Rebecca's mum knew all this but she couldn't leave him because she loved him. Rebecca was in the same position with Rupert, who also cheated on her and she was courageous enough to stand up for herself but her mum couldn't. 
Ted Lasso is a show that exudes joy and wholesome but an episode like such displays the duality of human nature. The vulnerability of the characters that is being explored in this season adds to the relatibilty factor by showing realistic sentiments in a person. And yeah, if you haven't watched it yet, we get rickrolled thrice in this episode. The first two might not be intentional but the third seems like it was set up for rickrolling the audience. Anyway, I love the song so I did not mind that.
Ted Lasso Season 2 Episode 12 Review: Inverting the Pyramid of Success
So, the news of Ted having a panic attack during the match is out and many are talking about it. On the talk show, the football gurus talk about it where one of them believes that Ted is incapable of managing a team. Ted gets confronted by the paparazzi and by an old man who taunts him but consoles him too? His friends and team do support him though.
Sam is still to make a decision about going to Raja Casablanca, he took the time till after the final match of the season. Edwin gifts Sam a Raja Casablanca jersey with his name on it. After the match, Sam makes his decision and tells Edwin that he wants to stay. Edwin is surprisingly furious and blabbers not so good words towards him which were actually pretty funny. A few months later, Sam buys a place to open an authentic Nigerian restaurant.  
Keeley gets wonderful news that the investors of Bantr are going to finance Keeley's own PR firm. She is nervous about informing Rebecca of the news of her leaving. She tells Rebecca about her new opportunity which is followed by a lot of waterworks. Anyway, they find out Rupert bought West Ham United.  
Jamie apologizes to Roy for confessing his love to Keeley, and Roy does not hit him but actually forgives him. Keeley's vanity fair article gets sent to her but all the photos of her in the piece are without Roy. This moment did hurt Roy and he looks for answers with the diamond dogs, but just opening himself up was enough for him to feel better. Roy plans a 6-week vacation for him and Keeley but she can't go as she will be busy with her new firm. 
The team and the fans are ready for the final and the decider match. The team goes with "Nate's" false 9 formations. During the first half, AFC Richmond is down by 2 goals, they are failing to execute false 9 formations. The team decides that they will stick with "Nate's" false 9 for the rest of the game and will try to get themselves a tie for the promotion. Well, they do get 2 goals in the next half, tying the score and eventually advancing to the premier league. 
Nate finds it agonizing that Ted will blame him when the team fails to win with "Nate's" false 9.
In a confrontation between Nate and Ted, Nate tells how he is feeling and what he truly thinks of Ted. The whole ordeal makes you realize what made Nate believe that and his behaviour is somewhat justified. His behaviour was just more fueled by his insecurity. After the match, Nate leaves without telling anyone. We see that he has been hired by Rupert to manage West Ham United for the next season.
Ted Lasso Season 2 Critical Reception
Ted Lasso Season 2 has a rating of 100% based on 32 reviews on Rotten Tomatoes, with an average rating of 8.83/10. On Metacritic, the show has a score of 86 lout of 100 based on 18 reviews with universal acclaim.
The Movie Culture Synopsis
If you enjoyed Ted Lasso Season 1 then you are in for a treat with Season 2. This season develops the characters shifting the focus from the competition. Ted Lasso is a fun show to watch and Jason Sudeikis does not leave the Ted in him, he fits right back into his character. And this might be too early but I am making a prediction, Jason Sudeikis will win the Emmy award for Outstanding Lead Actor in Comedy Series.
Season 2 consists of 12 episodes and premiers on July 23, available to watch on AppleTv+ with next episodes airing every week.