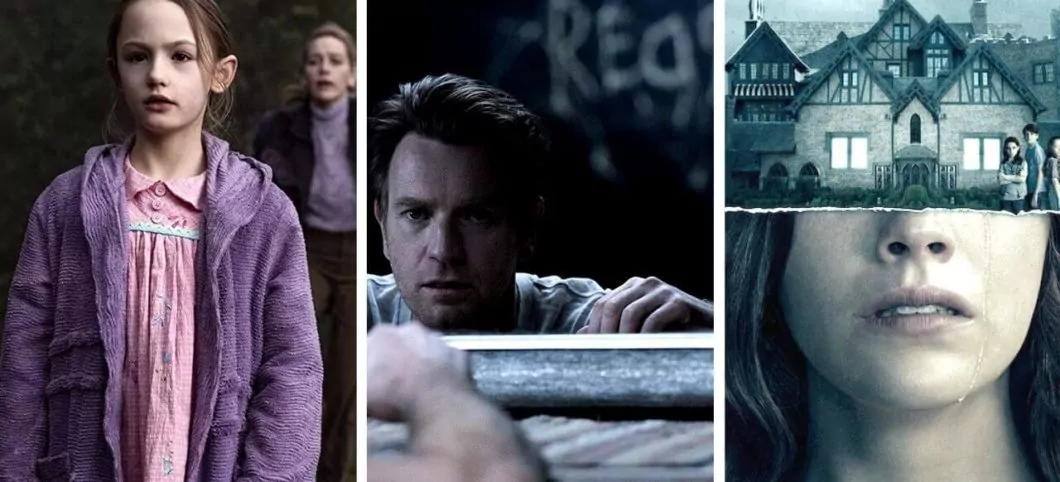 Mike Flanagan is an Intrepid Pictures partner and an American filmmaker. He is most known for his horror films, including Absentia, Oculus, Hush, Before I Wake, Ouija: Origin of Evil, Gerald's Game, and Doctor Sleep, which he directed, wrote, and edited. Mike Flanagan is most recognized for his outstanding performances in horror and thriller films and television shows.
Recently, Flanagan unveiled the trailer for a full-length horror series titled 'Midnight Mass'. The story revolves around a little island town that is visited by a strange priest, who brings with him unexplainable happenings. The teaser for Midnight Mass has given us a taste of how amazing the show may be. In addition, the creators have stated that the series would be released on September 24.
Here are some of Flanagan's most amazing movies and TV shows.
5. The Haunting Of Hill House
Flanagan's serial remake of Shirley Jackson's renowned mid-century novel of the same name is The Haunting of Hill House. The first season of an anthology horror series revolves around a large family who moves into a haunted house and never recovers from their debacle.
The ensemble drama is divided into two parts: the family's experiences in the mansion and the present-day adult lives of the five children who are still dealing with their pasts. "The Haunting of the Hill House," in which the past slips into the present and the present slips quietly into the future so deftly that we are left in awe of the story's specialists. This show is immensely enjoyable if you enjoy a good ghost story.
The references of bent-neck lady , parallel space, etc., are very well executed. The fifth episode almost feels like an anticlimactic act of anxiety moving to fear, as we see the face of none other than Nellie, who realizes that the evil she had been chasing and escaping from since she was six years old was none other than herself, hanging from a noose.
The story then makes a gradual drop, like a long sigh of relief as the story finally ends on a calm note with the death of the father, his reconciliation with the mother, and the youngest sister.
4. The Haunting Of Bly Manor
The Haunting of Bly Manor is clearly a sequel to The Haunting of the Hill House, but it's significantly more ambitious, less scary, and more heartfelt. Unlike its predecessor, the new Netflix series is likely to leave viewers feeling melancholy rather than afraid. In both their present and former forms, the characters entice you to learn more about them.
The storyline, after arriving at Bly Manor to care for two orphaned children, a governess encounters various hauntings as well as her own past. The lines blur between who is a ghost and who is a figment of the past. There are a few unexpected references to gender and sexuality issues that one wouldn't anticipate in a horror film, and they're handled without seeming excessive.
The series is captivating thanks to Flanagan's extraordinary camera work and standout performances from both returning and new actors, with the horror coming from gruesome realizations as the story unfolds and the human connection coming from the backstories of the ghosts of Bly Manor and how they met their tragic fates.
Miles and Flora as young actors are notable, and Oliver Jackson-Cohen shines as the villainous Peter Quint. With a genuinely bittersweet finish, this is a must-see in the horror genre, especially if you're interested in both the plot and the scares.
3. Doctor Sleep
With Mike Flanagan's most ambitious project to date, Mike Flanagan pays homage to another Stephen King work i.e. an adaptation of King's sequel to The Shining, Doctor Sleep. The film's studies of alcoholism, PTSD, and wicked steam sucking killers somehow culminate in one of the most gripping, edge-of-your-seat, jaw-dropping horror pictures ever filmed.
The expert allusions to The Shining are perfectly in sync with the new plot centered on Danny Torrance. Danny Torrance, an adult with a rare psychic power known as shining, is played by Ewan McGregor. While delving into Danny's life in the aftermath of his parents' encounter at Colorado's Overlook Hotel, the film and book introduce a bevy of additional psychic characters.
Mike Flanagan's direction is wonderful, with several references to The Shining in the form of basic shots and sets that are in obvious connection to the film. Overall, Doctor Sleep succeeds in creating a superb sequel to a 39-year-old classic while expanding on the story and characters of the Shining universe, thanks to a fresh story blended with nostalgic references to the original film.
2. Hush
Hush, a home invasion film starring Flanagan's wife Kate Siegel, is an attempt in creating fright without succumbing to excessive representations of bloodshed. Maddie Young, a deaf and mute author targeted by a disguised lunatic who believes she's easy prey, is played by Siegel.
The masked attacker falls fascinated with Maddie and tries to play games with her in order to postpone her fate. He begins by obtaining her phone and texting her photos of herself from the previous night. Many filmmakers would have relied on more tactics to keep the audience involved in what is essentially a silent film, but Flanagan is surprisingly cautious with 'Hush.' He forbids the unidentified Man from monologue-ing his way through the film.
He doesn't raise the stakes from the beginning. For the middle 40 minutes of the film, he truly lets his set-up work as our only two characters advance toward the unavoidable climax. He also keeps a few surprises for the last act.
1. Gerald's Game
Mike Flanagan demonstrated his abilities as a director by directing this adaptation of a Stephen King novel that was previously regarded to be unfilmable. Gerald's Game is a Netflix original film starring Carla Gugino and Bruce Greenwood. During a vacation in a secluded property, the actors play a married couple who become engrossed in a psychosomatic nightmare.
Gerald's Game features Henry Thomas and Flanagan's wife Kate Siegel in supporting roles. The film was hailed as a triumph by critics, who praised Gugino in particular for her acting and emotional depth. I liked how the story centers on how it affects the main character physically, as well as how it depicts the various guys in her life and their level of abuse.
The film also deftly examines the tragic effects of trauma on a child's developing mind as a result of an unhealthy family incident, which sooner or later infests into one's adult life, appearing as a living curse and destroying every aspect of life, as well as how much atonement it takes to get one's life back on track.
The Movie Culture Synopsis
Director Mike Flanagan never ceases to astound us with his literary brilliance, and he is a true master of direction in the horror and thriller genres. Stay Tuned for our review of Netflix's Midnight Mass, which releases on September 24.