The Boss Baby: Family Business is an animated sequel to the 2017 movie, The Boss Baby. It is directed by Tom McGrath and follows the adventures of the Boss Baby through another exciting mission. 
The Boss Baby: Family Business Movie Cast
Alec Baldwin as Theodore Templeton
James Marsden as Tim Templeton
Amy Sedaris as Tina Templeton
Ariana Greenblatt as Tabitha
Jeff Goldblum as Dr. Armstrong
The Boss Baby: Family Business Movie Plot 
The Boss Baby: Family Business is based on the lives of Tim and his little brother Theo. Their paths, once again, coincide with each other as they are tasked with a brand-new mission from the Baby Corp to infiltrate a school, expose an evil principal and save their daughters/nephews in the process. 
The Boss Baby: Family Business Movie Review
The Boss Baby: Family Business is the sequel to the wildly popular The Boss Baby which came out way back in 2017. And while it's still, every bit immature and goofy without any purposeful message, it's going to cause a laugh riot for its target audience and I like to think that the adults too are going to have a pretty decent time with it.
With beautiful animation and some really great worldbuilding, which progresses further into the institution of Baby Corp, this sequel does a lot of things which are through and through entertaining. No more no less. You won't go expecting a meaty story or an immensely gratifying plot narrative, but does this film pack fun? hell yes. The Boss Baby: Family Business is an extremely appealing sequel which is going to steal the hearts of kids as they get sucked in into all the immersive colors it has on offer. 
The story, in a way, primarily revolves around Tim Templeton (Voiced by James Marsden) and is vivid and highly creative imagination, which in the long run, creates potential for a lot of insane animation sequences. So now Tim is all grown up and has started his own family with two adorable daughters, Tina (Voiced by Amy Sedaris) and Tabitha (Voiced by Ariana Greenblatt). He isn't as successful as his brother Theodore aka.
The Boss Baby (Played by Alec Baldwin), but his imagination and his family are enough to keep him occupied and truly happy in his life. His world in his own mind is what drives him every day, as he makes breakfast for his daughters, plays with them and gets them to sleep every night.
Even as an adult, that big patch of childhood still hasn't worn off of him and it shows in everything he does. Even his maturity and emotional side are hugely inspired by how he was as a kid. But now, his older daughter Tabitha, has grown out of his 100 different quirks and characteristics and insists that they finally become adults.
And out of nowhere, he randomly goes to check on his younger daughter, Tina (who is still a toddler by the way), and guess what, she is from Baby Corp and now she has a mission on her hands. A mission to infiltrate the school of Tabitha and expose the evil principal who wants to eliminate the need of parents and leave the world at the hands of babies. And Theodore makes a comeback as The Boss Baby, thus setting loose this ridiculous series of events.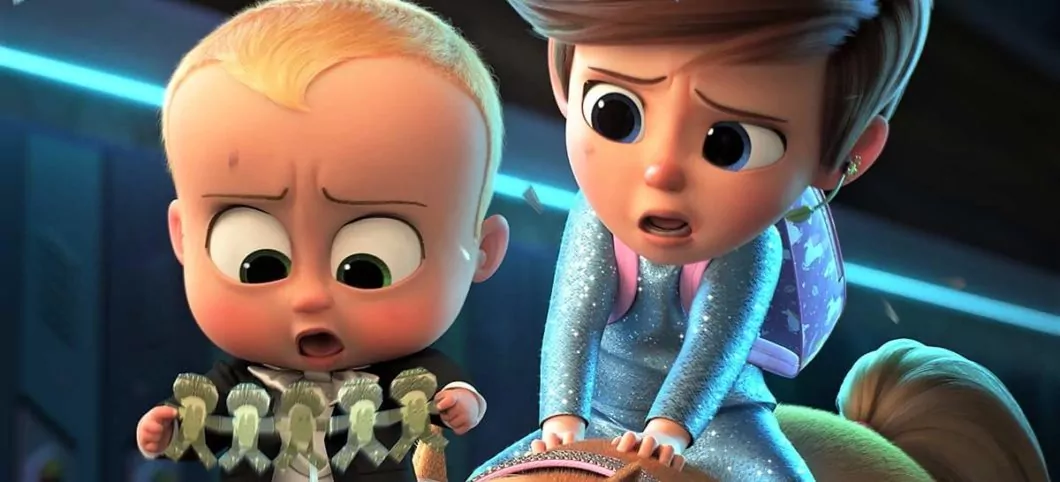 The Boss Baby: Family Business Movie – Animation Which is Bursting with Colors and Character
The animation and the humour of The Boss Baby: Family Business is surely its biggest win and the thing I really enjoyed in the movie was how it doesn't leave any opportunity to utilize the imaginary world created by the character of Tim.
He lives in his own world and this world has an array of amazing sequences, the best one being where he and Tabitha have a sweet interaction. It was fascinating to see how these scenes went by so fluidly and it truly becomes every bit immersive that way.
The character interactions of Theodore are insane and now that there is another Boss Baby in the mix, we get a lot of back-and-forth moments with these characters, may it be coming up with the plan, or the aww-inspiring moments of how both Theo and Tim look back at their scarred relationship as brothers.
These moments of retrospection feel natural since we have seen both of them sharing a journey in the first movie. I adored how The Boss Baby: Family Business has the guts to actually portray falling outs in a mature way, even when they have adult babies as protagonists. It's a nice touch and definitely something I appreciated and respected. 
The Boss Baby: Family Business Movie – Yet Another Forgettable Antagonist
Jeff Goldblum as Dr. Armstrong really is amazing. Just hearing his voice playing this, otherwise, confusing villain was really fresh. And yes, the overall arc of the Villain did feel underdone with very little indication as to why he does what he does. He hardly undergoes as much development as Theo and Tim do, and in the end, he just feels like another forgettable villain in the long list of forgettable villains.
The world building of this school, however, was really intriguing to me, and it was again, one of those aspects where the movie heads a more mature direction by highlighting the issue of the ever-increasing competition in education system. Obviously, The Boss Baby: Family Business does this in an overly exaggerated manner which is entertaining nonetheless.
Probably, my biggest issue with the movie has to be its wavy and incredibly confusing arc. I feel like it's too much of a thing to expect from a movie like this, but the plot seemed like it was aiming for a lot of places and it somehow hit none of them.
The climax feels cliché and I personally feel like Tabitha's arc could have been concluded in a more heart-warming and satisfying manner. Because from where that story was heading, I was totally ready for a Pixar-esque tear jerker ending, but it didn't carry that much of an emotional weight which let me down a bit. It had a lot of things to balance and portray in those last 20 minutes, with the evil plan of the Villain and the much-awaited performance of Tabitha and rather than giving each of those sequences time and care, it mixed the two of them which rendered them somewhat lifeless. 
The Boss Baby: Family Business is nice popcorn flick which you should and probably are, going to enjoy it with a group of kids, the way it is meant to be enjoyed. It's a silly kids movie and I feel like we haven't got one of those in a long time so hey, this is good.
And all things aside, it pleasantly surprised me with a lot of its aspects which is more than what I ever hoped out of this movie. It's a worthy, and in some ways, an even better sequel and most of its audience will have a good time with it, like I did. 
The Movie Culture Synopsis
If you are looking for a dumb fun adventure which is every bit for kids, then you have come to the right place. The Boss Baby: Family Business is absurd and equally amazing with its colorful animation and quirky humour. It introduces a lot of new characters as babies and they are bound to make you giggle, especially the Creepy Girl.
Goofy, fun and a little bit aww-inspiring and surprisingly real, it does everything a childish animated movie should do, with a few hiccups here and there.