The Father is devastatingly real and phenomenally acted by Anthony Hopkins and Olivia Coleman. Both these academy award winners give some of the best performances of their lifetime in this movie about denial and dementia.
The Father Movie Plot
The Father revolves around an Old man suffering with dementia and how her daughter copes with this condition of his. It presents the perspective of Anthony which excels in technical and emotional depth. The Father is a journey of realization and acceptance.
The Father Movie Cast
Anthony Hopkins as Anthony
Olivia Colman as Anne
Mark Gatiss as The Man
Olivia Williams as The Woman
Imogen Poots as Laura 
The Father Movie Review
The Father is a movie about dementia, which presents it from the perspective of a person suffering from dementia. Based on a by the director, Florian Zeller, The Father maintains that same essence of watching one, with most of the frames being still and the atmosphere which is bright yet uncomfortably eerie.
Anthony Hopkins gives one of the best performances of his lifetime. He convinces, triggers and makes one feel awful about a condition which only worsens with unacceptance. The genial, yet heartbroken character of Olivia Coleman struggles with her father trying to shatter his living conditions. What's real and what's not is as clouded a thing for us as it is for Anthony, who is facing all of this. The film turn by turn, introduces twists which make us feel like the ones with dementia. The Father teleports the viewer into the journey of Anthony, a journey filled with guilt, sadness and pity.
The perspective of 'The Father'
Anthony (Played by Anthony Hopkins) sits on a chair, listening to music when Anne comes in and snaps at him for acting rudely against his previous caretaker. Anthony, who denies any physical abuse, might have verbally said a few things to her. It's all in good faith and Anthony himself looks in great condition. Anne then tells him that she has met a man and has to move to Paris and live with him. Anthony lies there in disbelief and shock at the decision of Anne and tries to reason with her by saying that they don't even speak English over there. She goes away and he lies there, trying to cook himself something. The Father takes a turn after this and introduces us to strangers who barge in his home. Anthony, shocked and disoriented with the entire situation, tries to grasp the entire situation. But the more he tries to think about it, the worse the situation gets. There is never a clear indication of who these people are, so in a sense all of the audience is just as clueless as Anthony who is going through this bizarre situation.
There's a very deep and personal side of Anthony which we keep discovering as the story possesses. His love for Lucy, his second daughter, is prominently highlighted throughout the course of the movie. It becomes very clear that the love Anthony has for Lucy exceeds the love he has for anyone else. Not being able to see her for so long has made him sad and if there's one thing he deeply wishes, it is for Lucy to call her "Little Daddy" again. The later revelations in the story and the introduction of Laura as the caretaker brings such a profound and heart-breaking impact on the story. He imagines people and struggles with appearances. What he craves is what he experiences and the same goes for things he deeply fears. The shattering life of a ageing and dementia is brought to life in a way which feels personal and from a first-person perspective. The viewer will start respecting this illness even more and develop a fear towards it as The Father concludes, such is the impact of this movie. It has a very clever usage of camera work and disoriented information in each and every frame.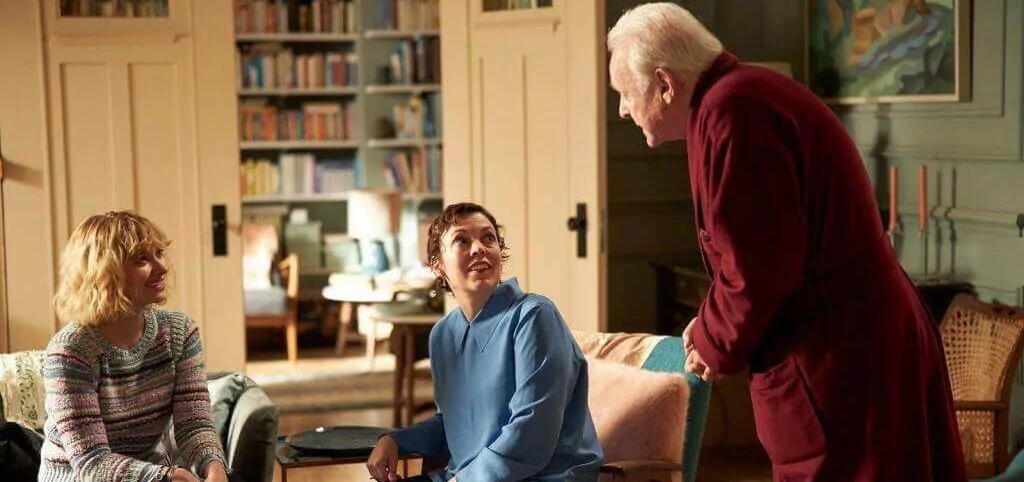 The Father Movie: The line between reality and dementia
Throughout the runtime, we see what Anthony is seeing and hence nothing is confined to stability. The homes change, and one place leads to another. He has dinner at 8pm but there's sunlight outside. Even he, who is surprised and taken aback with all of this, learns to get used to it and doesn't question each and every abnormality he sees in the world. That's when I as a viewer started feeling really distressed for the man. There's a very significant prop in this film, Anthony's watch. Something that binds him to his reality and to his intelligence. He feels that as long as he can tell the time, he will know the difference between what's real and what's fake. And he is very specific about his belongings and his fear that someone's going to steal his watch, his time, or his conscience from him. And when The Father references his watch for the last time, I felt miserable and shattered, knowing that the watch he is pointing towards isn't even on him. There's a way scenes flow in this film, that we start to look for information and clues. His daughter Lucy's past is never fully referenced, yet the film provides enough to subtly indicate what really happened to her and maybe even provides a cause for Anthony's worsened Dementia.
The performances in The Father are wrenching. Olivia Coleman with her tortured and broken persona brings out the trauma of her character with pure sadness and longing. Her expressions when Anthony flips out and does something unquestionable, carry regret and pity so well that The Father becomes a film about not one, but two characters filled with sadness. The only difference between her and Anthony is that one is aware of their condition and one is not. Anthony Hopkins is a mesmerizing actor. He makes one laugh and sad at the same time and in the same scene, and there aren't many actors alive who can make you feel this way. In a way, Anthony was playing himself. His name and his date of birth being the same in real life too, portrays how little the screenplay blurred the lines between dementia and reality. 
The Father moves you, breaks you and makes you weep. Its still shots are only ever switched to camera pans, but when they do, they indicate a drastic change in the character or the situation of the character. Its haunting yet beautiful which maintains that scene-like charm of a play and fleshes out so much character from both of them. The Father hits every note and portrays a very personal depiction of dementia which deserves to be up there in the Academy nominations. 
The Father Movie Critical Reception
The Father stands at a whopping 98% on Rotten Tomatoes with the consensus being, "Led by stellar performances and artfully helmed by writer-director Florian Zeller, The Father presents a devastatingly empathetic portrayal of dementia." Its Metascore is at 88 with Universal acclaim based on 42 Critic Reviews.
The Movie Culture Synopsis
The Father is a play which has been conceived into a movie by its director Florian Zeller and it presents a deeply personal story of old age which has never been told in this way before. The performances are elite and the production quality of the movie are the driving factors of selling this perspective. The climax will cause you to crumble and go into a deep introspection which will be difficult to recover from.