The Marvelous Mrs. Maisel is a period show that doubles for a lose historical drama on the stand-up scene in the 1950s, especially in New York.
The Marvelous Mrs. Maisel Cast
Rachel Brosnahan as Miriam "Midge" Maisel
Alex Borstein as Susie Myerson
Michael Zegen as Joel Maisel
Marin Hinkle as Rose Weissman
The Marvelous Mrs. Maisel Plot
The perfect Jewish Housewife lives in the fantastical Upper West Side. She has the perfect life with her children, husband, and her parents just two floors above her. The show flips on its head when her husband Joel leaves her for his secretary.
The Marvelous Mrs. Maisel Recap & Review Until Season 3
Marvelous Mrs. Maisel is a period show that doubles for a lose historical drama on the stand-up scene in the 1950s, especially in New York. The boisterous tones of a caricatured portrayal of a Jewish family are compensated for through the pace of the storyline, movement, and a weak feminist touch.
The show has an interesting ensemble of characters, of which some are directly lifted from history, some inspired, and a few completely fictional. ​The beauty of the show lies in its snappy, sharp, and witty dialogue, written by none other than the infamous Amy Sherman Palladino.
The pace of the dialogue in Gilmore Girls and the humorous eccentricity of its characters is what put it on the map. Marvelous Mrs. Maisel embodies the eccentricities and the dialogue turns more explicitly comedic.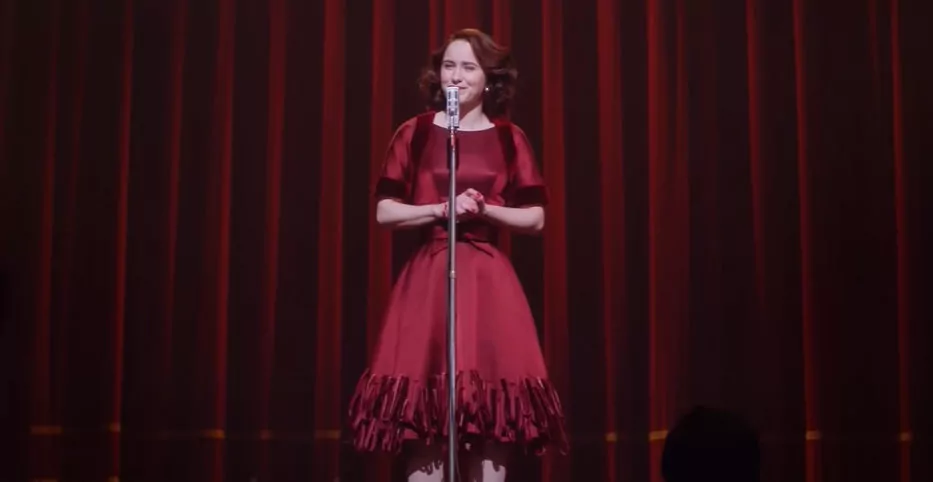 Rachel Brosnahan Owns The Marvelous Mrs. Maisel
Brosnahan's exemplary portrayal of Miriam 'Midge' Maisel sets the tone for the show. Mrs. Maisel's Brisket, hats, and an unending array of dresses make their way into our hearts. 
As tired as this storyline is, it does not waiver the strength of the pilot of the show. This betrayal by Joel who seems as dry and incompetent as his comedy results in an unexpected stand-up performance by Mrs. Maisel. It is erratic, raw, scandalous but most importantly hilarious. This show also navigates through the cream of the Jewish elite in New York and family dynamics. 
The show navigates the problems of being a woman in a man's world and very specifically in the world of comedy. In a very heartbreakingly funny dialogue somewhere in the thick of the second season Midge says she can take care of herself and does not need a man as she has been groped, pinched, patted on every inch of her body. She says she keeps her arms folded and thighs locked and the rest is protected by a girdle as she cannot feel anything through it. She presents this as a joke but it also represents the very real problems of being a comedienne. She gets kicked out of a club for saying pregnant on stage as it's a "dirty word" and also gets arrested on three occasions on charges of obscenity and public disruption. 
Mrs. Maisel's troubles are juxtaposed with those of the very real Lenny Bruce who was arrested on many occasions due to the risque nature of his comedy in the 50s and 60s. Lenny Bruce is a guest character throughout the show and integrated in such a manner that he acts as a comedy shaman and guide to Midge. His presence makes a lasting impression every time he shows up. Luke Kirby's brilliant portrayal of Lenny Bruce and the palpable chemistry between Midge and Lenny leaves the audience wanting more every time. Lenny Bruce is one of the jewels of this show. His episodes always carry this strength and freshness every single time. The presence of Lenny heats up our screens in a way nothing can. Well, not nothing, Lenny in Miami in Season 3 is a whole new animal that none of us were able to grasp. Luke Kirby's raw charisma, bouts in prison, and captivating voice are Andrew Scott-esque. If I could wish someone to give it life, it would be Luke Kirby's Lenny Bruce. 
Alex Borstein's Susie is More Real Than Mrs. Maisel Herself
Susie, Mrs. Maisel's manager is another stunning character. Sharper, funnier, and more real than Mrs. Maisel herself. Through her character, we get to see another side of New York. She's poor lives in a shoebox-sized apartment that she ends up sharing with even more people through the seasons. She's the quintessential manager to comedians. She's great at her job and personally invested in her clients. Also, we miss her every time she's not on screen. Her persona, her delivery, and the quipped dialogues are more than enough to steal this girl's heart. The show does her dirty by not plunging deep enough into her storyline's. The character needs to be given more independent storyline's to run with and hopefully, season 4 does that. 
Another very iconic aspect of the show is the location's chosen. Setting Mrs. Maisel's comedic journey in the Gaslight is another stroke of genius. The nostalgia of the entire era is personified through the club. The recreation of The Gaslight where iconic performers such as Bob Dylan, Jimi Hendrix, Barbara Streisand passed through is almost an ode to The Village. The show also based itself on the Catskills in its second season. It seemed random and also a terrible career move on the part of Mrs. Maisel. Even though the setting wasn't the most natural, it is again an iconic setting. Catskills was a landmark location in the field of comedy. Mrs. Maisel being a show on comedy and devoting one season to that location is poetic. 
Season 3 found itself touring with Mrs. Maisel and Shy Baldwin as Rose and Abe Weissman found themselves at their worst. Abe had to deal with reality in season 2 as he discovered his son works for the CIA (shh) and that he did not enjoy his dream project at the Bell labs. In season 3 Abe craves his university days filled with the air of protest and controversy.  Rose struggles with the sudden crunch of money, and Midge accustoms herself to a life on the road. Susie hires Sophie Lennon as a client (Mrs. Maisel's arch-nemesis) and becomes a gambling addict. Joel has a little too much redemption and screentime, (according to me) but the Chinatown scenes provided some diversity. The season ends on a bitter note with Mrs. Maisel being fired by Shy Baldwin and at an unexpected career low.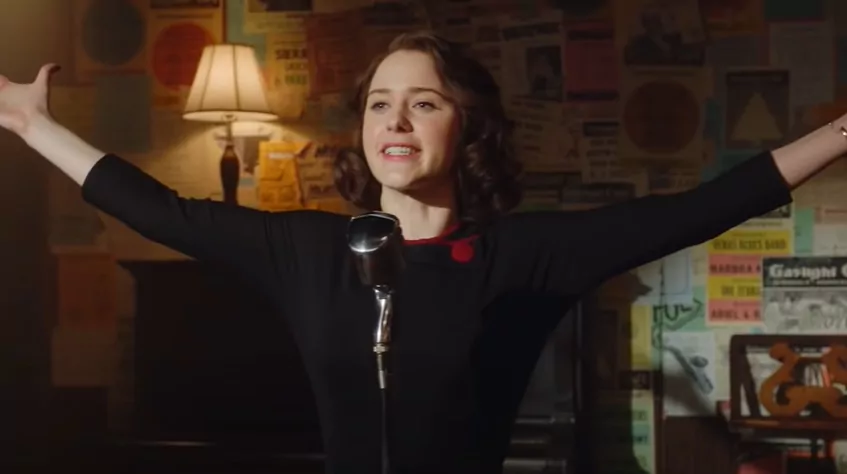 The Marvelous Mrs. Maisel Season 4 Review: Mrs. Maisel's Fall From Grace, But She Still Has Her Round The Clock Child Care
After Shy Baldwin leaves our darling Midge on the tarmac because she cracks a few jokes that hit too close to home, one does feel bad. Did she deserve to be deserted in the middle of an airfield, maybe not, but can you really blame Shy? At the show in The Apollo, Mrs. Maisel makes a couple of jokes that allude to Shy's sexuality. Even though they didn't explicitly state Shy was gay, Midge saying "Judy Garland shoes" in front of all of Harlem did not help.
We are supposed to root for our protagonist but this incident leaves a particularly bittersweet taste. Maybe Midge deserved to be knocked down a peg or two. The season finales for seasons 1 and 2 had left Mrs. Maisel at career highs. In the season 3 finale, however, she's left clutching her suitcases as Shy flies to Europe. The show seemed to change direction for season 4 where Midge would take a path of self-realization, yet the first two episodes conveyed the opposite.
The 4th season opens with the beloved stage of the gaslight in the backdrop. Midge has become embittered with the comedy industry and is looking for blood. Mrs. Maisel delivers a set on vengeance. The first episode was essentially a recap delivered through bits of comedy and flashback scenes. Illustrating the time that has passed since she was left at the tarmac. It did not further the plotline for the coming season but wrapped up the bits from the last season after a rather long gap. The defeatist tone and Midge's disillusionment of the industry express every showman's low points. Adding to her misery is a critic who is especially nasty to her. Midge is now all about her art and refuses to do any shows that do not support her voice. As noble as this thought is, why Midge has not come to terms with her fault in the case of Shy Baldwin is a mystery. Despite this very obvious glaring fault in our Mrs. Maisel, the show is off to a good start.
The first episode is much like a compilation on YouTube of "ten famous 90s stars and where are they now.". Joel is now a successful nightclub owner with a stunning, confident and quick-witted Asian version of Mrs. Maisel. Susie is still ever so brilliant with her side plotline as she attempts to recover the money she lost through gambling before Midge finds out. Midge needs to come clean about her failure and have a difficult conversation with her father-in-law.
The first episode holds some of the funniest scenes. The complete unravelling of Midge as she loses it on the side of a road. The physical representation of her mental breakdown is expressed through an interesting foray into physical comedy. The comically ingenious scene on the wonder wheel at Coney Island forces the entire family to confess things they didn't want to. The family confronts their reality while the wonder wheel cuts the tension, ensuring the comedy-drama remains a comedy.
In the second episode, we find Midge back in her stunning apartment in the upper west side. She rebuilds her life as she leases her own apartment, and restarts her "tabs" with vendors. She provides accommodation for her parents which they very ungraciously accept. Midge finds herself in her old apartment, with a new crazy bedroom arrangement and a crushed spirit. Really hope that she regains that spirit through the season. Midge also does a small cameo down at the prison, those are always fun (sadly, no Lenny Bruce). Abe starts his job at the newspaper and discovers the less than glamorous pay. Rose is very consistently just Rose and she does an excellent job at doing just that. There are some hilarious scenes to watch out for such as Abe writing his article in a bathtub in Midge's bathroom.
Abe embodies the craziness of a math professor turned writer stunningly. Susie is one of the most beautiful characters to emerge from the series. Her butch demeanour coupled with ambition is the perfect recipe for a 60's manager. Harry Drake sums up the business to Sophie in a sentence that makes us hopeful for a season exploring Susie's business side of things and exemplifies the political and cultural side of the show. "Look this is the most god damn litigious business, in the most god damn litigious city, in the most god damn litigious country in the world. It's America." Well, hopefully, we see more of what Susie's made of this season. There is a fun scene between Sophie and Susie as well at another very American endeavour, a retreat/rehabilitation centre. There is a very soft moment between Midge and Abe at the end of the episode that is the right amount of 'the warm fuzzies.'
The Movie Culture Synopsis
This review has barely touched on the rich characters that are available to pick from the show. The show's universe has some of the most eccentric and beautiful characters contained with it. This show is not just a must-watch but a beautiful depiction of comedy in the '50s and '60s.
It has an incomparable visual experience compounded with some fun historic references. If you love period dramas that are not based on incomplete facts, New York City, and comedy, then this should be on the top of your list of shows for this spring. The Marvelous Mrs. Maisel is available to stream on Amazon Prime Video from the 18th of February, 2022.