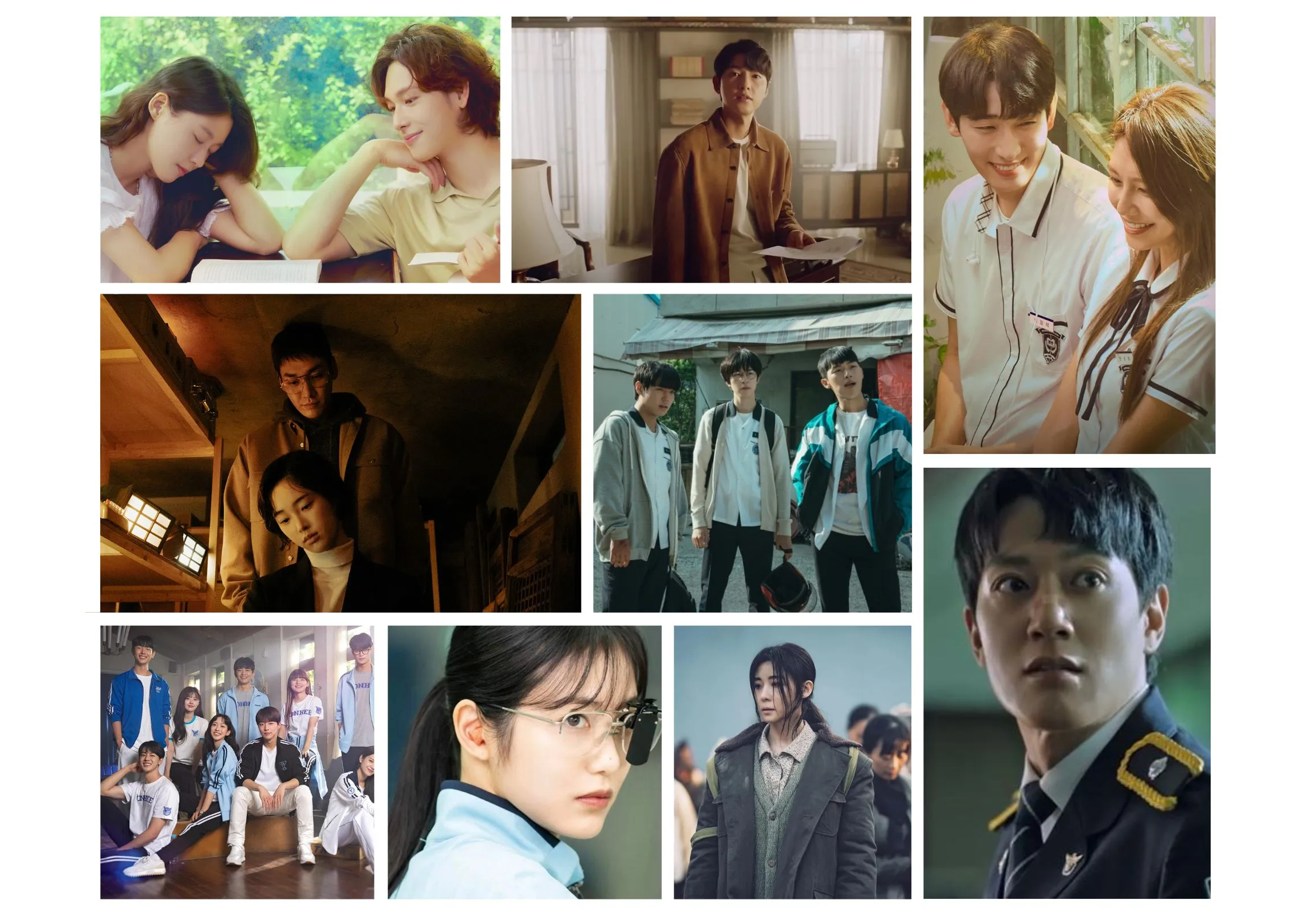 You need to change your groove if you are not watching any K-Dramas. K-Dramas are not your ordinary soapy serials or predictable love lives described in a hasty manner. They are a revolution of their own. They are in a genre of their own. And if you are a K-Drama addict like me, you need something scheduled to watch after your current watch ends. Then whether it's something slice of life or a fueled thriller like Vincenzo, K-Dramas really are the perfect escape. Lucky for you all, we have curated some dramas which are worthwhile for your time. These dramas aired in 2022, might have not gathered much of the audience's attention, but they are worthy of it.
1. Somebody
If you are a fan of psychological dramas and enjoy an intense session of twists and, turns, then "Somebody" is for you. This one delivers such scenes with might unsettle you, churn your stomach, and delivers it with a hint of an erotic path.
Somebody is directed by Jung Ji Woo and written by Han Ji Wan. It casts Kim Young-Kwan, Kang Hae-Lim, Kim Soo-Yeon, and Cheon Seon-Woo. The story follows Kim Sum, who creates a popular dating app with the name "Somebody". A serial killer, Yun Oh, joins this app to find his next target but is intertwined with the creator and forms a bond of malicious and twisted romance.
The actors have that devilish side to them and nail their roles perfectly. Melodrama is wrapped up in a thriller, this drama ends at a cliffhanger. You can watch it on Netflix.
2. Reborn Rich
I am starting this by saying SONG JOONG-KI. It is his comeback after Vincenzo and his cameo in Little Women. This drama revolves around chaebol families. It contains the masala of revenge and reincarnation.
Directed by Jung Dae-Yoon and written by Kim Tae-Hee, Reborn Rich features actors like Song Joong-Ki, Kim Young-Jae, and Lee Sung-Min. The drama focuses on the center of attraction through its captivating cast and its promising storyline.
Yoon Hyun-Woo was a faithful employee of the Sunyang family and worked hard for its growth. But he meets an unexpected betrayal and gets killed. He gets a chance to reset his life, only to be reborn as the youngest son of the Sunyang family. He sees this as a motive to revenge himself and works toward his goal.
This drama is currently ongoing and you can catch up with it on Viu.
3. Cheer up
A drama with a love triangle and even a coming-of-age one? Sign me up, please. This drama sends an uplifting message as well as lets us into a dark secret of the story. Directed by Han Tae-Seob, Cheer Up is an SBS drama.
Following the life of Do Hae-Yi, she had to fend for her family starting at an early age since her father's death. She sets her priority as money rather than anything else. Following this, she joins a cheering squad named Theia, which has existed for over 40 years at her university. After she gets to Theia, her life changes. She learns a lot of lessons, and even finds love.
Cheer Up casts are a handful of visuals of the drama industry. Han Ji-Hyun, Bae In-Hyuk, Kim Hyun-Jin, and others grace our screen with their insane features and their awesome acting. Since it's ongoing, now is the perfect time to catch its speed on Viki.
4. Summer Strike
This is the epitome of healing and describing your wounded soul. This drama is presented by Kim Seol-Hyun and Im-Siwan. This story is set on a path to teaching you that it is okay to sit back and step back when things get tough.
The storyline starts with Yeo-Ruem facing problems at her workplace. She then complains about it to her boyfriend, who instead lashes out at her and breaks up with her. Further, she experiences her mother's death and also quits her job to start a new beginning in a new small town, Angok. There she finds different types of people interacting with her.
This is a slice-of-life drama. One of the most important lessons we should learn is to spend quality time with our dear ones because we never know what would happen to them. It is okay to sit and relax, it is okay to have new beginnings, and most importantly, it is okay to fail.
Join Yoo-Reum on her journey to discover the "summer" of her cold life and find happiness again, on Viu.
5. Fan Letter Please
Directed by Jung Sang-Hee, this again is a slice-of-life drama. The drama hopes to send a message of hope and positivity, as said by the director, in the midst of harsh negativities.
Bang Jeon-Seok, who is a single father, hopes to fulfill the wishes of his child who is battling leukemia. Kang Hee, a top star, battles a scandal that broke out. He fulfills his daughter's wishes by writing a fan letter.
Describing the past, the show's poster shows both Kang-Hee and Jeon-Seok, looking at each other romantically. This drama includes a spice of romance between them and the misfits of a child, merged together to give you constant smiles.
Featuring Choi Soo-Young and Yoon Park, this MBS drama is sure to touch your heart.
6. May I Help You?
May I Help You? is a romance genre drama with a tint of ghosts on the side. Lee Hyeri again strikes with a supernatural drama, which seems to be her type. She always rocks this kind of role, as seen in My Roommate is a Gumiho. She is joined by Lee Jun-Yung as the main lead.
Lee Hyeri as Baek Dong-Joo gets appointed as a funeral director. There she discovers that she has the ability to communicate with the ghosts. This prompts her to help the ghosts to fulfill their last wishes. She confronts many people as a part of this. Lee Jun-Yung starred as Kim Jib-Sa, who runs an errand company with his uncle. A part of this errand was to break up with a client's girlfriend, who turned out to be Dong-Joo. Hereby starts a series of coincidences with them, and we get to see how fate turns them together.
The visuals in this drama are unmissable and show the different strands of the characters' lives. This one is a cute fantasy-based romance and is streaming on Prime Video.
7. Curtain Call
If you need another chaebol-centered drama, stop looking. Curtain Call is a drama centered on such drama. Directed by Yoon Sang-Ho and the screenplay written by Jo Seung-Gol, this drama stars Kang Ha-Neul and Han Ji-Won.
This drama covers two timelines; the past and the present. Simultaneously, it also presents the two sides of Korea briefly. Both of the actors show their versatile acting by playing two roles. Ha Ji Won stars as the young Ja Geum-Soon, and her granddaughter Park Se Yeon. While Kang Ha-Neul is the younger version of Ja Geum-Soon 's past husband, Ri Jong-Moon. In the present time, he also plays a theater actor named Yoo Jae-Hoon, who was commissioned to pretend to be Ri Moon-Seung, Ja Geum Soon's long-lost grandchild from North Korea. The show mainly focuses on Kang Ha-Neul's identity and whether or not his actions will get caught.
The star-studded cast does not disappoint. Kang Ha-Neul's dramas are always a hit and there is no missing this isn't also one.
8. Revenge of Others
Revenge of others gives out the genre from its name. It is a drama featuring Park Soloman, Shin Ye-Eun, Seo Ji-Hoon, Chae Sang-Woo, and Lee Soo-Min.
If you are watching this drama, you need to pay attention to everything that is happening. It contains suspense and the story is a bit complex. After her brother's demise, Ok Chan-Mi transfers to his school to prove that he did not commit suicide. Ji Soo-Heon takes revenge on the bullies in the place of the tormented students. After Chan-Mi's transfer, she gets tangled with Soo-Heon who steps up to help her out.
The story revolves around truth and harsh realities. If you are interested in thriller dramas in a high school setting, this one would keep you on your toes. Accessible on Disney+, this drama is available globally.
9. First Responders
This one gives you a close look into how the first responders work hand-in-hand in case of disasters. This SBS series, debuting on Disney+, was launched two weeks after the horrendous Itaewon disaster.
The show's lead trio, includes Bong Do-Jin (Son Ho-Jeun), who is a firefighter, Song Seol(Gong Seung-Yeon) who is a paramedic, and Jin Ho-Gae (Kim Rae-Won) who is a police officer. When a young woman, So-Hee gets abducted, she finds herself awaken in a killer's flat, who stabs her in her thigh intending to play before murdering her. She locks herself in a room where she finds a device through which she can reach out to an emergency. This is how the trio starts working together.
The drama is filled with intimidating scenes, full of tension, and is a strong watch.
10. Weak Hero Class 1
Weak Hero Class 1 is a K-Drama adopted from the webtoon of the name "Weak Hero" written by Seopass and illustrated by Kim Jin-Seok. It depicts the story of a schoolboy who, using his intelligence and fighting skills, fights the violence he faces inside and outside of his school.
Starting with the main lead who is played by Park Ji-Hoon, is represented as a fragile boy who has sharp intelligence. He forms a strong bond with two others, Ahn Soo-Hoo (Choi Hyun-Wook) and Oh Beom-Seok(Hong Kyung), who help him and create memories along the way. Jeon Seok-Dae, acted by Shin Seung-Ho, is a bully who beats up kids. He does this to earn money, wishing deep down to stop this violence.
This drama follows through all the stories of the different characters and is rated a heaping 9.1 out of 10.
The Movie Culture Synopsis
A fan of this list? We have written several others that are sure to give you some great K-Drama recommendations! Here's a list of the best thriller K-Dramas of all time.