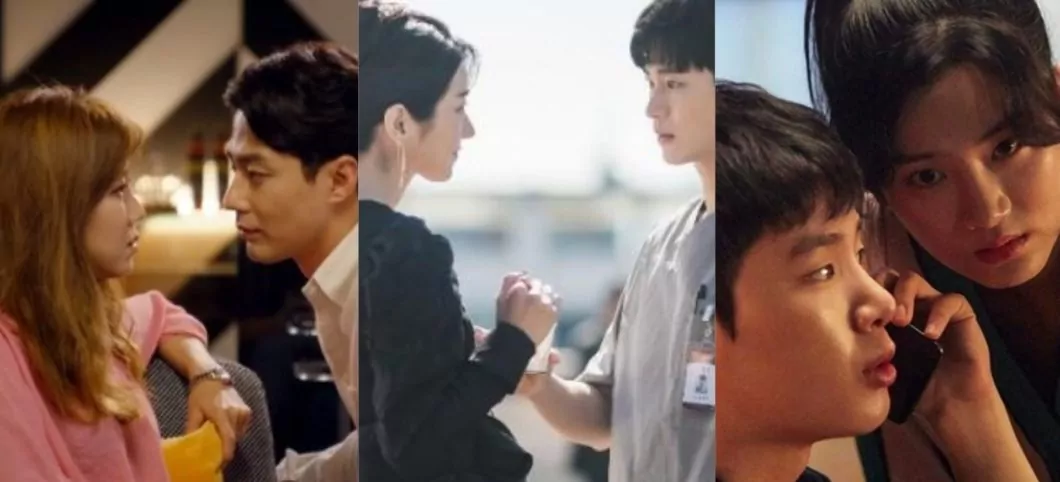 For those who have finished watching the captivating romance television drama It's Okay to Not Be Okay, this is a list of 11 K-Dramas that you can watch next. So if you want to overcome the feeling of dismay after realizing the wonderful chemistry between Kim Soo hyun and Seo Ye ji cannot be seen anymore with the ending of the series, hop on to watching one of the dramas from this list. As the drama also puts the spotlight on two people who heal each other's traumas and wounds as they get closer, the dramas in the list also deal with similar topics.
1. Hyde jekyll me
In Hyde Jekyll me we see Hyun Bin playing the male lead Goo Seo jin suffering from a split personality disorder. He has two different personalities within him, one is kind and gentle and the other cold and ruthless. As he attempts to remove the circus show in the theme park run by him he meets Jang Ha na who is determined to save the circus and restore it to its former glory. 
Cast- Hyun bin, Han Ji min, Lee Hye ri, Sung Hoon
(Stream on Netflix)
2. It's Okay, That's Love
Just like It's ok to not be ok, this drama starring Gong Hyo jin and Jo In-sung also talks a lot about mental health and healing. The plot centres on a mystery novelist Jang Jae yeol and the psychiatrist Ji Hae soo who meet on a talk show about criminal minds. Although they have clashing personalities they manage to help heal each other's scars and move on. 
Cast- Jo In sung, Gong Hyo jin, Sang Dong II, Lee Kwang soo, Do Kyung soo
(Stream on Netflix)
3. Extracurricular
Extracurricular centres around a shy model student Oh Ji soo who lives a double life as a mastermind behind a crime as a means of making money to put himself through college and live a normal life. While this show may be darker than It's ok to not be ok it explores the idea of how the actions of one's parents affect the life of someone as they grow older.
Cast- Kim Dong hee, Park Ju hyun, Jung Da bin, Nam Yoon su
(Stream on Netflix)
4. Hotel Del luna
When it comes to strong independent female leads and impeccable fashion sense the other person who can compete with Mun yeong is Hotel Del luna's Jang Man wol. Both the dramas have two shy male leads that are able to complement the personalities of the female lead and also let them shine on screen. Both the dramas are also similar in the sense that they touch on the topic of healing except in Hotel Del luna which is about mainly healing the souls of people who have passed.
Cast- Yeo Jin goo, IU(Lee Ji eun), Park Yoo na, Jo Hyun chul
(Stream on Netflix)
5. Kill me Heal me
Another drama that deals with split personality disorders is 'Kill me Heal me' in which the lead Cha Do hyun is a billionaire who is having seven identities. In an attempt to control his life again, he asks for the help of a resident psychiatrist Oh Jin ri who in turn ends up in love with one of his identities.
Cast- Ji sung, Hwang Jung eum, Park Seo joon, Kim Yu ri
(Stream on Netflix)
6. Mystic Pop-Up Bar
This is a fantasy drama about an old bar owner Weol joo who has the ability to enter the dreams of people to rid them of their burdens. Tasked with helping 100,000 souls, she recruits Kang Bae to be a part-timer who also happens to have the ability to see people's sorrows. This show also explores the concept of healing just like It's ok to not be ok through the abilities of the two main characters.
Cast- Hwang Jung eum, Yook Sung jae, Choi Won young
(Stream on Netflix)
7. Save me
Another notable work of Seo ye ji is Save me, a psychological thriller drama. She plays the character Sang mi who has just shifted to a new neighbourhood with her family where they don't know anybody. They then end up tangled in a world of a pseudo religious cult and there is no one to save them but four young men who they have just met.
Cast- Seo Ye ji, Ok Taec yeon, Woo Do Hwan
(Stream on Netflix)
8. Angel's Last Mission: Love
This drama is a fantasy and healing is a main part of the story. The female lead is a talented ballerina and is the owner of the Fantasio ballet company after her parents' death. Though she goes blind in an accident and becomes bitter and abusive to her staff, her butler and her family and everyone else. The male lead is an optimistic and carefree angel who always gets caught up in trouble. He falls in love with the female lead when he was tasked with a job in order for him to return to heaven.
Cast- Shin Hye sun, Kim Myung soo
(Stream on Viki Rakuten)
9. Flower of Evil
The protagonist Baek Hee sung hides a dark secret about his identity and also has an antisocial personality disorder, despite which he establishes a family where he is a loving husband and father and runs his own successful metal workshop. However, Hee songs facade begins to crumble as an accomplished homicide detective Cha Ji won, who is also his wife starts to investigate a serial murder case from fifteen years back and she ends up suspecting that her husband is hiding something from her. (highly recommended if you are into suspense and crime)
Cast- Mun Chae won, Lee Joon gi
(Stream on Viki Rakuten)
10. Move to Heaven
The main protagonist Geu Roo suffers from Aspergers and he is looked after by his father Jeong u. They both live together and run a business called Move to heaven. Basically when a loved one dies the team arrives and goes through their rooms to clear out everything and collects all the valuables in a yellow box while getting rid of everything else. When Geu Roo faces a devastating loss, he is forced to question everything he once knew.
Cast- Tang Jun sang, Jin Jin hee
(Stream on Netflix)
11. Good Doctor
Just like the Hollywood series of the same name this K-Drama is also a series about a Doctor having Autism savant syndrome. Though he has the mentality of a ten-year-old and despite his struggle of overcoming the discrimination by his workmates and the society he lives in, he uses his abilities to be a good paediatrician.
Cast- Joo Woon, Moon Chae young, Joo Sang wook
(Stream on Netflix)
The Movie Culture Synopsis
It's Okay to Not Be Okay Season 2 might or might not come, but till then, you can binge on these K-Dramas that also reflect on Healing and Trauma. K-Dramas have been tackling serious issues for a long while, it's only a matter of finding the right one!