Holy crap. What did we just witness in that new The Suicide Squad trailer! It was absolutely bonkers in the most exciting and hyped up way possible. The tone of the trailer seems so fun for a movie which is probably going to be filled with Brutal, Gory killings all round. James Gunn handling this and finally letting out his true messed up vision for The Suicide Squad, finally feels like justice has been served. There's a huge number of things to unpack in this, almost 3 minute long, snippet, so let's go over the top 5 things that I freaking adored about the new The Suicide Squad Red Band Trailer.
5. Polka-Dot man and his suicidal tendencies
Polka-Dot man will finally make a big screen debut with The Suicide Squad. Played by David Dastmalchian, Polka-Dot man is a minor villain in the DC comics who can rip off a dot from his costume and the powers which are associated with the dot will get activated. David has a history of playing characters who have been schizophrenics. Watching him in Prisoners and The Dark Knight gives me faith that his portrayal of Polka-Dot man will have an eerie, self-deprecating vibe to it. He will most probably be the kind of a man who is going to invite danger just to die early. And I for one can't wait for it. 
4. Michael Rooker aka Yondu as Savant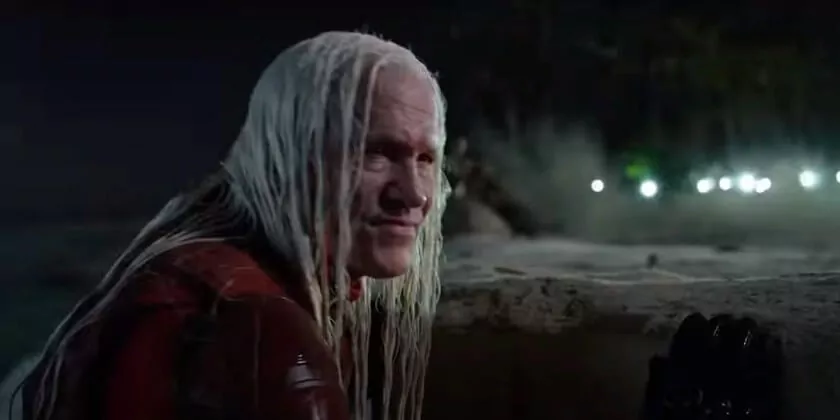 According to the comics, Savant is a character who was called out by Batman for not being careful enough while trying to play vigilante. His ego couldn't digest this and so he formed his blackmailing empire by utilizing his hacking abilities. In The Suicide Squad, Savant is played by none other than Michael Rooker, who has been a constant in both the Guardians of The Galaxy movies as Yondu. The trailer had a lot of scenes of him playing in some sort of an underground cage. Him and Pete Davidson's Blackguard seem to be locked in a facility somewhere and being prepped up to join The Suicide Squad. I am very curious about what Michael Rooker brings to the screen as Savant.
3. Peacemaker's obsession with stuff on beaches
John Cena nails it when it comes to playing tough guys with a humour. We have seen that throughout his career but in The Suicide Squad, he seems to be the main person to really utilize that R-Rating and the dialogues which come with them. His monologue on beaches in this trailer felt so random yet it somehow fit the character of Peacemaker perfectly. Peacemaker is a DC character who took the concept of peace a bit differently. A superhero who started off as a non-lethal vigilante got turned into this violent freak who is willing to do anything if it results in some sort of peace. 
2. The Starfish Kaiju villain of The Suicide Squad
The trailer ends with a starfish bursting out of the grounds and absolutely wrecking everyone up. This "kaiju" left a lot of fans wondering about who it might be. So, I did a little digging and discovered Starro. And I know it might not seem like this villain isn't really consequential, but in reality, it has some amazingly unique abilities which might give The Suicide Squad a completely out of the world climax. Starro is an intergalactic starfish which can apparently control minds of entire populations. It has parasites which leech of human beings' thoughts and gain control over them. This has left me curious about how James Gunn is going to utilize a villain like Starro on the big screen.
1. King Shark might just be the cutest villain ever
NOM-NOM and HAND, these are the only two words spoken by King Shark in the entire trailer, and that somehow is enough to steal the entire limelight. Getting Sylvester Stallone voice King Shark is such a Magnificent move on James Gunn's part. King Shark is seen in his ultimate form, ripping people's heads off and stretching their bodies to such extent that their intestines drop down. And in the midst of all this, he utters something like NOM-NOM before absolutely swallowing an entire human being. How insane can The Suicide Squad get from here?
The Movie Culture Synopsis
The Suicide Squad, produced by Zack and Deborah Snyder and Directed by James Gunn releases in theatres and HBO Max on August 6 and I for one can't wait to sink my teeth into this hilariously terrifying piece of cinema.