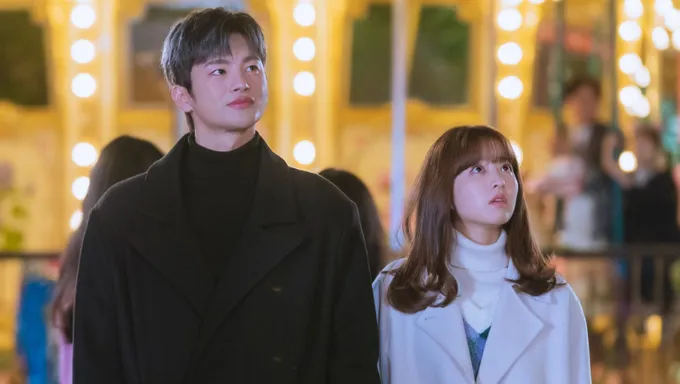 Who doesn't like romance huh? The awkward stares at each other, talking with our eyes, comfortable silences, cute pecks, that feeling when you hold hands! These are a few of the most recurring yet squeal-worthy moments in a romantic series or movie. Romance is a genre that is predictable yes, but indeed enjoyable. So we've curated a list of the most romantic dramas in the drama verse for you all to binge-watch and fall in love again with our Oppas.
1. Doom At Your Service
Speaking from the bottom of my heart, this drama stands in the top 10 list of the best K-Dramas ever on my list. Why you would ask? Because this here contains everything I love in a drama (here's a link to the detailed review). There is a supernatural universe, there is romance, there is pain, and there is a cohabitation trope. Literally everything. Plus, oh my god the star cast? Amazing!
Doom At Your Service puts the spotlight on Dong-Kyung, who has recently been diagnosed with a terminal illness. She wished upon a shooting star to grant doom to the world. And boom, Doom, called Myul-mang in Korean, shows up on her doorstep. He proposes to work together with her to spend her last 100 days doing what she always wanted to do. And in this feat, both start being close to one another. And then, fate happens. I won't go too much into the plot, but it's worth your time for this one.
Dong-Kyung is played by Park Bo-Young, who was previously in Strong Woman Do Bong Soon. Seo In-Guk plays Myul-mang. Both of them were the perfect actors for this role because I cannot imagine anyone else playing this role. The chemistry between them is sizzling hot and they literally carried this drama. Plus, even the romance of the side leads is a cute little addition. I swear you all will fall in love with this one.
2. Strong Woman Do Bong-Soon
This again is a Park Bo-Young starrer. Seriously, this woman has all of my heart. She plays these characters so well, it's impossible not to fall for her. Strong Woman Do Bong-Soon was released back in 2017, yet its hype is still ongoing. It is truly an eternal drama. Bong-Soon is played by park Bo-Young, and Park Hyung-Sik stars as Min-Hyuk.
Bong-Soon is a girl born with great strength, continuing her family's legacy. Because of this, she does not last long at her job. She gets employed as a bodyguard at a game-creating company after the CEO Min-Hyuk saw her fighting skills. Min-Hyuk leads the business in the industry, and thus often receives threats. Bong-Soon is in love with Ko-Do who is a police officer, and they have been friends since their school days. Ko-Do doesn't return her feelings at first but realizes a little too late that they have been there since the very beginning. Working together at Ainsoft, Min and Bong get close in their relationship leading further.
You would enjoy this drama if you are a fan of cute romance. the cute nicknames, the hidden kisses all of that. But looking past that, you can see how comfortable the actors are with each other and that adds such a vibe to the series. Plus, the soundtrack is so so so good! A perfect watch for the days you need hugs, cause this feels like one. You can binge it on Netflix.
3. Moon Lovers: Scarlet Heart Ryeo
If you haven't heard of this one. you have been living under a rock. Ever since it got released way back in 2016, the fans are still anticipating a season 2. Unfortunately, we are not getting it so why not fill our hearts again and again with this one?
Go Ha-Jin, who faces terrible heartbreak, drowns in a lake on a red moon day and transports way back to the Goryeo dynasty, where she is identified as Princess Hae-Soo. Lee Joong-Gi, who plays the 4th prince, is feared by everyone because of a scar on his face and is deemed unworthy of taking over the throne. Hae-Soo connects with all of the King's sons later on in the story and forms a beautiful friendship with a few of them. Stuck between the 8th price, played by Kang Ha-Neul, and the 4th, Moon Lovers follows through the expressions of betrayal, love, and care showing different sides of each character throughout the run.
The chemistry between Joong-Gi and IU is undeniable throughout the drama and even with Ha-Neul. The period drama covers the aspects of violence and the lengths one's own family goes to just to take over the throne. IU's performance as Hae-Soo is spell-bounding. The drama ends on a sad note and that is what makes the fans roar to this date. Even though the show starts out to be slow, it gets interesting pretty soon after the 8th episode. Put it on your watchlist now!
4. My Roommate is a Gumiho
For the regular readers of TMC, if you have read my review of the K-Drama, you know I love this one. Those who haven't read can catch up with this below.
Gumiho romances are often replayed in the Korean Industry, yet this one stands out. From living together when she swallowed his bead, Lee Dam starts living together with Shin-Woo for finding a way to take the bead out of her system. While living together, both of them unfold the side of each other that is strange yet comforting to them. Unraveling secrets, both of them change their destiny when they fall in love.
Hyeri and Ki-Yong still stand as one of the best pairings in the dramas. They both complement each other. From the cast to the cinematography to the soundtrack, this drama is sure to creep up into your heart. Even if you aren't a fan of the Gumiho genre, this one would make you love it. You can watch it on Viki.
5. Crash Landing on you
Who hasn't heard of this one? CLOY was the drama that crossed the borders and reached everywhere across the globe and touched everyone's heart with its unique storyline. And if you have not watched it yet, friend, you are missing out.
Son Ye-Jin, who plays a wealthy chaebol heiress, reaches North Korea after a paragliding accident. Hyun-Bin, an army official from N.Korea, discovers her and tries to rescue her and send her back. When the plan is unsuccessful, he hides her in his home and plans another one. During this time, both of them work on the differences and get attached. Even after Se-Ri goes back to the South, he crosses the border to be with her, even just for a short while.
Besides the unique story, the plot shows the difference in the cultures and the living habits in both of Korea and how much different are they from each other. Romance is top-notch and will make you seriously raise your standards. I mean, he crossed a border for her! Plus, both of the actors are married in real life and welcomed a baby a little while ago! Seriously, this drama is a big hit and you should watch it for sure.