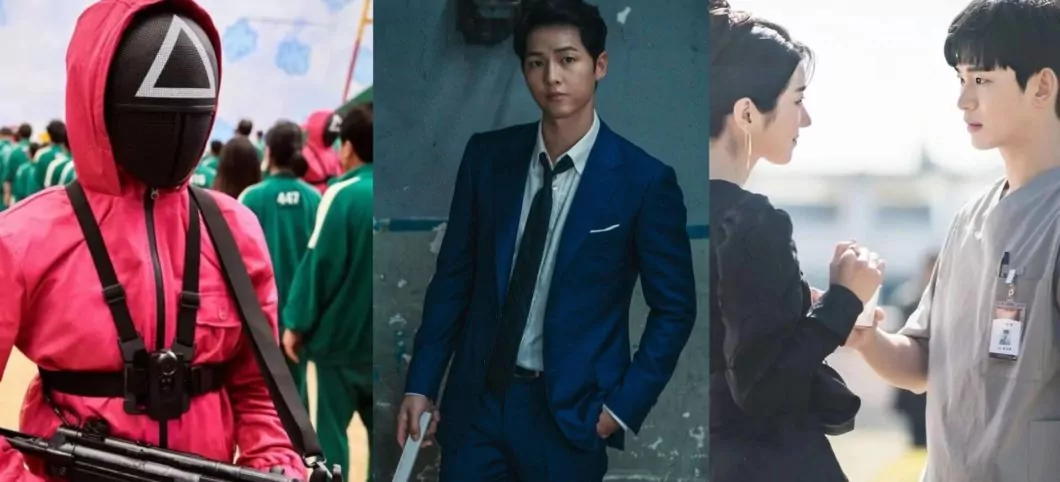 There have been quite a lot of Korean dramas over the years, shows that have kept us on the edge of our seats or curled up in our bed with a box of tissues. No matter the occasion some of the dramas have managed to strike a chord with the audience and stay with us even after the last episode is over. With so many great dramas being produced at the height of the Hallyu wave the desire to hit the top spot of k-drama mountain has never been more daunting for the creators. Join us as we celebrate the top 50 K-dramas of all time.
1)  The World of the Married
Network – JTBC
It is the highest-rated Korean drama in Korean cable television history. The show excellently adapts from the British series Doctor Froster and manages to balance well-written characters with an evolving plot. It revolves around the story of a couple whose betrayal of one another leads to a whirlwind of revenge, grief, forgiveness, and healing.
2)  Sky Castle
Network – JTBC
Sky Castle had one of the highest Networks for a long time until it was beaten to the post in 2020. It is a remarkable feat especially when you realize that it hit less than 1% in its opening episode. The satirical drama revolves around four housewives from the wealthy top 1% of Korean society, who are desperate to get their kids into the top Korean university no matter the cost. Though simple in theory its examination of class and culture in our society is partly why the show works so well.
3)  Crash Landing On You
Network – tvN
It was one of the most popular Netflix K-dramas of 2020 and is one of those shows that made many people all over the world get interested in the Korean entertainment scene. It can be dubbed as 2020's crowning jewel as its popularity fueled Netflix's desire to showcase more of these wonderful Korean dramas. It manages to blend romance, action, and comedy together into one heady cocktail of delight.
4)  Reply 1994
Network- tvN
It is highly regarded as one of the best in the slice of life genre as it takes a trip down memory lane. It can be quite relatable to the Indian audience who grew up in the late 80s or early 90s as there are some similarities with our culture in the scenes shown 1994 adopts a light breezy tone with well-written characters and a lot of dramatic and crackhead comic moments. It splits across four different families and is praised as an accurate description of Korean life back in the day.
5)  Guardian: The Lonely And Great God
Network – tvN
It is simply one of the best Korean dramas to exist ever. Armed with breathtaking cinematography, crackling chemistry between its main cast, and one of the best soundtracks among K-dramas, it proves to be a memorable journey from the first right up to the last episode. It is a must-watch for Fantasy lovers and those who would like to watch more series with a traditional Korean mythological undertone in the plot.
6)  Mr. Sunshine
Network – tvN
Mr. Sunshine is an epic period piece that combines impressive visuals with well-written characters. It also has a great eye for detail in its writing and set and costume design. Coupled with brilliant casting and stable pacing it is a show that cannot be missed. It is set during the Joseon period in 1871 when Japan was colonizing Korea and their brutal occupation growing turmoil all around the country. It follows a Korean boy Eugene who flees to the US grows up there and returns to Korea as an American soldier. He meets and falls in love with Ae-shin, a noblewoman fighting for the independence movement in her country.
7) Itaewon Class
Network – JTBC
It can be argued that this webtoon adaptation runs out of steam in the middle chapters and only picked it up toward the end. It was one of those unique dramas that combined important themes around acceptance, belief, and racism while it aired in early 2021. It revolves around high school student Sae-ro-yi who is antagonized by a chairman of Jangga Co. What follows is a revenge-fueled redemption story as Sae-ro-yi teams up with Jo Yi seo and three others to open a bustling pub in the infamous Itaewon District of Seoul in a bid to usurp the Chairman and Jangga Co.
8)  Vincenzo
Network – tvN
It is a comedy/ thriller hybrid taking parts of both genres and meshing them together awkwardly. The opening scene of the Drama with the first 10 minutes of ruthless unflinching action and tension is the best to watch. Though the protagonist Vincenzo is supposed to be a part of the Italian mafia the plot surprisingly doesn't revolve around a bloody mafia feud or warring families. It was instead revolving around a simple court case and drama surrounding a building called Geumga Plaza.
9) Squid Game
Network – Netflix
If you haven't checked out Squid Game yet, which is set to become Netflix's most-watched show ever, this is a solid recommendation for you. In this viral hit, a group of characters drowned in serious debt signed up to play a series of children's games for a chance at 45.6 Billion Won. This seems quite easy but the critical twist is if you lose the Tug of War or Red Light Green Light, you die.
10) Pachinko
Network – Apple Tv+
If there is ever a label for international prestige K-drama then it surely goes to Pachinko. Created by Kim Soo Hugh based on a novel by Korean-American writer Min Jin Lee, this drama narrates the story of three generations of a Korean family living in Japan spanning from Japanese-occupied Korea in the 1910s to 1980s Tokyo.  It has a stellar cast including Oscar-winning actress Yuh Jung Youn as the main protagonist Sunja.
11) Law School
Network – Netflix
This drama focuses on students and professors at the prestigious Hankuk University Law School. The show's plot kicks off when one Law professor at the school is found dead and another professor Yang is arrested for the crime. This development forces the students to team up in order to prove professor Yang's innocence.
12) Navillera
Network – tvN
It is one of a kind show that is best watched with the expectation to be left feeling emotional over the plot and the characters' stories.  The series focuses on living your dreams no matter your age, it shows Shim Deok-Chul a 70-year-old retired mailman who dreams of being a ballet dancer. As he pursues his dream he also has to battle Alzheimer's.
13) The Penthouse: War in Life
Network –  SBS
If you thought Sky Castle laid the melodrama in thick wait till you actually check out this series. It was quite popular in Korea during its premiering days and is easily one of the best in the 'Makjang' genre of K-Dramas. It follows three wealthy families eyeing power in the Hera Palace community- a luxurious 100-floor high-rise apartment in Seoul.  Just like Sky Castle this series also centers around three children with their secrets and ambitions and piles of money risking it all for their children.
14) The Uncanny Counter
Network – Netflix
This show revolves around an eclectic group of characters who possess special abilities to hunt down evil spirits. The five-person group, called 'Counter' works at a noodle shop by day and by night and switch to hunting down evil spirits that escaped the afterlife to pursue humans. Their red costume was iconic and can make a great costume for Halloween.
15) Sweet Home
Network – Netflix
If you like gory, horror, and zombie movies like The Call or Alive then this is a great recommendation for you. You will love it.  Sweet Home follows a guy who moves into an apartment complex after the death of his family with some odd neighbors which makes him witness some frightening things.  It was adapted from a popular webtoon of the same name by Young-Chan Hwang and Carnby Kim and honestly lived up to its name fairly well.
16) Start-Up
Network – Netflix
This drama mixes comedy and romance and centers around a group of young individuals who are eager to succeed by starting their own business. Suzy Bae and Nam Joo hyuk stans would definitely love to see their chemistry as the main leads of the drama. They both join Sandbox (a tech accelerator for entrepreneurs) along with Won In Jae who plays Bae Suzy's sister in the series. Be warned that the charismatic Han Ji pyeong played by Kim Sun ho will leave you feeling the 'second lead syndrome' real bad.
17) It's Ok to Not be Ok
Network – Netflix
It is a chaotic piece that is well executed in its story and portrayal of unique characters with certain traits that are portrayed quite realistically.  It centers around a psychiatric ward caretaker, Moon Gang tae who
has lived his life on the run since his mother's murder along with taking care of his autistic older brother, Sang tae, who happens to have recurring nightmares about the night of his mother's death which forces the brothers to pack up and relocate every time it occurs. They both end up meeting Ko Mun Yeong, a children's book author who is antisocial with a difficult personality.
18) Strangers from Hell
Network – Netflix
If you are looking for a creepy, hide-your-face-under-the-blanket kind of drama then this one is just the best to recommend. It follows a young man Yoon Jeong-woo who moves to the countryside from Seoul after he is offered a job by a friend. He needed a place to live and found Eden Goshiwon, an unkempt but inexpensive apartment with a communal kitchen and bathroom. He stays there for 6 months until he makes enough to move out, but starts noticing some strange behaviors happening in the apartment building. His neighbor played by Lee Dong Wook turns out to be a dentist by day and serial killer by night.
19) Hospital Playlist
Network – tvN
Grey's Anatomy and Doctor's fans who are suckers for medical dramas will want to dive right into this slice of life dramas that depict the stories of people working at a hospital.  The five doctors are long-time friends who went to medical school together and now are colleagues navigating through their careers centered around life and death. It is currently one of the highest-rated Korean dramas in cable television history with sequels.
19) Itaewon Class
Network – Netflix
It revolves around the tenacious Park Sar royi who opens a pub DanBam in the bustling Itaewon after spending a few years in prison for beating up Jang Geum-wom, son and heir to Jangga Co. They both have a rough history and now with his fresh start, Sar royi plans to franchise DanBam and try to overtake Jangga Co. as a household name. This goal is his form of revenge against Jangga who caused his father's death.
20) Legend of the Blue Sea
Network – SBS
This fantasy romance explores the relationship of a con artist and a mermaid who meet and fall in love. The mermaid Shim Cheong follows her lover Heo Joon Jae who lives on land leaving her life in the sea behind. Juxtaposed against the present day, the story also focuses on two Joseon era reincarnations, town head Kim Dam ryeong and the mermaid Se Hwa.
21) My Mister
Network – tvN
It tells the story of two people struggling with financial troubles, family drama, and loneliness. Park Dong-hun is a middle-aged engineer working under a boss who is younger than him, all while providing for his two unemployed brothers and mom. Whereas 20-something Lee Ji-an is in a mountain of depth that she will do anything to get out of. After she catches Dong-hun accepting a bribe, she decides to steal gift certificates he received in an attempt to pay off her loan.
22) Reply 1988
Network – tvN
It is a different kind of historical drama though it does not take us back to the Joseon era, it shows more recent cultural events such as the 80's Seoul Olympics through the eyes of young people coming of age at the time. It is the most thorough, following both the kids and parents of the Ssangmun-dong neighborhood in Seoul.
23) Descendants of the Sun
Network – SBS TV
If you are a fan of Vincenzo and want to watch more dramas of Song Joong ki, check out the acclaimed drama that made him part of the Hallyu wave. This acclaimed drama follows Captain Yoo Si jin of the Korean special forces as he falls in love with surgeon Kang Mo Yeon.
24) Kingdom
Network – Netflix
It is a mash-up of historical drama and zombie horror that became the first Netflix original drama to become an international hit. As a mysterious plague moves through the country, a crown prince sets out to find the source. Luckily it does not end in season 1. It has a few sequels and a spin-off film too.
25) My Name
Network – Netflix
An intense thriller that follows a young revenge-driven woman Ji woo set out to avenge her father who was involved in a criminal syndicate. She takes up a new identity of a policewoman working with her father's old partner, Choi Mu jin.
26) True Beauty
Network – tvN
If you want to watch a high school love triangle with a hilarious plot then this is for you. Im Ju Yeong has an inferiority complex as she was bullied for years by family and classmates for her looks. She masters the art of makeup through YouTube and is considered a goddess becoming popular at her new school. Soon she falls into a love triangle with Su ho who knows about how she looks without makeup, and his former friend Seo jun.
27) Happiness
Network – Netflix
This drama is full of twists and turns to start with being the only drama to address the Covid-19 Pandemic. Officer Yoon Sae-bom who dreams of having her own apartment gets a chance to move in there with her High school best friend, Detective Jung Yi-Hyun. Soon after that, an infectious disease sweeps over Korea, with those infected getting a craving for human blood.
28) Hotel Del Luna
Network – Netflix
The Hotel Del Luna acts as a refuge for the dead before they finally move on to their afterlife. They pass on after dealing with unfinished business in life, except Man wol the owner who has been cursed to run the hotel for over a millennium, as penance for her sins.  Though all the staff are souls they still need a human manager to take care of certain requirements like taxes. The next fated one is Koo Chan sung, a Harvard grad who discovers that he can see ghosts. As they work together he unravels the mysteries of Man wol's past and falls for her.
29) Moon Lovers: Scarlet Heart Ryeo
Network – SBS
It is a hit historical romance television series based on the Chinese novel Bu Bu Jing Xin by Tong Hua. It follows a girl Hae Soo from modern-day Korea who falls into a pond and wakes up in the Goryeo Dynasty era, in the year 941 in another body. There she meets many royal princes of the ruling Wang family and falls in love with Wang So, who was deemed to be an evil ruler in Korean history. But her existence changes many incidents in the course of history, subsequently also changing the ruler's destiny to becoming a wise and beloved King of the people.
30) My Love From The Star
Network – SBS
It is also known as You which came from the stars a South Korean fantasy romantic comedy television series. It follows an alien stranded on Earth for more than 400 years when he is almost able to return home and falls in love with a famous actress.
31) My Girlfriend is Gumiho
Network – SBS
The life of an aspiring actor changes when he follows the voice of a woman in a temple and accidentally gets a legendary fox with nine tails, Geumiho free from a painting. Who seems like a  pretty young lady in her human form played by Shim Mina. They both fall in love as he helps the Geumiho settle down in human society gradually.
32) Hyde, Jekyll, Me
Network – SBS
Seo jin who is a cold-hearted park owner wrestles for control over his life with his kinder self, Robin who manifests as a split personality after the park's new circus manager falls in love with Robin.
33) Dream High
Network – KBS2
A group of different individuals who aspire to become singers/ Idol stars enroll in the performing arts high school and on the way discover the true meaning of love, friendship, and life.
34) Signal
Network – tvN
When Park Hae Yeong a police lieutenant and criminal profiler gets hold of a special walkie-talkie that can communicate with people from the past, he joins forces with a detective from 1989 to solve three decades of related murders.
35) Twenty-Five Twenty-One
Network – tvN
It is set in 1998 and is a coming-of-age drama that follows its young characters as they deal with the aftermath of the IMF crisis in Korea. Taking the centre stage is the story of Baek Yi jin and Na Hee do, who are individuals who fall in love three years after they meet at the ages of 22 and 18. Now 25 and 21 their world collides in unexpected ways.
36) Our Blues
Network – tvN
Led by a star-studded assemble cast and a comeback drama for actor Kim Woo-bin after his hiatus this series is set in the picturesque Jeju Island. It shows the lives of multiple individuals that intertwine in unexpected ways as they go through uncertain times in their province.
37) Prison Playbook
Network – tvN
A baseball player's bright future takes a turn for the worst after he is sentenced to one year in prison after defending his sister from sexual assault. As he is forced to adapt to a life behind bars, he gets reacquainted with a former baseball player and childhood friend now turned prison guard.
38) Jirisan
Network – tvN
This mystery drama follows Seo Yi-Kang, a skilled ranger who's saved countless lives on Mount Jiri. When mysterious rumors start to plague the titular hiking ground, she teams up with ex=military lieutenant and rookie ranger Kang Hyun-jo to patrol the area. New to the job, he takes the harrowing task after having experienced a traumatizing incident of his own on the mountain.
39) The light in your eyes
Network – JTBC
When Kim Hye Ja stumbles upon a watch that lets her travel through time, she accidentally ends up turning into a 78-year-old woman overnight. Thus ensues her complicated love story with Lee Joon ha, a young wannabe reporter who wastes away his own time.
40) Military Prosecutor Doberman
Network – tvN
In pursuit of fame and money, Do Bae-man becomes a military prosecutor but remains indifferent in his job while he dreams of retiring one day. Cha Woo-in, a daughter of the chaebol family, enters the same job to get her revenge. Despite working for different reasons, they both pair up to help each other fight evil in the military and develop a close bond.
41) Uncontrollably Fond
Network – KBS2
Due to certain circumstances two childhood sweethearts, Shin and Noh get separated. Years later, when Shin becomes an actor and Noh a documentary producer their paths cross again. As fate decides to bring them closer they are able to seek out their pasts but Shin gets diagnosed with a terminal disease and dies.
42) All Of Us Are Dead
Network – Netflix
Combining two elements that K-dramas do best, that is high school and zombies, All Of Us Are Dead series follows a group of students who get trapped inside their school in the midst of a virus outbreak. The eight episodes follow the students as they find love and friendship amidst all the chaos.
43) Hellbound
Network – Netflix
Unearthly beings deliver condemnations, sending individuals to hell and giving rise to a religious group founded on the idea of divine justice.
44) The Silent Sea
Network – Netflix
In this drama veteran actors, Gong Yoo and Bae Doo-na lead a team of soldiers and scientists who undertake a space mission to an abandoned lunar base. When they crash land, the group is trying to survive while they find the mystery of the base.
45) Juvenile Justice
Network – Netflix
In this drama, Kim Hye Soo plays a judge who is infamous for not liking juvenile defenders after she was a victim of a crime in her youth.  When she gets appointed to a juvenile court, her experiences shift her perspective as she discovers what it is to be an adult. Some of the crimes shown are loosely based on real-life crimes that occurred in Korea.
46) The Sound of Magic
Network – Netflix
The paranormal drama follows Yoon A-Yi, a high school student whose parents abandoned her. She now supports herself and her sister with part-time jobs while studying. She meets up with a magician who can fulfill her wish of speeding up time so she can grow. It is based on a webtoon of the name Annasumanara.
47) Tomorrow
Network – Netflix
Fans of mythical dramas such as Goblin should give this one a watch. But rather than leading souls to the afterlife, the reapers of Tomorrow are part of a crisis management team meant to save those who want to die.
48) Business Proposal
Network – SBS
Business Proposal is based on a famous webcomic named The office blind date, this workplace drama stars Kim Se Jeong and Ahn Hyo seop. After Shin Hari agrees to go on a blind date pretending to be her wealthy friend, she discovers that her date is with the CEO of her company, Kang Tae mu who proposes to her the following day.
49) Thirty Nine
Network – JTBC
The story follows three friends who stick together through the thick and thin as they experience love, loss, life, and more on the brink of turning 40.
50) Stove League
Network – SBS
The drama surrounds a baseball team called The Dreams which is ranked last in the league. It has really good storytelling and shows Park Eun bin and Nam Goong min working together to manage the team.
The Movie Culture Synopsis
Phew, that was long. This was our list of the top 50 K-Dramas to watch on platforms like Netflix, tvN, JTBC, SBS & KBS2. Which of these are you watching next?