Vanilla Sky is an American science fiction psychological thriller film directed, written, and co-produced by Cameron Crowe. Vanilla Sky is also an English-language adaptation of Alejandro Amenábar's 1997 Spanish film Open Your Eyes, which was written by Amenábar and Mateo Gil, with Penélope Cruz reprising her role from the original film. 
Vanilla Sky Movie Cast
Tom Cruise as David Aames 
Penélope Cruz as Sofia Serrano 
Cameron Diaz as Julianna "Julie" Gianni 
Kurt Russell as Dr. Curtis McCabe 
Jason Lee as Brian Shelby 
Noah Taylor as Edmund Ventura/Tech Support 
Timothy Spall as Thomas Tipp 
Tilda Swinton as Rebecca Dearborn
Vanilla Sky Movie Plot
David Aames, the owner of a large publishing company he inherited from his father, is in prison. Wearing a prosthetic mask, David tells his life story to court psychologist Dr. Curtis McCabe.
Vanilla Sky Movie Review
A slow-burning drama that demands close contemplation. Adaptation of a Spanish Film Open your eyes directed by Cameron Crowe.  A romantic- science fiction film Vanilla sky is an odd mixture of tragedy, mystery, psychology and love. Tom Cruise who plays the role of David, a playboy in Manhattan, a man who is "living his dreams" which he himself proclaims in the film. It's a tragic tale of a man with good looks, high bank balance and a gorgeous woman losing everything post an unfortunate car accident which disfigured his face.
As you watch the film from the eyes of the protagonist will make you smile as and when he does and be utterly baffled with him in the quest to seek the reality. The film sways you with the magical chemistry between David and Sofia (Penélope Cruz) which makes you believe in love-at-first-sight while keeping you in a beautiful big bubble which you wouldn't ever want to burst. Unaruguably, Cameron Diaz deserves all the appreciation for playing Julie Giani, the psychotic stalker of David who majorly impacts his life. The screen play is visually appealing that complements its beautifully written script.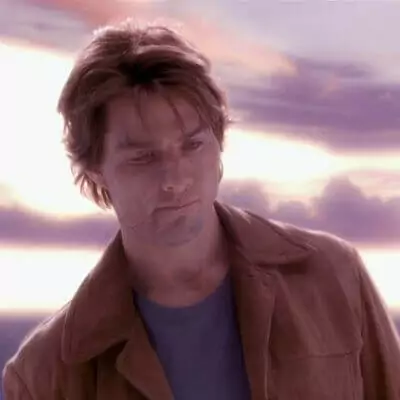 Vanilla Sky Movie Critical Reception
On Rotten Tomatoes the film has an approval rating of 42% based on reviews from 170 critics, and an average rating of 5.34/10. The site's consensus states: "An ambitious mix of genres, Vanilla Sky collapses into an incoherent jumble. Cruise's performance lacks depth, and it's hard to feel sympathy for his narcissistic character."
On Metacritic it has a score of 45 out of 100 based on 33 reviews, indicating "Mixed or average reviews". 
The Movie Culture Synopsis
Vanilla Sky unveils its many folds throughout the protagonist's life and has many surprises for its viewers who choose to stay patient, attentive while the film keeps you at the edge till the last minutes and snatches away the ending that you predicted giving it a satisfying closure.
Vanilla Sky is available on Netflix.