Skyscraper is a 2018 American action thriller film written and directed by Rawson Marshall Thurber, and starring Dwayne Johnson, Neve Campbell, Chin Han, Roland Møller, Noah Taylor, Byron Mann, Pablo Schreiber, and Hannah Quinlivan.
The film follows Johnson as a former FBI agent who must rescue his family from a newly built Hong Kong skyscraper, the tallest in the world, after it is taken over by terrorists and set on fire. The first non-comedy of Thurber's career, it also marks his second collaboration with Johnson, following Central Intelligence (2016).
Skyscraper Movie Cast
Dwayne Johnson as William "Will" Sawyer Former US Marine, FBI Hostage Rescue Team leader and amputee, who now assesses security for skyscrapers.
Neve Campbell as  Sarah Sawyer Will's wife, a US Navy surgeon
Chin Han as Zhao Long Ji Wealthy Chinese tech entrepreneur and financier of the Pearl.
Roland Møller as Kores Botha Scandinavian terrorist kingpin.
Noah Taylor as Mr. Pierce Insurance executive, secretly working for Botha.
Byron Mann as Inspector Wu Leader of the HKPF response team.
Pablo Schreiber as Ben Gillespie Will's former colleague and friend, secretly works for Botha.
Hannah Quinlivan as Xia  Botha's henchwoman Tzi Ma Fire Chief Sheng
McKenna Roberts as Georgia Sawyer Will and Sarah's daughter and Henry's twin sister.
Noah Cottrell as Henry Sawyer Will and Sarah's son and Georgia's twin brother.
Elfina Luk as HKPF Sergeant Han .
Adrian Holmes as Ajani Okeke Zhao's head-of-security and personal bodyguard.
Matt O'Leary as the Skinny Hacker Botha's computer expert.
Kevin Rankin as Ray. 
Skyscraper Movie Plot
William "Will" Sawyer, a Marine veteran turned FBI Hostage Rescue Team leader, loses his left leg below the knee when he and HRT colleague Ben Gillespie encounter a hostage taker with a suicide bomb.
Ten years later, Sawyer is a private security consultant who, on a recommendation from Gillespie, is hired to review security for the world's tallest skyscraper, Hong Kong's 3,500 feet, 225 floor tower, "The Pearl", for owner Zhao Long Ji.
Sawyer is joined by his wife, Sarah, and twin children, Georgia and Henry, staying with him on the not-yet-opened residential floors.
What Makes Skyscraper A Bad Die Hard Rip Off ?
Dwayne Johnson can make every film watchable and that's a fact! The tension he brings to the scenes and the way he shows his care towards the kids, his family in the movies  is just outstanding. We only watched this film because Dwayne was in it! What makes this film not so great is because it has a silly story with too much action and chills! 
You want to watch this film and you decide to somehow like it and enjoy it but you just can't do it because it just never takes you there ! I mean Will Sawyer took a risk , made the jump and well he actually did succeed in reaching inside the building through a huge window….but you just never reach there where you can enjoy this film! 
Although the intense scenes with Dwayne where his character who is an amputee, tries to reach inside the tower, climbing the crane and escaping the cops is amazing, also the scene where he has to unlock the giant door for which he has to take a huge risk is also a great scene, it leaves you with cold sweats and so much tension. But the story still kinda feels silly so yeah…
Looking at the bright side though, what makes this film a little bit special is because of course there's Dwayne The Rock Johnson fighting for his family and saving his family, and the CGI for the tower scenes and everything. 
Skyscraper Film Production
Design: The architectural rendering of the 225-story tall skyscraper was based on Chinese inspirations. According to the New York Post – "tasked with envisioning the architectural wonder at the center of the Hong Kong-set Skyscraper, production designer Jim Bissell and his team researched local myths for inspiration and came upon a Chinese fable they could work with.
Filming: Principal photography on the film began on August 14, 2017 in Vancouver, British Columbia. Additional photography and exteriors were filmed at the Hong Kong Cultural Centre.
Music: Steve Jablonsky composed the film's score which uses elements of guitars, synthesized drums and traditional orchestra. The soundtrack was digitally released on July 13, 2018 by Milan Records with the physical soundtrack being released later on August 3, 2018. British singer and songwriter Jamie N Commons performed the song Walls which plays in the end credits of the film. 
Visual Effects : The visual effects were provided by Moving Picture Company, Method Studios, Image Engine and Industrial Light & Magic; the visuals were supervised by Craig Hammack, Jose Burgos, Bernhard Kimbacher and Jason Billington.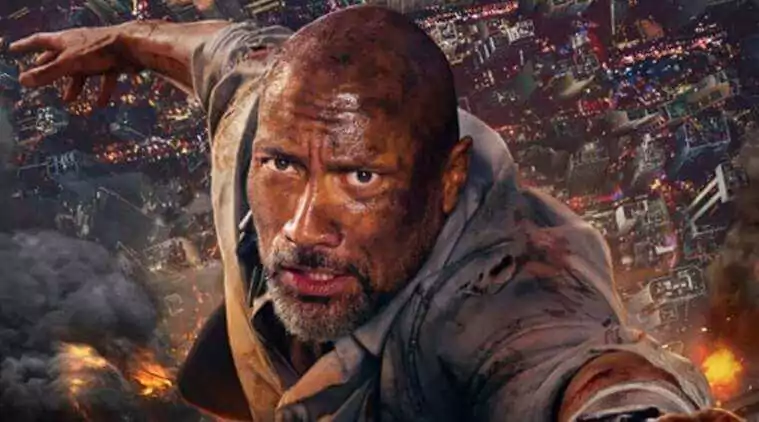 Skyscraper Movie Critical Reception
On review aggregation website Rotten Tomatoes, the film holds an approval rating of 47% based on 260 reviews, with an average rating of 5.1/10. The website's critical consensus reads, "Well-cast yet derivative, Skyscraper isn't exactly a towering action thriller feat, but it's solidly constructed enough to stand among the genre's more mildly diverting features."
On Metacritic, which assigns a weighted average rating to reviews, the film has a score of 51 out of 100, based on 42 critics, indicating "mixed or average reviews".
Audiences polled by CinemaScore gave the film an average grade of "B+" on an A+ to F scale.
Alonso Duralde of TheWrap called the film a "satisfying summer thriller," while acknowledging the familiar plot, and writing, "Skyscraper doesn't change the action-movie game the way Die Hard did, but it's a solidly entertaining summer diversion best enjoyed on the biggest theater — or even better, drive-in — screen you can find." Variety's Peter Debruge was more critical of the story but praised Johnson, saying, "This is escapism, pure and simple, and though the structure is rickety, by enlisting Johnson, Thurber ensures that his Skyscraper is built on solid Rock." 
Writing for Entertainment Weekly, Chris Nashawaty found the film to be a weak remake of Die Hard, giving it a "C-" rating and stating: "It's all passively watchable, but the main problem is that writer-director Rawson Marshall Thurber (Central Intelligence) hasn't come up with a villain nearly as memorable as Alan Rickman's Hans Gruber. I know that comparison may seem unfair, but when you're ripping off Die Hard this shamelessly, it's kind of not." 
The Movie Culture Synopsis
We like Dwayne Johnson's performance, we like the CGI also , we liked Neve Campbell and the kids cast performances too, the bad guys , honestly didn't actually gave us the kind of thrill they were supposed to, it's obviously because how silly the plot, which no one pays attention to as people get distracted by all the chilly tower scenes , this movie has a lot of Action and Thrill which could've been limited but no.
We at The Movie Culture would rate this film a 5/10, besides the plot everything else is done nicely, the tower looks great even though they didn't tell us more about it which they should have to make it more interesting you know.
The bad guys aren't presented well, it just seems like so easy for them and that they have so much power and less competition. 
The film is available to watch on Netflix.