Marvel's Runaways, or simply Runaways, is an American streaming television series created for Hulu by Josh Schwartz and Stephanie Savage, based on the Marvel Comics superhero team of the same name.
It is set in the Marvel Cinematic Universe (MCU), sharing continuity with the films and other television series of the franchise. The series is produced by ABC Signature Studios, Marvel Television and Fake Empire Productions, with Schwartz and Savage serving as showrunners. 
Marvel's Runaways Series Cast And Characters
Rhenzy Feliz as Alex Wilder : A nerd who longs to reunite with his childhood friends. He has a high intellect and is the leader of the Runaways.
Lyrica Okano as Nico Minoru : A Wiccan who isolates herself with her gothic appearance and is a member of the Runaways.Virginia Gardner as
Karolina Dean : A human-alien hybrid burdened by her religious upbringing who wants to pursue her own desires instead of following in her mother's footsteps, and is a member of the Runaways.
Ariela Barer as Gertrude Yorkes : A riot grrrl, social activist, and a member of the Runaways.
Gregg Sulkin as Chase Stein : A high school lacrosse player who is often dismissed as a dumb jock, but displays brilliance in engineering and is a member of the Runaways.
Allegra Acosta as Molly Hayes Hernandez : The youngest member of the Runaways who is characterized by her positive attitude. Molly discovers she has the ability of superhuman strength and invulnerability.
Marvel's Runaways Series Plot
Six teenagers from different backgrounds unite against a common enemy – their criminal parents, who collectively run an organization called Pride. In the second season, the teenagers are now on the run from their parents, living on their own and figuring out how to stop Pride.
The third season sees Nico Minoru and the other members of the team face off against Morgan le Fay. 
Why Marvel's Runaways Series Is Underrated?
Even though Marvel's Runaway's is not as good as the comics, marvel fans who haven't read the comics, liked the show alot. It's about a bunch of teens with superpowers and high technology and their parents with their own secrets. This show tells us about how this group of teenagers get into trouble and solve their parents mysteries.
All of these teens are different in their own way and have different superpowers. All with school and their parents acting weird and the way they can't stand each other after a tragic event that happened in the past,  they get through all of this, they fight among themselves , they fight with anything that might hurt them. 
This show is fun , but long and slow. It just drags. Marvel fans expect more from the shows that Marvel bring to life. Every teenager in this show thinks that their parents are evil. What if you found out they actually were?
Marvel's Runaways is the story of six diverse teenagers who can barely stand each other but who must unite against a common foe – their parents. 
In the first season you find out that how these guys face their parents terrible secrets and have to digest all of it somehow, in the second season they become the actual Runaways while their parents are in search of them, they learn how to live on their own. In the third and final season you get to see how they fight with all the evil that comes their way.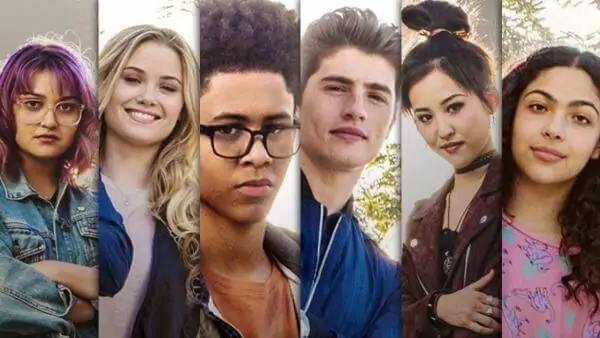 Marvel's Runaways Seasons And Episodes
Marvel's Runaways has 3 seasons that in total has 33 episodes. 
Season 1 : 
Reunion
Rewind
Destiny
Fifteen
Kingdom
Metamorphosis
Refraction
Tsunami
Doomsday
Hostile
Season 2 : 
Gimme Shelter
Radio On
Double Zeroes
Old School
Rock Bottom
Bury Another
Last Rites
Past Life
Big Shot
Hostile Takeover
Last Waltz
Earth Angel
Split Up
Season 3 : 
Smoke and Mirrors
The Great Escape
Lord of Lies
Rite of Thunder
Enter the Dreamland
Merry Meet Again
Left-Hand Path
Devil's Torture Chamber
The Broken Circle
Cheat the Gallows
Marvel's Runaway Critical Reception
The review aggregator website Rotten Tomatoes reported an 86% approval rating for the first season, based on 81 reviews, with an average rating of 7.85/10. The website's consensus reads, "Earnest, fun, and more balanced than its source material, Runaways finds strong footing in an over-saturated genre."
Metacritic, which uses a weighted average, assigned a score of 68 out of 100 based on 26 critics, indicating "generally favorable reviews".
Reviewing the first two episodes of the series, Joseph Schmidt of ComicBook.com praised the show for its faithfulness to the comics, but also for some of the changes it made, appreciating the increased focus on the parents.
He thought the cast portraying the Runaways was "pretty spot on", but "many of the parents are scene stealers", highlighting the performances of Marsters, Wersching, and Pardue.The second season has an approval rating of 86% on Rotten Tomatoes, based on 22 reviews, with an average rating of 6.62/10. The website's critical consensus states, "Runaways hits the ground running in its sophomore season, but though it deepens the connections between its expansive cast, formulaic stories and an over-dependence on plot devices holds it back from fully maturing into a compelling character study."
The third season has an approval rating of 91% on Rotten Tomatoes, based on 11 reviews, with an average rating of 7.92/10. The website's critical consensus states, "By focusing on its strong ensemble and the character moments fans have come to love, Runaways ends its three season run on an exciting–and surprisingly introspective–high note."
The Movie Culture Synopsis
Marvel's Runaway's is a good show but not a great show. At the end of this we see Cloak & Dagger, who come to help these guys to fight the evil. Cloak & Dagger is another Marvel show, that is also superhero-ish.
According to the comic fans of this show, they say that the comics are much better than the show, the show is a drag, the comics give you a better vibe than that of the live action. 
We, at The Movie Culture also suggest that you read the comics first and then watch the live action. The comics show these teens as better and brighter, they look more strong and bold.
Overall the acting is spot on, they all did well. Even though fans expected more from Marvel, others still loved this show. This show is available to watch on Amazon Prime Video.