YOU is a psychological thriller and crime drama tv series developed by Greg Berlanti and Sera Gamble. The first season is based on the novel of the same name by Caroline Kepnes. The first season premiered on Lifetime in the United States and was up for streaming on Netflix internationally. The series was later moved to Netflix as a Netflix original. 
You Netflix Series Season 3 Cast
Penn Badgley as Joe Goldberg
Victoria Pedretti as Love Quinn
Tati Gabrielle as Marienne
Shalita Grant as Sherry Conrad
Travis Van Winkle as Cary Conrad
Scott Speedman as Matthew Engler
Dylan Arnold as Theo Englar
Saffron Burrows as Dottie Quinn
Ben Mahl as Dante
Michaela McManus as Natalie Engler
Jack Fisher as young Joe
Scott Michael Foster as Ryan
You Netflix Series Season 3 Plot
Joe and Love are parents now and they moved to a place called Madre Linda, a place full of obnoxious privileged people. Joe sees their neighbor and his lust makes him believe that she is his true love. Joe takes a job at the library and Love opens a bakery in the locality.
Many new characters are introduced and they become the pawns in Joe and Love's love, lust, obsession, psychotic behavior and their ways to achieve what they believe is right and best for them.      
You Netflix Series: Season 1 & Season 2 So Far
In Season 1, Joe is working in a bookstore in New York and sees Guinevere Beck (Elizabeth Lail), a student and a writer. He takes his obsession to the extreme with the help of social media and by tracking her every move. Taking care of everyone that comes in his way, so he can achieve his final goal which is getting to Guinevere.
In Season 2, After Joe kills Guinevere, he escapes to Los Angeles to get away from his past. But there he sees Love Quinn, a chef and health guru and gets obsessed with her. As he did in Season 1, he uses multiple ways to get his way with Love. But, this time he has a big obstacle in his path, his ex-girlfriend.
Candace (Ambyr Childers) was accidentally killed by Joe or at least that's what he assumed and to cover his track, he buried her. In the end, we find out that Love is not what she seems like and that Joe might be 'her beck'. Anyway, he loses his interest in Love but finds out that she is pregnant with his kid. 
You Netflix Series Season 3 Review
You thrives on the idea of romanticising serial killers and murderers. Joe, played by Penn Badley, plays the character of a shy, always to himself, hiding some things very well. But behind it, we see his evil nature and stalker-esque obsessiveness which he doesn't know when to stop. The shy and reclusive behavior is true for Joe but so is him hiding things from his past and not just some things but a lot of them. 
You Season 3: Finding their Way
Joe is always ready to go to the extreme if he has to gets closer to his obsession and makes many mistakes along the way. Regardless of it all, he always tends to get away with everything. 
In Season 1, he gets to Beck but finds out that she is still sleeping with his ex-boyfriend. So, "logically" his next step is to kidnap him and eventually kill him. Beck's friend has her suspicions about Joe, and apparently, she is also a hindrance to his way to Beck, so she is killed too. Beck finds out, so he kidnaps her but now Beck will not be with him anymore as she knows what Joe is really like and Joe is over her now, so she had to go away too. 
In Season 2, it seems like everything is going in a similar fashion to Season 1, where Joe sees someone, falls for her and gets to his ways of finding everything about her, stalking her in real life, on social media, etc. Eventually making it seem like him meeting her, or more bumping into her was just a coincidence but we know that he has planned it all before. But the season takes a turn and gets onto its own track.
All the moments that conspire, ultimately hit us with a twist. We find out that Love is as messed up as Joe, if not even more. I guess he found his match which apparently, made him realize that he is over her too, so she has to go away as well. But, Love is pregnant and he can't do anything now. 
In Season 3, Joe and Love are married with a kid and the season progresses as it were in previous seasons. Joe finds a new obsession, takes his actions to the extreme and all that jazz. But this time, Love is there with him, and she isn't someone who can be fooled easily. So the season takes its turn too and finds its own track. And yeah, I believe Love is even more messed up than Joe.
One thing that can be said about Joe is that after watching his character for 2 seasons, his actions are somewhat predictable but in the case of Love, she is erratic and more passionate. She takes extreme steps without thinking of the consequences and then she and Joe are left to cover it all up. 
You Season 3: Pretentiousness of It All
Let's be honest, You is a very pretentious show with a lot of pretentious characters. In season 1, in New York, it's not hard to find overbearing people and one of the best examples of it was Peach Salinger, played by Shay Mitchell. She was a wealthy socialite, somewhat like an influencer.
In Season 2, the pretentiousness is taken up a notch, more like taken up a few notches. The main character, Love, is one of the pretentious characters. Still, Love is not the epitome of it here but it's her family. I mean, literally, her name is Love, her brother's name is Forty. I don't know if there is a reference in the show about Forty-Love, I guess their parents loved tennis.
And finally, the most pretentious thing of the season is the name of their store, Anavrin. FYI, if you turn the word around it spells Nirvana, the band. Honestly, it's Los Angeles, just like New York. There are many people living in these cities from different cultures, backgrounds and privileges so it's bound to happen that some of them are like that. Maybe it's Joe who tends to get obsessed with pretentious people. 
So, in Season 3, the pretentiousness is the most it can be. I wonder, how will the writers take it up even more in the next season(if there is one), or maybe just drop it altogether. Anyway, the suburb, Madre Linda is completely filled with such pretentious people. But the main difference is that most of them are fake. The lifestyles that they wish for others to perceive is just a mask that covers up their real selves.
Sherry and Cary are one of those people who are a couple, Sherry is a "mommy" blogger/influencer and Cary(i don't even know what he does for a living) is a guy with a perfect body who supports his wife and has a perfect marriage. But the idea of their perfect marriage is a lie. Other than that, the frequent visitors to Love's bakery who live in the suburb, show their flashy and grandioseness to others but behind it, they are all just some gossipers who show support to others only and when it makes them look good.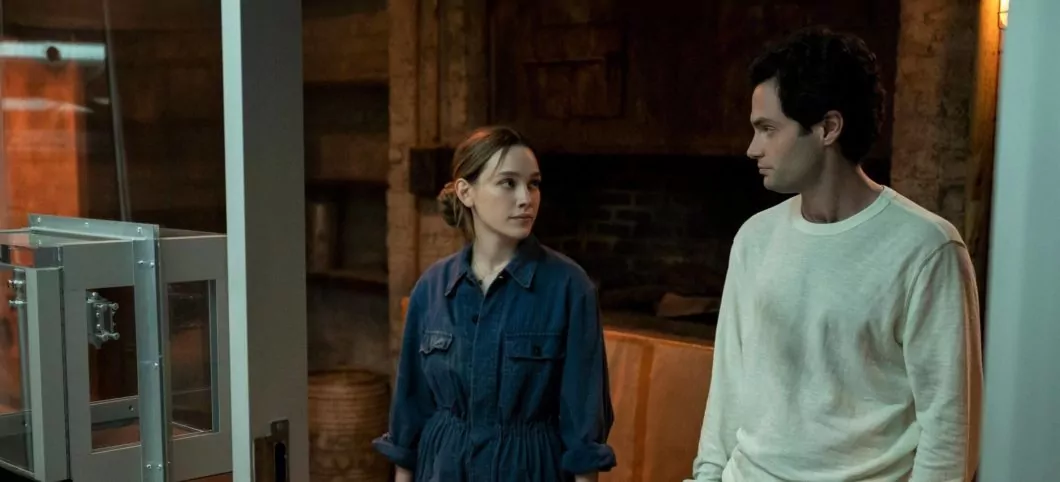 You Netflix Series Season 3: Joe's fragile heart
Joe's obsessive and lustful behavior towards women is like a child's mind. A child likes a toy, gets obsessed with it and plays with it all day long but a new toy could divert its mind in a flash of a second and then that new toy becomes its favorite one. So is similar to Joe, a woman who he lays his eyes on and finds very attractive becomes his obsession.
He believes it to be love, love at first sight but when she doesn't fill his criteria of love anymore, he is done with her. And finds another one to obsess over. Joe's mind seems to be very fragile as he thinks it's his heart that wants what it wants but his mind is way more powerful than his heart, which takes control over his behavior.
You Season 3: Love and Joe
In the show, Joe has many love interests or obsessions. In Season 1, it's Guinevere, in season 2, it's Love, in season three, it's the neighbor Natalie. Before them all, he was in a relationship with Candice. Joe finds his way to get to all of them and maybe it's his charm that they all fall for him too and the fact that he already knows almost everything about them so he uses those facts to his aid. But Love is someone who seems like the one in his league, in terms of the chaotic part of his life. Love is up to do anything that Joe has done, Love has her own truth and past to hide so she can hide Joe's past too. 
Joe knows what and who Love is, how she thinks, how she will behave and the same can be said about Love knowing Joe's every move. This is proved even more in the 3rd season, but this is what makes it more dangerous for them both. They both don't trust the other one and think of every move the other might play.
For us, as viewers, we see Joe and can kinda predict what he is going to do but Love is fiery and inconsistent in that way. But that might be the case for the viewers, not for Joe as he knows her moves. They are so similar that they are different from each other. Even so, they are messed up, the frenziedness makes them perfect for each other. Joe might not believe that Love is the one for her but they are perfect for each other as Joe had to see someone who is more disrupted than him.      
You Netflix Series Season 3 Critical Reception
On Rotten Tomatoes, the first season has a 93% rating based on 58 reviews, with an average rating of 6.97/10. The Second Season has an 83% rating, based on 45 reviews, with an average rating of 8.01/10. 
On Metacritic, Season 1 scored 74 out of 100 based on 29 critics and Season 2 also scored 74 out of 100 based on 19 critics.
The Movie Culture Synopsis
You, Season 3 is as fun and twisted as the previous two seasons. The season takes its spin and does the second one and keeps the tension high. It is a joy to watch and a binge-worthy season too. If I see the show, from the perspective of crime drama and thrillers, the murders are very sloppy.
It always makes me think that the crimes are not even close to perfect and the cops can't find the culprit. But putting that fact aside and watching the show with a grain of salt is actually fun. Finally, I wish that if the series is renewed for another season then that should be it's last as the end is ambiguous on whether there could be another season or not.
There is no need for another one but even if it is announced then what more the writers could tweak in the same formula that the show follows every season. 
You Season 3 will release on the 15th of October on Netflix internationally.