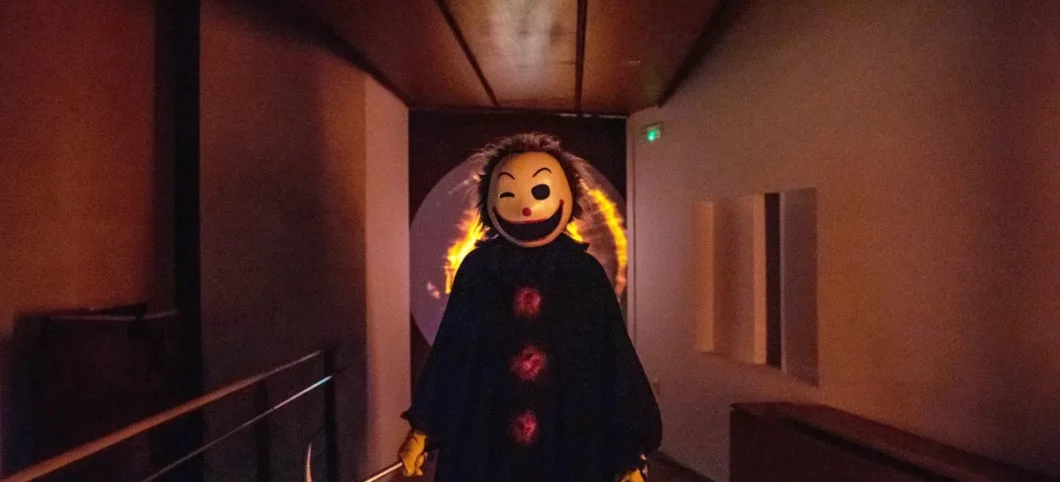 Netflix recently released Killer Book Club, a dubbed version of the Spanish film titled 'El Club De Los Lectores Criminales.' The slasher thriller has been available on the OTT platform since August 25, 2023.
Directed by Carlos Alonso-Ojea and scripted by Carlos García Miranda, 'El Club De Los Lectores Criminales, which translates to 'The Criminal Readers Club,' revolves around a group of writers who assemble to share their passion for horror literature. They think of a costumed prank, but it ends in tragedy as an anonymous killer starts picking them off one by one.
Killer Book Club (2023) Cast
Veki Velilla as Ángela Kuntz
Álvaro Mel as Sebastián Hoyos, nicknamed Sebas
Priscilla Delgado as Virginia Rubio
Iván Pellicer as Fernando Aguado, nicknamed Nando
Ane Rot as Sara Pons
Carlos Alcaide as Rai García
Hamza Zaidi as Koldo Abuc
María Cerezuela as Eva Yáñez
Killer Book Club (2023) Plot
Angela, Sara, Nando, Rai, Sebastian, Koldo, Eva, and Virginia are eight young university students who gather in a book club and discuss horror books. Angela, the protagonist, is an aspiring writer who gets called by her professor in order to check a novel she wrote six years ago.
Instead of reviewing her work, Professor Pillar Pintre forces himself on Angela, but she manages to escape. Her friends at the book club get to know about it and decide to pull off a costumed prank on their professor. Inspired by a killer clown horror book, each of them dons a clown outfit.
However, the prank goes horribly wrong as Pillar falls through the university courtyard and is impaled on a statue. Angela is responsible for the murder because it was her jumpscare that led to Pillar losing his footing.
The group decides to keep mum about the incident. Unfortunately, someone posts a link to a novel that describes the incidents of that fateful day. They come to know it's the work of someone from the club. Later, Virginia goes missing, Rai is murdered outside the club where Nando worked, and most of the blame falls on him.
In an act of poetic justice, the killer uses the same clown costume to commit crimes that the group wore during Pillar's death. The friends start turning on each other, like in any slasher genre, allowing the killer clown to get hold of each one by one. Fitting the book club theme is the promise of a novel by the killer documenting their deaths.
Killer Book Club (2023) Review
Due to a run time of just around 90 minutes, the story of Killer Book Club seems fast-paced. There is not a lot of character development, which allows the audience to root for a certain character. The protagonist, Angela, has some personality, while the other characters play the stereotypes. There isn't any backstory on how certain characters behave:-
Koldo is an influencer who is obsessed with being famous.
Sebastian is the typical 'nice guy' character who is friend-zoned by Angela. (But it ends up with her in bed anyway, and the nice guy role is a facade.)
Nando is the passionate lover of Angela who loses her trust, and they break up the moment the first person dies. (Nice timing!)
Rai is the eccentric man who is killed first because he is annoying to both the group and the audience.
Angela is also stuck in a cliche. She is the personification of guilt trips: having second thoughts about publishing her work on a true story, accidentally killing her professor, leading to a killer clown frenzy, and being torn between choosing Nando or Sebas. Yes, the audience needs to sympathize with the heroine of the slasher film, but give her a break!
Certain clues in The Killer Book Club reveal the obvious answer to "Who is/are the murderer/s?" to any detective novel fan. The fact that the killer doesn't leave a story about Virginia's death or her body but strikes his second victim means there is something fishy. As it turns out, Virginia was Alicia, a woman long thought to be dead and whose life story Angela had published without her consent.
Sebastian is Alicia's accomplice. His need to win the trust of the protagonist and apparent hatred for Fernando, the surviving hero, makes it clear that he is the villain. It becomes crystal clear when Sebas lures Angela away from Koldo with the pretext of protecting her. Koldo, who creates a poll to get a clue about the killer, ends up dying next at the hands of Alicia.
The whole idea of an anonymous killer is to let the viewers step in the shoes of surviving characters to identify their motives, read between the lines, and make assumptions. Killer Book Club wastes this aspect due to various clues that point out to predictable villains of the film. Often compared to the 1997 film, ' I Know What You Did Last Summer', the Killer Book Club also fails to create a memorable story of its own.
Killer Book Club does have some things going for it
Although certainly not in the league of the Texas Chainsaw Massacre (1974) or Wrong Turn movies, Killer Book Club does give what is expected from a slasher film. Blood and gore are complemented by some excellent killing methods. Both off-screen and on-screen killings are used to create mystery and drama synonymously.
Ignoring the cliched, determined limp walk, the killer's clown outfit does look horrific. It has misshapen, black holes for eyes, and a twisted smile that may give some viewers the creeps. There are also no bloopers in the costume, which leads to the identification of the murderer.
Chase scenes in The Killer Book Club have been well-documented. Various camera angles, including switches between first-person and third-person camera angles, have been used in well-lit backgrounds so that the viewers can get a feeling of urgency. Classic chase scenes require the victim to use their mind and speed to escape the situation, but, as is the case with the film, they are outmatched by the killer.
The Movie Culture Synopsis
Overall, Killer Book Club promises nothing new but is a nice 90-minute time killer. You can watch it with friends with a bucket of popcorn and gasp at certain slasher moments that are as quick as they come. The English dub isn't that bad, and the actors have done more than average in the film.