Palm Springs revolves around two people who develop feelings for each other while caught in a time loop. The setting of the movie makes for some great humour and heartfelt moments.
Palm Springs Movie Plot
Niles and Sarah attend a wedding and become close to each other. But due to some unforeseen circumstances, they jump into a worm hole and relive the same day endlessly. After giving up on trying to figure a way out, they develop a fun little bond towards each other and the day they share.
Palm Springs Movie Cast
Andy Samberg as Niles
Cristin Milioti as Sarah
J.K. Simmons as Roy
Camila Mendes as Tara
Palm Springs Movie Review
Palm Springs is a comedy / sci-fi / love story. It surfs through many genres and characters which make this movie so much fun. First off, I went into Palm Springs completely blind. And by the looks of it, it totally seemed like a simple and sweet love story between two adorable looking people.
Well, only the latter was correct in this case and it is far, far away from being simple. Palm springs is what would have happened if Edge of Tomorrow was a romantic movie. The plot revolves around Nyles, played by Andy Samberg, who has to go to his girlfriend's best friend's wedding. He wakes up, all tired and done with his life, and then probably has the most unappealing intercourse of his life. In his Hawaiian Shirt and Beige Shorts, he goes to the resort, Palm Springs, and surprisingly gives the most awe-inspiring speech in the wedding. He discovers the pretty sister of the bride, Sarah (Played by Cristin Milioti) and makes a move.
But just as they are about to crush into each other in the middle of desert, an arrow out of nowhere hits Nyles right in the shoulder. It was Roy (Played by J.K. Simmons), in his horrifying black military outfit. Nyles hurries towards a cave, followed by Sarah and then, they wake up.
Palm Springs is a movie about Love in a Time Loop
Palm Springs tells a story of two people who are caught in a time loop. Nyles, who has been caught in this for god knows how long, has now given up on the idea of getting out of it whereas Sarah, who is very shook to say the least, is not having it.
After trying multiple times and realizing that there is no getting out of it, they sort of embrace the situation. They develop a bond wherein, technically, there's no space for anyone else. What happens between them is remembered only by them. However, each morning has a different reaction from each of them. They get used to the atmosphere and the company of each other and the same Nyles who used to wake up with regret, now has a deep content smile on his face. Yet the situation isn't the same with Sarah and when the movie finally explores her side of the story, it becomes even more bizarre and fun.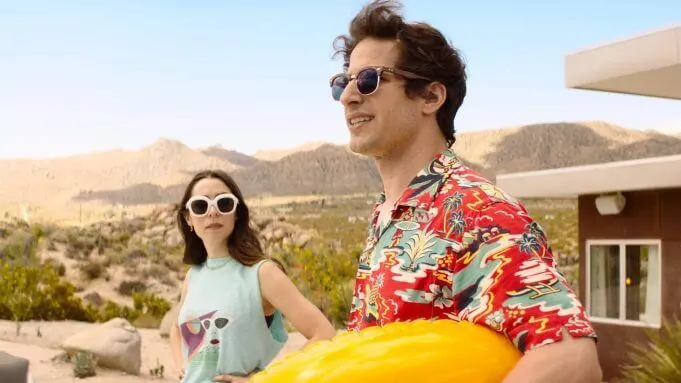 Palm Springs: The amazing performances by Andy Samberg and Cristin Milioti
The performances by Andy Samberg and Cristin Milioti is the highlight of the movie. Andy Samberg has become immensely popular for playing a dorky yet pure hearted guy, and he is more or less the same in this movie. We don't see much versatility from him, yet him being him works a charm for Palm Springs.
Cristin plays a character who goes from regret to happiness and then back to regret. Her character progression is more nuanced and fleshed out than Niles, which is natural since the movie begins with her getting caught in the time loop for the very first time.
The way the screenplay elevates the situations with its brilliantly written humour, which is often dark and often soothingly light-hearted. There's something about watching a naked blindfolded man bump into a man giving a head to a cheating girlfriend that's so outlandish and perplexed that it is surreal.
The romance between Niles and Sarah is that of a guy who has given up after he came into the loop and a girl who only had regrets before she came into the loop. It's a clash of personalities whose weird wackiness complement each other so beautifully and the screenplay leaves no tables unturned in expanding their relationship. 
Palm Springs is one Bizarre movie, in the best way possible
Palm Springs is one pipe-dream of a movie which comes alive in a new form each day. There's so much fun to be had in this movie and each joke just works so well. The climax and their efforts to get out of the loop feel too over the top, even for the standards of this movie.
But I wouldn't have asked for a more pleasant and heartfelt ending to this movie. The final speech of Niles and the way Andy Samberg delivers it made me emotional and gleeful at the same time. In the end, Palm Springs portrays that the only thing haunting a person's life is the feeling of being alone. How a marriage isn't necessarily a means of making things worse but rather finding someone who connects and takes part in every little gimmick. It's one of the most enjoyable and bizarre movies to come out in recent times which I would happily re-watch without ever thinking twice. 
Palm Springs Movie Critical Reception
Palm Springs stands at a whopping 95% on Rotten Tomatoes with the consensus being, "Strong performances, assured direction, and a refreshingly original concept make Palm Springs a romcom that's easy to fall in love with." The Metascore of Palm Springs is at 83 with Universal acclaim based on 43 Critic Reviews.
The Movie Culture Synopsis
Palm springs shines in its idea and its writing, and Andy and Cristin only elevate the entire movie with their presence. It is surely going to be a fun watch for anyone who is into romcoms. Palm Springs is available on Hulu to watch.