TENET
Tenet is a 2020 action-thriller and spy-fi film written and directed by Christopher Nolan, who produced it with Emma Thomas. A co-production between the United Kingdom and United States, it stars John David Washington, Robert Pattinson, Elizabeth Debicki, Dimple Kapadia, Michael Caine, and Kenneth Branagh. The plot follows a secret agent (Washington) as he manipulates the flow of time to prevent World War III.
The movie is shot with 75mm IMAX camera to immerse the audience into it's high Octane genre. From everyone who has worked in the film, says they have no idea. Branagh says he was confused throughout the shooting of the film. Robert Pattinson says the film does not involve any time travel whatsoever, Michael Caine said 'I'd just read my lines'.
Tenet Cast
John David Washington as the Protagonist, a CIA agent
Robert Pattinson as Neil, the Protagonist's handler
Elizabeth Debicki as Katherine "Kat" Barton, an art appraiser and Sator's estranged wife
Dimple Kapadia as Priya, an arms trafficker
Martin Donovan as Fay, the Protagonist's CIA boss
Fiona Dourif as Wheeler, leader of Blue Team
Yuri Kolokolnikov as Volkov, Sator's bodyguard
Himesh Patel as Mahir, a fixer
Clémence Poésy as Barbara, a scientist
Aaron Taylor-Johnson as Ives, a military commander
Michael Caine as Sir Michael Crosby, a British Intelligence officer
Kenneth Branagh as Andrei Sator, a Russian oligarch who communes with the future
Tenet Plot
An unnamed CIA agent—"The Protagonist"—participates in an undercover operation at a Kiev opera house. He is aided by a masked soldier with a distinctive trinket, who appears to "un-fire" a bullet through a hostile gunman.
After rescuing an exposed spy and seizing a strange artifact, the Protagonist is captured by Russian mercenaries. He endures torture before consuming a cyanide pill. He later awakens to learn the pill was fake; his team has been killed and the artifact lost. 
The Protagonist learns that he is now employed by a secret organization called "Tenet," whose mission involves the human race's survival. He is directed to Barbara, a scientist studying bullets with "inverted" entropy which allows them to move backwards through time. She believes they are manufactured in the future, and there exists a weapon that can wipe out the past.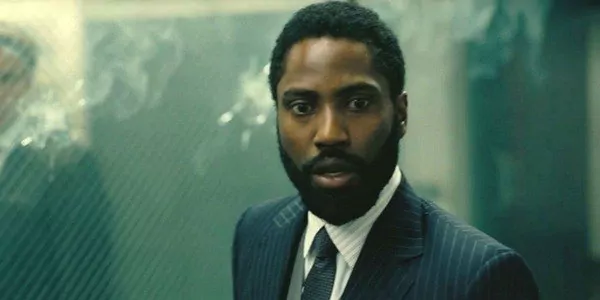 Tenet Review
Talking about Tenet, its just awe-inspiring, but for Nolan it's just another day at work. His most complex movie till date. Well, its very unlike other directors who give a blockbuster in their carriers and struggle to keep up the legacy, whereas Nolan has grown over time. Just not comparing any of his movies but when Nolan pictured Inception very few anticipated there will be something like Interstellar and now comes Tenet. 
It's just not the complexity which has grown but how minutely things have worked out and how the movie sticks to ground reality even while it alters reality. Tenet has checked the various aspects which makes it a good movie you need to invest yourself to watch. For some, it being a headache to understand and for some it is purely one of the best action movies to watch out for. It certainly is a top notch but equally mind boggling.
Somewhere the break from Nolan movies, Hans Zimmer was missed but Ludwig Goransson didn't disappoint. He has his own way of scoring and tries to fill Hans shoes. Tenet has a music somewhere similar to Inception.
Well, Tenet is once in a generation movie and we are lucky enough that we could watch it in the theaters. It stands alone as a distinct masterpiece from Nolan compared to his other masterpieces. It is the highest level of film making, cinematography and direction. Must Watch.
Tenet Critical Reception
On review aggregator Rotten Tomatoes, Tenet holds an approval rating of 73% based on 251 reviews, with an average rating of 6.98/10. The website's critical consensus reads: "A visually dazzling puzzle for film lovers to unlock, Tenet serves up all the cerebral spectacle audiences expect from a Christopher Nolan production."
On Metacritic, the film has a weighted average score of 69 out of 100 based on 47 critics, indicating "generally favorable reviews".Audiences polled by CinemaScore gave the film an average grade of "B" on an A+ to F scale, while PostTrak reported 80% of filmgoers gave it a positive score, with 65% saying they would recommend it.
James Berardinelli noted that, "[Tenet] may be the most challenging of Nolan's films to date when it comes to wrapping one's mind around the concepts forming the narrative's foundation: backwards-moving entropy, non-linear thinking, temporal paradoxes … The film contains some of Nolan's most ambitious action sequences to-date but one wonders whether the plot density—a not inconsiderable obstacle for some who prefer not to devote their undivided attention for ​2 1⁄2 hours—might prove to be problematic."
Tenet Original Score
Ludwig Göransson created and composed the score for the film, marking his first collaboration with Nolan who originally wanted frequent collaborator Hans Zimmer, who had to decline due to his commitments to Dune which was also produced by Warner Bros. Pictures.
Göransson stated, "I finished my part, working on it a couple of weeks ago. I feel so fortunate in my career to work with like these geniuses and I feel like that's why it feels so easy for me". Göransson said this about Nolan's Music Sense; "Absolutely. He can talk so much about music, you know". 
Tenet Track Listing :-
"Rainy Night in Tallinn"
"Windmills"
"Meeting Neil"
"Priya"
"Betrayal"
"Freeport"
"747"
"From Mumbai to Amalfi"
"Foils"
"Sator"
Trucks in Place"
"Red Room Blue Room"
"Inversion"
"Retrieving the Case"
"The Algorithm"
"Posterity"
"The Protagonist"
"The Plan (performed by Travis Scott)"
The Movie Culture Synopsis- Tenet
Tenet is a high spoiler film that to discuss it, means we have to spoil it for someone who hasn't seen the movie. Tenet is as complex as other Nolan movies but takes a step higher with infusion of Bond like sensibilities and a concept full of speculation. 
Tenet is probably the movie which can mark the opening of theater as it seems to be doing, while making the review, Tenet has already grossed 200 Million and above already which levels it production budget.
Christopher Nolan is the true star behind the success of the film and not any actor. The craftsmanship of the Christopher Nolan on Tenet is so precise and it would make you question was the whole story intended this way or did Christopher Nolan edited the product in post?
Tenet plays in Cinema in selected Countries and cities, if you are lucky enough watch it while you can. However there's no word on the digital release of Tenet from Warner Bros. Media. Predictions are that in December Tenet might head towards a digital release on HBO Max.