WandaVision is not just an ordinary action packed superhero sitcom, It's a mixture of drama, comedy, mystery & superpowers with bit of emotions. Directed & Produced by Matt Shakman and Created by Jac Schaeffer, in this series we can see what happens after Endgame, specially in Wanda's life.
WandaVision Series Cast
Elizabeth Olsen as Wanda Maximoff /Scarlet Witch
Paul Bettany as Vision
Kathryn Hahn as Agatha Harkness
Teyonah Parris as Monica Rambeau
Kat Dennings as Darcy Lewis Randall Park Jimmy Woo
Evan Peters as Pietro/Ralph Bohner
Jett Klyne as Tommy Maximoff
Julian Hilliard as Billy Maximoff
WandaVision Series Plot
Starting episodes of the series feels like I am literally watching a classic 50-60s sitcom. It portrays how Wanda & Vision both oddly super powerful couple hide their superpowers from other people in Westview & try to live like a normal couple. But things aren't the way as it seems, reality is different. In further episodes things start getting interesting, Out of grief Wanda created her own world by creating a hex surrounding Westview.
Wanda & Vision both moved in & started their new life there, they were using their powers but also were trying to cover it up to avoid people's suspicion. But within matter of days Wanda got pregnant gave birth to twins & named them as Billy & Tommy, while Vision was still confused & trying to figure out what's going on, on the other hand S.W.O.R.D. agents outside the hex were also trying to figure out what's going on in the hex & also how to break into it, the way things started to take different turn arouse curiosity.
Each episode introduced new characters & mystery. By the end of the series we got a new villain Agatha Harkness. If you want to understand her motives & her role in Wanda's life completely you definitely need to watch the series itself.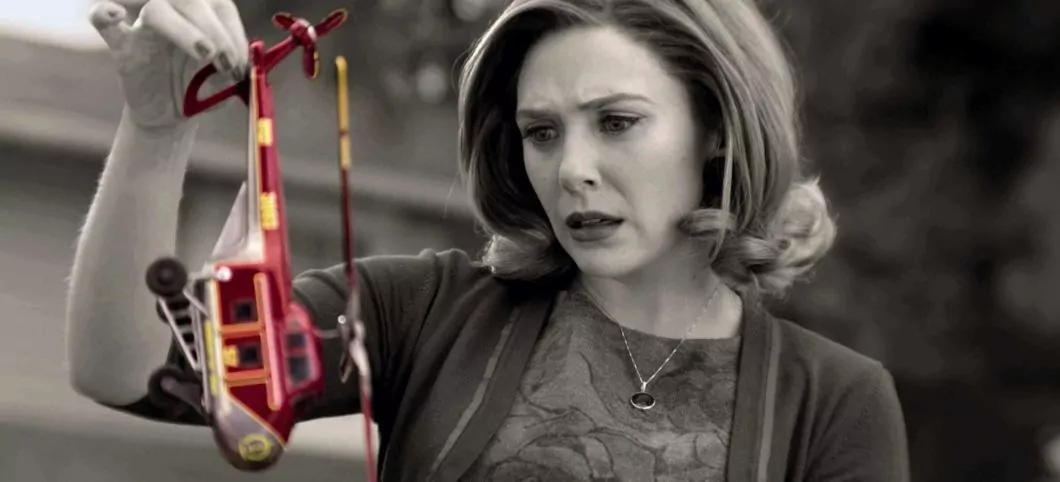 WandaVision Series Review
Although starting 2-3 episodes were little bland but further the series gets interesting with new characters & new twist. I really like how they introduced & blended different characters like Darcy Lewis (Thor) , Monica Rambeau (Captain Marvel), Jimmy Woo (Ant Man) from other marvel stories pretty well.
Songs in the series were nice & catchy, specially Agatha All Along, it's written & composed by Kristen Anderson-Lopez and Robert Lopez for the seventh episode "Breaking the Fourth Wall", the song was performed by star Kathryn Hahn(Agatha herself), with Lopez, Eric Bradley, Greg Whipple, Jasper Randall, and Gerald White serving as backup singers. Never thought that a villain's introductory song could be this good & it's everyone's favorite already. The song effortlessly explained Agatha's intentions & how she was behind some weird things that were happening lately.
The way they time travelled through different decades was also quite interesting & I was also impressed how important events in Wanda's life (specially her childhood) was shown amazingly in the series. Each & every character did their part well. If you binge watch the series you might find it interesting & you may even like it.
If you are a super Marvel fan (specially Scarlet Witch's) & are curious about post Endgame event, then this show is a must watch. WandaVision is like a bridge between Endgame & Marvel's Phase 4 movies. It sets the stage for upcoming Marvel's movies & shows.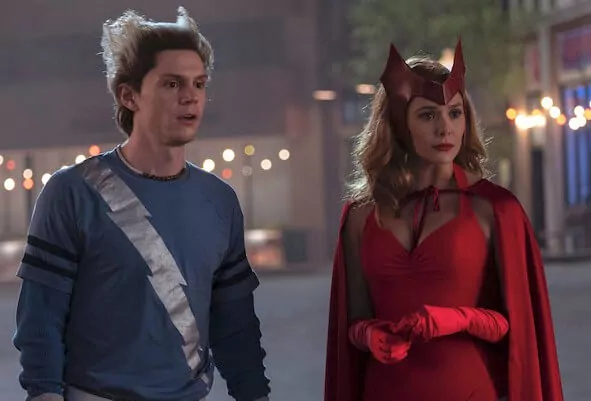 WandaVision Series: About the Characters
Wanda Maximoff /Scarlet Witch
Wanda /Scarlet Witch played by Elizabeth Olsen. Honestly I can't imagine anyone else portraying that role other than her, she portrays it so well. There was change of eras in the series & She was able to pull off changes in her character accordingly.
Wanda created a world & even controlled it unknowingly, she was confused & didn't wanted to accept the reality(that she lost vision) so kept on changing it according to her will. By the end when she realized these all created a chaos & Westview people are suffering due to it so she tried to free them. She had to also go through a rollercoaster of emotions while visiting some of her past life events. By final episode we get a new & more powerful version of her, & I love it! Wanda's Scarlet Witch version was introduced in the final episode. Wanda flew off & decided to understand her powers completely.
Vision
Vision played by Paul Bettany. Vision is a synthezoid made from vibranium. As vision was wielding mind stone Thanos killed vision to get mind stone so it means vision was already dead before the snap that's why he couldn't return alive even after avengers collected the infinity stones to snap & bring back everyone alive in Endgame.
So it means in real world vision is dead. S. W. O. R. D had already dismantled him into parts as he was an Android. By the end episodes we find out how Wanda created vision using the powers of mind stone that was within her. Paul Bettany also did a good job while portraying vision.
At start of the series he played as an android trying to work & live like normal human along with Wanda, so that the Westview people won't doubt & learn about his & Wanda's powers & their real identity. In further episodes as things started taking different turn, even he started getting confused & having doubts about situation. So he tried to find out about it.
Agatha Harkness/Agnes
From acting as nosy neighbor Agnes to finally reveling herself as Agatha Harkness, Kathryn Hahn pulled off both the roles pretty well. She is now one of my favorite Villain.
Kathryn herself sang 'Agatha all along' song that was used to introduce her character Agatha. This song revealed that the nosy neighbor Agnes is actually Agatha Harkness a powerful witch & how she is behind everything. She was also the one who sent fake Pietro. Later after Wanda defeated Agatha in the final battle she turned her back into the nosy neighbor's role & let her stay in Westview. This means we could possibly get to see her again in future.
Tommy & Billy Maximoff
Wanda created her twins with her powers just like vision. Tommy (played by Jett Klyne) takes after his speedy uncle Pietro and can trick-or-treat through an entire neighborhood in the blink of an eye, while Billy (played by Julian Hilliard) appears to take after his magical mother.
As Wanda was breaking the hex to free people of Westview we could see twins also falling apart along with Vision that indicates that their existence is just within the hex created by Wanda just like Vision. But in one of the post credit scene even though Wanda destroyed the hex & went on further to know about her powers, Wanda heard her children's voice asking for her help giving a hint that it's exactly not an end for twins part in the MCU.
Monica Rambeau / Geraldine
In this series Monica Rambeau is played by Teyonah Parris. She is daughter of Maria Rambeau (Carol's Danvers/Captain Marvel's best friend),Monica was one of the billions who turned into dust after Thanos's snap.
When she returned from the Blip, she learned that Maria(Her Mom) had already passed away due to cancer during the five years between Avengers: Infinity War and Avengers: Endgame and former colleague Tyler Hayward was now the director of S.W.O.R.D.
Just three weeks after the 'Blip', she returned to duty, but her duties were limited to operations on Earth, Maria her own mother(and founder of S.W.O.R.D)had introduced regulations grounding anyone coming back to SWORD after being 'Blipped'. So she had to go according to rules.
Monica reluctantly accepted an assignment regarding mysterious missing case of the small New Jersey town of Westview & it's people , where the FBI had requested assistance. While investing she got pulled into the hex & now she was also a part of Wanda's sitcom world but as Geraldine. Geraldine & Wanda even became close friends, Geraldine even helped Wanda with the delivery of her twins (Billy & Tommy) until Geraldine mentioned about Pietro being killed by ultron.
That's when Wanda doubted & accused her for trespassing. She threw out Geraldine/Monica from the hex using her powers. Monica realizes that Wanda is the one who created the hex & is controlling the Westview people. She wanted to help Wanda & even save Westview. Darcy already warned her about passing through the Hex the third time could lead to Monica's cells being rewritten on a molecular level giving her some sort of unspecified new power. I'm really curious about what's next for her after gaining these powers.
Darcy Lewis
Kat Dennings is back again reprising her role of Darcy Lewis. She was seen as Jane Foster's assistant in Thor & Thor: The Dark World.
Few weeks after the blip, Darcy was recruited to take part in a government operation headed by S.W.O.R.D. along with several other scientists to investigate what's happening in Westview as she had doctorate in astrophysics. As soon as she arrived she examined the radiation coming from Westview, she tuned in a vintage TV & Because of that they discovered about WandaVision sitcom that was created by Wanda.
Pietro /Ralph Bohner
Pietro /Ralph Bonner was portrayed by Evan Peters. Honestly when I first saw him being introduced as Wanda's brother Pietro (Quicksilver) I was pretty confused as previously in Avengers: Age of Ultron it was played by Aaron Taylor-Johnson & also the fact that he already died while saving a kid & hawkeye from Ultron.
As Darcy thought & said 'she recast Pietro' even I thought the same that Wanda recast Pietro but later got to know that he was actually just a normal Westview citizen who was recasted by Agatha & Wanda even believed it as she was so lost in her own grief that she didn't even doubted it.
Agatha sent him to Wanda to get close to her & to get to know how Wanda did everything like creating hex, vision & her twins & controlling everyone's life. I thought he would be an imposter or spy ,but at the end he was just Fake Pietro or fietro who was actually a normal citizen Ralph Bohner of Westview who was under Agatha's Spell. Monica Rambeau was the one who discovered about it when she was captured by him.
WandaVision Series Critical Reception 
WandaVision stands at 91% on Rotten Tomatoes with the consensus being, "Part loving homage to TV history, part off-kilter mystery, WandaVision is a wonderfully weird and strikingly bold step into the small screen for the MCU – and a perfect showcase for Elizabeth Olsen and Paul Bettany." It has a Metascore of 77.
The Movie Culture Synopsis 
WandaVision is Marvel's way of saying that they have begun the progressing towards their ultimate goal of messing the Multiverse. It effectively highlights so many emotions and trauma that Wanda and Vision have had to endure, throughout the MCU and this and Loki are really turning out to become the bedrock of the Marvel movies that we will be seeing in these coming years.