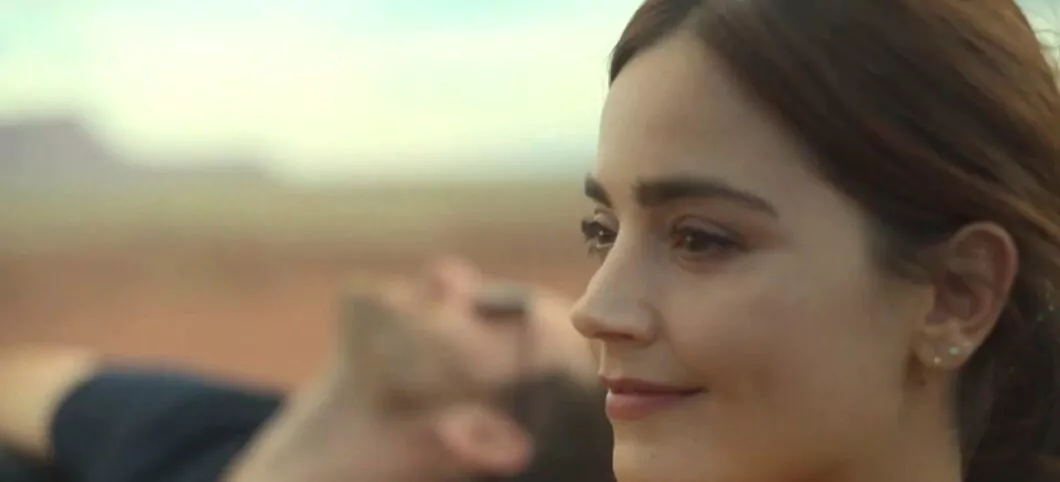 Based on the novel by B.E. Jones, Wilderness is an upcoming psychological thriller that incorporates a twisted romance to develop a story of betrayal and revenge. The first episode will be released on Amazon Prime Video on September 15, 2023.
Jenna Coleman stars in the captivating role of Olivia Taylor – a loving wife who transforms into a vindictive woman after she comes to know of her husband's infidelity. It is like a coming-of-woman story as per the actress. Olivia's plight garners sympathy from the audience, but her actions also lead them to question her morality, making her sort of a tragic character.
Liv challenges the traditional roles of a wife ingrained by society. She plays along with it for her sinister needs, bending the rules and refusing to ignore her demons like her husband. The end result is that a strong and independent woman emerges out of a meek woman.
Wilderness Series (2023) Cast
Jenna Coleman as Olivia 'Liv' Taylor
Oliver Jackson Cohen as William 'Will' Taylor
Ashley Benson as Cara
Morgana Van Peebles as Ash
Eric Balfour as Garth
Natalie Sharp as Marissa
Talia Balsam as Bonnie
Claire Rushbrook as Caryl
Marsha Stephanie Blake as Detective Rawlings
Jonathan Keltz as Detective Wiseman
Wildnerness Series Plot & Summary
William and Olivia, a British couple living in New York, begin the series as an ideal couple. Olivia is a devoted wife who left her job to support her husband and become a novelist. William is a well-respected salesman and is responsible for maintaining a roof above their heads. The two new-weds seem to have a jolly future ahead until Liv finds lewd messages on Will's phone on Christmas Eve.
Olivia becomes increasingly distrustful of her husband after she finds a sex tape of William and his co-worker named Cara Parker. Unbeknownst to Will, she knew that he had promised Cara that he would leave his wife. Revenge is the only option for Liv as she plans to murder Will while they have a trip to a national park. Her thoughts of making a foolproof plan fail as they run into Cara and her boyfriend, Garth, in the wilderness.
The quartet stays in a hotel after their trip. Liv confronts Cara, and the latter apologizes for ruining her marriage. Tensed by their friendship, William realizes that his wife knows the truth and reasons that he only slept with other women because of the pressure Liv enforced in his life. He promises not to cheat on her again, but Liv once again finds Cara's messages on Will's phone.
Infuriated by her simple-mindedness and her husband's manipulations, she pushes someone wearing Will's raincoat off a cliff. Olivia feels liberated, but the joy is short-lived as the victim turns out to be Cara. More secrets are revealed about William's life, and with the police hot at their heels, the two try to salvage something out of their marriage to save their skins.
Wilderness Series (2023) Review
The title takes a symbolic role once Olivia taps into her primal rage. Even though she had multiple methods in mind to kill her husband, she gave him chances to make up to her. Liv only reached her tipping point when Will gave most of his attention to Cara throughout their journey in the wilderness. The shift from her calm, civilized self to one with primeval reckless abandon can be felt and seen at the beginning.
The first two episodes have a few flashbacks that may derail the viewers. We get to know Liv has developed an obsession with Cara side-by-side with their journey to the wild. The scenes keep interchanging. The story goes linearly following the dreadful death of Cara but branches into different points of action, keeping the audience hooked, and the episodes end with a cliffhanger.
Even though Wilderness has a simple plot, the complexity arises from each action that eventually becomes integral to the thriller. The detectives find CCTV footage of Liv stalking Cara to the gym. William comes across a draft email of Cara's in which she proposed to him, making his feelings more complicated about the deceased. Garth becomes the prime suspect in Cara's case because both had a quarrel on the night of the murder. 
Viewers can also relish a good detective story if they try to step in the shoes of Rawlings and Wiseman and connect the murders to Liv. For those seeking romance in the Wilderness series, they will find two different interpretations: the toxic one (William and Olivia) and the understanding one (Olivia and Ash).
Wilderness makes good use of its Casting and Script
Wilderness possesses an experienced cast that is flawless in the series. Oliver Jackson embodies the role of a foul-tempered, egoistic husband who aims to "fix things" but has multiple modes of escapism. Ashley Benson's Cara character evokes hatred as well as sympathy as she was trained to poach men from an early age. Side characters like Ash (the lovable same-sex friend), and Bonnie (Liv's mother) give support to Olivia's faltering morale, even at the cost of their emotional mindset.
Repetitive lines and voice tones are used in the series to portray a much larger picture of each character. William stutters the same explanations whenever his wife finds out a terrible secret, highlighting how he is playing with the lives of each woman he is with. The self-made woman Caryl insists that there is no evidence in her office to save her company's reputation. Garth becomes a mere shell of his cheerful self, indicated by his choking voice.
Music outlines the inner turmoil of Liv Taylor as her world comes crashing down. It is either rebellious or dramatic, with tracks by Taylor Swift containing cheeky lines that Liv attributes to William. She does make some sarcastic speeches about her husband that people mistake for kindness with the same intensity that the music carried. Impressively, the music only hits once Liv wears headphones, allowing viewers to partake in her misery.
The Movie Culture Synopsis
With good pacing and a stunning plot based on themes of marriage, fidelity, and revenge, Wilderness is a viable candidate for the No.1 Series Position on Amazon Prime. We recommend reading the book by B.E. Taylor to understand the series better and be able to read between the lines.