Strong Woman Do Bong Soon is a South Korean television drama that aired on JTBC from February 24 to April 15, 2017. It is one of the highest-rated dramas in Korean television history.
Strong Woman Do Bong Soon K-Drama Cast
Park Bo-Young as Do Bong Soon
Park Hyung-sik as Ahn Min-hyuk
Ji Soo as In Gook Doo
Strong Woman Do Bong Soon K-Drama Plot
Do Bong Soon was born with superhuman strength, passed along to all women in her family. Ahn Min-hyuk is the charming CEO of Ainsoft, a game developing company. After he witnesses her power, he hires her as his bodyguard because a mysterious person is threatening him. At the same time, a crazed serial kidnapper is abducting women in the Dobong-dong neighbourhood, and Bong Soon, along with her friend and police officer In Gook  Doo, is determined to catch the culprit.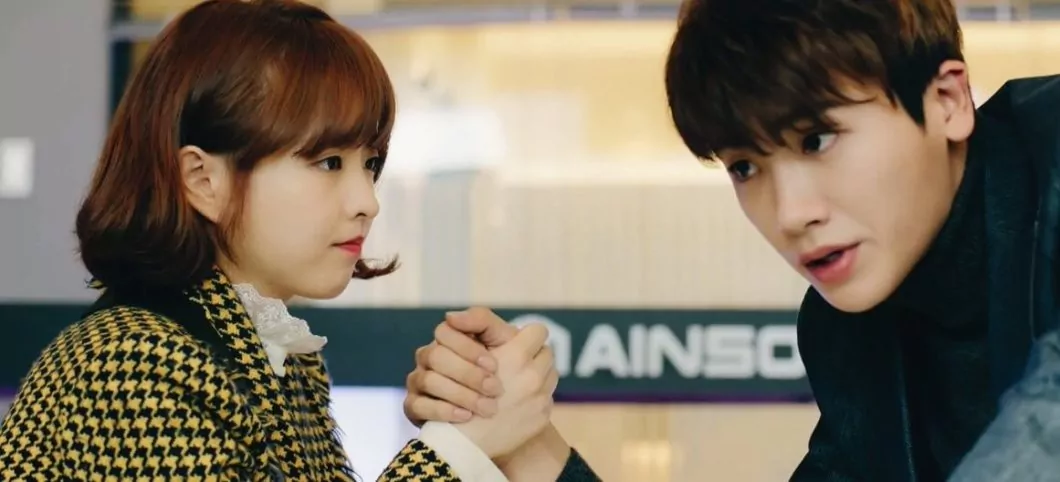 Strong Woman Do Bong Soon K-Drama Review
Don't you just love that feeling when you finally watch something everyone you know has recommended, and it turns out to be worth the hype? I felt that after watching Strong Woman Do Bong Soon. It's a K-Drama classic, and I can certainly see why.
Strong Woman Do Bong Soon is a wonderful blend of the rom-com and thriller genres. There's the extremely charming main couple, but with great power comes great responsibility, so Do Bong Soon uses her superhuman strength to help catch the kidnapper.
I loved several things about the drama, but let's start with what truly makes it so amazing – the main characters.
Do Bong Soon (Park Bo-young) and Ahn Min-hyuk (Park Hyung-sik) are one of the best K-Drama couples ever. Not only because they have insanely good chemistry with each other, but they're both fantastic individuals too.
Do Bong Soon is a bubbly, kind, and thoughtful girl who wants to develop a game where she's the hero, which is why she agrees to be Min-hyuk's bodyguard (he's the CEO of Ainsoft). Bong Soon exhibits immense selflessness and bravery throughout the drama, putting herself in danger multiple times to catch the kidnapper, proving herself to be a true superhero. She's also adorable, so it's kind of impossible to not love her. Ahn Min-hyuk, the rich heir and CEO of Ainsoft is being threatened by a mysterious person because his father him to takeover the company. When he sees Bong Soon beat up a group of gangsters, he is fascinated and hires her as his bodyguard.
Min-hyuk is such a charmer, he's become one of my favourite K-Drama main leads ever. He's sassy, smart, a little goofy and really caring. It was refreshing to see a K-Drama lead who isn't brooding or being unnecessarily rude to the female lead. Instead, he was always in awe of Bong Soon's powers, and when he did ask her to stay away from the investigation, it was only because he's worried for her. He teased her a lot, but never in a malicious manner. And he was so endearing! The best part was watching him melt every time Bong Soon did something even slightly cute (especially the scene where she drops the honorifics and says, "Ya, Ahn Min-hyuk!" It's the cutest scene in the show and you can't change my mind.)
Do Bong Soon and Ahn Min-hyuk are the couple that can turn a cynic into a hopeless romantic, and I am already a hopeless romantic, so you can imagine how much I loved them together.
The show was humorous and the banter between the characters was really fun without being awkward. The cast truly put up a splendid performance.
Strong Woman Do Bong Soon is charming and fun, but it's not without flaws. The gangster subplot felt unnecessary in the show's second half because it had nothing to do with the main story anymore. It had served its purpose in the first half, but the writers seemed to drag it on for comedic purposes (except it wasn't funny at all). After a point, I skipped those scenes entirely to focus on Bong Soon and Min-hyuk and the kidnapper storyline.
Another thing that annoyed me was the sloppy editing of the drama – a serious moment between the main leads was followed by yet another scene related to the gangster plot, which drove me crazy. The stereotypical portrayal of gay people and the abusive behaviour of Bong Soon's mother towards her husband is something that I disliked, too – I just don't understand why the writers felt the need to add that.
The Movie Culture Synopsis
The stellar performance by Park Bo-young and Park Hyung-sik was indeed the show's highlight. They made me fall in love with the characters, and for that reason alone, Strong Woman Do Bong Soon is one of my favourite dramas. Watch Strong Woman Do Bong Soon if you're in the mood for a fun drama.