Doom At Your Service is a South Korean fantasy romance drama series aired on tvN from May 10 to June 29, 2021. Kwon Young-il directed it.
Doom At Your Service K-Drama Cast
Park Bo-young as Tak Dong-kyung
Seo In-guk as Myul Mang/Kim Sa-ram
Lee So-hyuk as Cha  Joo-ik
Shin Do-hyun as Na Ji-na
Kang Tae-oh as Lee Hyun-kyu
Doom At Your Service K-Drama Plot
When Tak Dong-kyung discovers she suffers from glioblastoma and has only three months to live, she drunkenly wishes for the world. Myul Mang – Doom – can fulfill one human wish on his birthday, and upon hearing Dong-kyung's wish to end the world, he decides to grant it. He's tired of his immortal life and doomed fate and strikes a 100-day deal with Dong-kyung.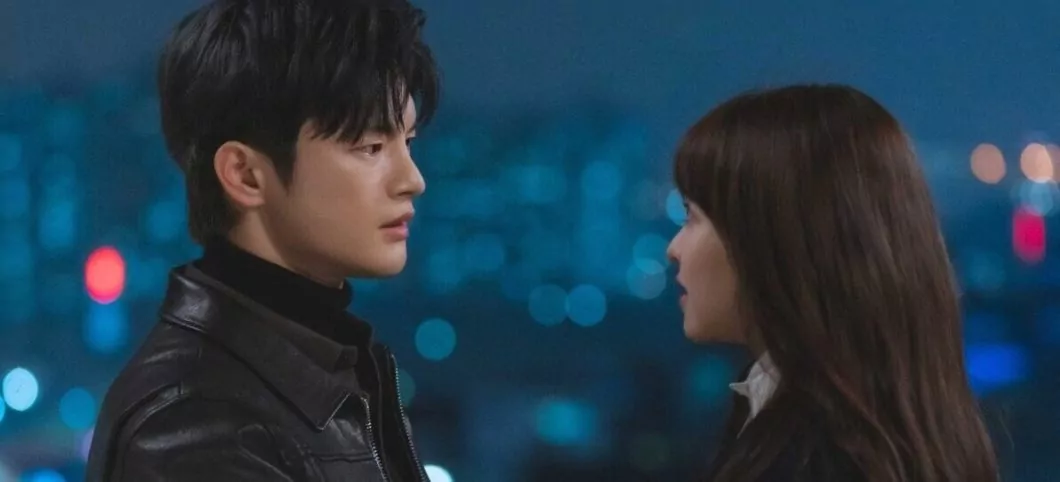 Doom At Your Service K-Drama Review
When we're having a rough day, nothing seems better than the end of the world. End the suffering at once, you know? In a moment of despair, a lot of us have probably wished for it.
Except Tak Dong-kyung's wish actually comes true. Myul Mang, who is doom personified, and whose existence serves the purpose of ruination, chooses to fulfill Dong-kyung's wish. But then they strike a deal, and unexpectedly fall in love along the way.
The central theme of the show is: love conquers all. The love between Dong-kyung and Myul Mang is unlikely, because Dong-kyung doesn't have much time left to live, and Myul Mang is immortal – he is quite literally Doom. But as they understand each other, they grow closer and fall in love deeply enough to risk the entire world. And their love is what changes their doomed fate in the end! Though the world may be bleak and filled with obstacles that seem impossible to overcome, it is love that saves us, and we must learn to cherish it. That was my main takeaway from the show. 
Their romance was certainly my favourite part. Park Bo-young and Seo In-guk portrayed the roles of Dong-kyung and Myul Mang really well, and I loved the chemistry between them. They're one of my favourite K-Drama couples for sure.
I absolutely loved the cinematography and the soundtrack. Breaking Down by AILEE is my favourite song from the OST and perfectly matched the vibe of the drama.
I also liked the side characters and their relationship with Dong-kyung. They really care about her, and their emotional scenes made me tear up many times ― the montage of her loved ones calling her name after she'd had a bad day had no business making me cry so much! But it was such a memorable scene and I was thinking about it for quite a while. Throughout the drama, I had mixed feelings towards the deity girl (an important character in the drama) but she had good intentions, so eventually I started understanding her purpose in the story.
Doom At Your Service is full of angst and a little heartbreak, and focuses more on the characters and their relationships with each other. But there are humorous and sweet romantic moments as well, so it doesn't feel too heavy. I think the show did a good job of balancing both light and dark elements. 
However, Doom At Your Service isn't without its shortcomings. The pacing was so slow at one point that it was really getting on my nerves. I wish the fantasy aspect had been given more attention too.
One thing that's always annoyed me about a lot of K-Dramas is unnecessary subplots that have absolutely nothing to do with the main characters. They take up undeserved screen time that should've been devoted to the main leads and their story, and while sometimes the subplots end up being just as interesting as the main story, that was not the case with Doom At Your Service. The whole love triangle between Ji-na, Joo-ik, and Hyun-kyu was boring and I didn't care about it at all.
Despite its flaws, Doom At Your Service is a wonderful drama with an emotional storyline, good acting by the main leads, and amazing cinematography. It's by no means a perfect show, but since the show had a happy ending that was even better than I'd hoped, I'm willing to overlook the aspects I disliked.
The Movie Culture Synopsis
Doom At Your Service is a drama meant to be savoured rather than binge-watched. The way it walks the line between fantasy and slice-of-life makes it a thought-provoking show, and I'd certainly recommend it to K-Drama fans.
Doom At Your Service is available for streaming on Amazon Prime Video and Rakuten ViKi.