Bridgerton is an American streaming television period drama series created by Chris Van Dusen and produced by Shonda Rhimes. It is based on Julia Quinn's novels set in the competitive world of Regency London high society's ton during the season, when debutantes are presented at court.
Bridgerton Series arrived on Netflix and this period pieced deserved our attention.
Bridgerton Series Cast And Characters
Adjoa Andoh as Lady Danbury, a sharp-tongued, insightful doyenne of London society, who is Simon's mentor
Lorraine Ashbourne as Mrs. Varley, the Featheringtons' housekeeper
Jonathan Bailey as Anthony, Viscount Bridgerton, the eldest Bridgerton son
Ruby Barker as Marina Thompson, a Featherington cousin
Sabrina Bartlett as Siena Rosso, an opera singer who is Anthony's lover
Harriet Cains as Philipa Featherington, the middle Featherington daughter
Bessie Carter as Prudence Featherington, the eldest Featherington daughter
Nicola Coughlan as Penelope Featherington, the youngest Featherington daughter
Phoebe Dynevor as Daphne Bridgerton, later Duchess of Hastings, the fourth Bridgerton child and eldest daughter
Ruth Gemmell as Violet, Dowager Viscountess Bridgerton, the children's widowed mother
Florence Hunt as Hyacinth Bridgerton, the eighth and youngest Bridgerton child
Claudia Jessie as Eloise Bridgerton, the fifth Bridgerton child and second daughter
Ben Miller as Archibald, Baron Featherington, the Featherington patriarch
Luke Newton as Colin Bridgerton, the third Bridgerton son
Regé-Jean Page as Simon Basset, Duke of Hastings, one of London's most eligible bachelors
Golda Rosheuvel as Queen Charlotte
Luke Thompson as Benedict Bridgerton, the second Bridgerton son
Will Tilston as Gregory Bridgerton, the seventh Bridgerton child and youngest son
Polly Walker as Portia, Baroness Featherington, the Baron's ambitious wife and mother of his daughters
Julie Andrews as the voice of Lady Whistledown, the author of a scandalous society newsletter
Bridgerton Series Plot
The drama centers on the Bridgerton family: Violet, Lady Bridgerton; her four sons, Anthony, Benedict, Colin and Gregory and her four daughters, Daphne, Eloise, Francesca and Hyacinth.
Also featured are the Featheringtons: Portia, Lady Featherington; her husband the Baron; and their three daughters, Philippa, Prudence and Penelope.
During the Regency era in England, eight close-knit siblings of the powerful Bridgerton family attempt to find love.
Bridgerton Series Review
Bridgerton Series gives off Pride & Prejudice combining Gossip Girl kind of vibe. This is based on Julia Quinns Historical Romance Novels Series. The Bridgerton family consists of eight siblings and their widowed mother.
In the novels, the Bridgertons are well respected and favored among British society. The Bridgertons are an extremely loving and tight-knit clan. The series comprises eight books in which each of the siblings finds true love.
Each book is set against the backdrop of upper English society during the period of Regency England. In 2016, the Bridgertons were brought back to an earlier generation from Edmund's older sister, Billie. The narrator of this show is Julie Andrews which later shows up as Lady Whistledown.
Also it may seem a little bit confusing in the beginning as there are a lot of characters to follow up on and as new families are introduced, you will eventually get a hang of it because as you watch you come to know about each and every character in the show. 
Overall they've done a wonderful work, the cast and crew are all stunning and great acting , and if you have read the Novels you would love to watch the Series.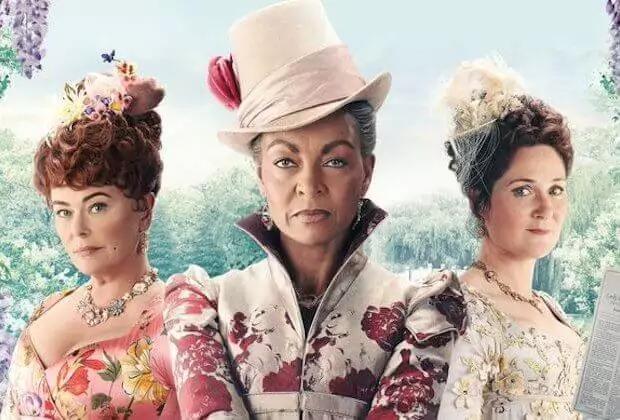 Bridgerton Series Episodes
"Diamond of the First Water" Julie Anne Robinson Chris Van Dusen.
"Shock and Delight" Tom Verica Janet Lin.
"Art of the Swoon" Tom Verica Leila Cohan-Miccio.
"An Affair of Honor" Sheree Folkson Abby McDonald.
"The Duke and I" Sheree Folkson Joy C Mitchell.
"Swish" Julie Anne Robinson Sarah Dollard.
"Oceans Apart" Alrick Riley Jay Ross & Abby McDonald.
"After the Rain" Alrick Riley Chris Van Dusen.
Bridgerton Series Critical Reception
For the series, review aggregator Rotten Tomatoes reported an approval rating of 92% based on 74 reviews, with an average rating of 7.94/10. The website's critics consensus reads, "Sumptuous design, soapy drama, and a sterling cast make Bridgerton a delightful treat."
Metacritic gave the series a weighted average score of 76 out of 100 based on 28 reviews, indicating "generally favorable reviews." 
Kristen Baldwin of Entertainment Weekly gave the series a B+ and wrote, "Bridgerton, it seems, is a wonderful diversion for those who love Pride & Prejudice but wish it had more stairway sex."
Richard Roeper of Chicago Sun-Times gave the series 4 out of 4 stars and said, "A show that will give you that unmistakable binge twinge and have you activating that "Next Episode" time and again, until there are no more "Next Episodes".
The Movie Culture Synopsis
The grounds of Wilton House were used for Hyde Park and the grounds of Somerley were used for Hampstead Heath. Ranger's House in Greenwich, southeast London was used for the Bridgerton House exterior and RAF Halton House in Buckinghamshire for the interior.
Throne scenes were filmed in the Single Cube Room in Wilton House near Salisbury. A combination of Hampton Court Palace and Lancaster House made up St. James's Palace in the series. Bridgerton series is highly recommended.
Bridgerton Series is now available to watch on Netflix.