DATE : 12TH OF JANUARY 2021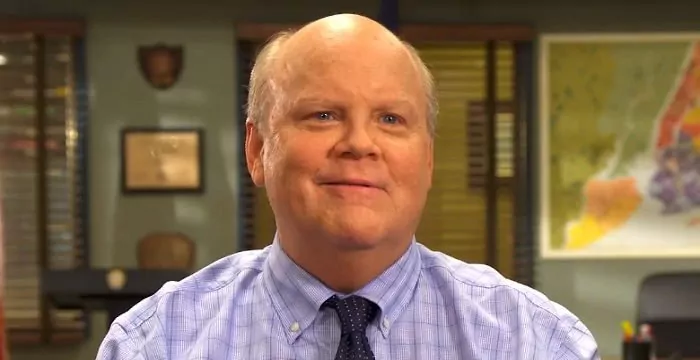 Dirk Blocker is best known for playing Detective Hitchcock on the sitcom Brooklyn Nine-Nine. The Movie Culture got in touch with the man himself to shed light on his career and his famous role as Detective Hitchcock in Brooklyn Nine-Nine. Dirk Blocker has been a long time actor having done projects such as Starman and Poltergeist.
Q. To start this interview I have to ask you about the obvious your work On Brooklyn Nine Nine, do tell us about the series and how it first came to be? How you first got involved?
Dirk Blocker: I was called in for an audition by the great casting director, Allison Jones. There was very little for Hitchcock and Scully in the pilot, so they combined the 2 scenes. I auditioned on a Thursday, as I recall, got the call that I had been selected on the next day, and started to work the following Monday.
Q. You have worked on Films and TV, what's the difference between shooting a film and a series? Which is more taxing?
Dirk Blocker: That depends on everything – most critical being the organization of the project. On some low budget independent films one needs to bring one's patience, though the same can be said of bigger budget projects as well. In the end, the main determiner, for me, has always been the quality of the story and the people involved. However, one does have to pay the bills!
Q. Many actors have their defining role which comes second nature to an actor, Ford as Indy, Hamil as Luke Skywalker. To many, you have become Hitchcock for the most part. Would be willing to let us know your evolution as the Detective? How much have you contributed to the character in terms of scripting?
Dirk Blocker: First, thank you. To say that I've become the character I'm asked to play is, for me, the highest compliment. In the early going when Dan Goor and Michael Schur were developing the show their main concentration needed to be focused on the main characters. I like to think that's part of why Joel and I were hired; knowing that we had enough experience that we could bring life to characters not yet fully developed. So, Joel and I would spend our time away from the set discussing what we could bring to scenes in which we were asked to participate without much, if any, dialogue. The producers liked what we were doing and gave us free reign to ask for props or to make suggestions that might occur to us. In turn, Andy (Samburg) and the writers would often create unscripted dialogue for us on the set, and over time we were told by various writers that they all wanted to write for Hitchcock and Scully. And they have consistently delivered wonderfully funny and colorful circumstances, situations and jokes for us. What a dream job.
Q. We came across a short which you produced and Narrated, Master and the little Monk. How was that experience like?
Dirk Blocker: It was a passion project in that I wanted to make the fable I wrote and published, Master and the Little Monk, available for those who might not be able to afford the book a chance to experience the story. I recorded the narration just prior to the pandemic's outbreak, so the piecing together of the book and narration into a short video went from a challenging project into a very, very challenging project completed with my editor over long distance email. Luckily for me, I'd chosen the perfect editor for the project. Cintia Segovia understood and connected with the themes of the story, and brought her expert eye and technique that allowed the story to unfold beautifully.
Q. You have had a long career and it's certainly something. Is a Director you want go work with?
Dirk Blocker: Thank you. I've had the incredible good fortune to work with many fine directors. There are so many great people working these days that it's not easy choosing just one, but I'm very intrigued by Chloe Zhao, after having been so taken by, The Rider, but there are so many others whose work I admire.
Q. Any Director you want go work with?
Dirk Blocker: Again, that's a tough question. To name just a few whose work I find intriguing: Ava DuVernay, Taika Watiti, Guillermo del Toro, Ang Lee – I could go on…
Q. Brooklyn Nine-Nine is approaching it's 8th Season. What should fans expect from the season?
Dirk Blocker: Like the world we find ourselves in, things seem to be happening at a fast pace that occasionally necessitates change. While Brooklyn Nine-Nine will stay true to it's base form – comedy with a nice dose of sweetness – recent events will enter in. I can't offer much more than that other than to say the first scripts I've seen have made me laugh out loud, and won't disappoint our fans.
Q. Speaking of Brooklyn Nine-Nine, is there any cast members with whom you have become close buddies? Apart from Joel McKinnon Miller.
Dirk Blocker: We all get along splendidly, but I'm a bit older than the rest of the cast, apart from Joel, and our social lives don't often coincide. That said, when we appear together at events it tends to be a laugh riot.
Q. Are you someone who looks up to what the critics are saying about your work? Should critical evaluation matter to one's work?
Dirk Blocker: While it's impossible to completely ignore critic's opinions, I do my best to achieve this. I suppose there might be value in some of these evaluations, but I don't recommend making decisions about your work based on them.
Q. Your Social Media is a quite something. How do you feel about today's age of Social Media? 
Dirk Blocker: I like some of it. I find it can consume too much of my time if I'm not careful, so I take breaks until I have something to offer.
Q. As said, you have had a long career and since we mentioned Social Media, is there any key differences you notice when it comes to potential prospects for an actor?
Dirk Blocker: Sorry, I'm not clear about the question. If you mean, can one become hired because of their social media presence, I suppose it factors somewhat, but in the end you've still got to audition.
Q. The Movie Culture is situated in India and being fans of your work, we'd like to know whether you are have seen any of Bollywood films? If yes, is there a favourite?
Dirk Blocker: I'm sorry to report that I'm not terribly well versed in the genre. But I'm totally open to it. Care to make a few suggestions?
Q. Do you have any future projects lined up which you'd like to share with The Movie Culture and your fans?
Dirk Blocker: Presently, I'm committed to season 8 of Brooklyn Nine-Nine. Part of the actor's life is not knowing what comes next but being ok with that. In fact, it often leads to feeling adventurous.
Q. Being a successful individual such as yourself, is there a key advice which you give to people trying to make it big? Given the vast competition in the media field, how does one cope with rejection, any words?
Dirk Blocker: I learned long ago to follow director Peter Brooks' advice regarding rejection. Everything comes down to how we choose to perceive our experiences and what we tell ourselves about them. I agree with Mr. Brooks that if we choose instead of rejection to view that we "weren't chosen" makes all the difference. It becomes less about failure and more about it not being meant to be. As to "making it big" – I'd caution that one ought to be careful what one hopes for. I've seen some who handled fame and fortune well, while many others have struggled with it. If you find yourself on a path towards this fame & fortune, I'd highly recommend dealing with any issues that might be causing you any inner conflict first. We like to think that success will make our problems go away, but they don't. They just become bigger with less time to deal with them. 
With this I'd like to wrap up with the interview questions. On behalf of The Movie Culture would indeed like to thank Mr. Dirk Blocker for agreeing to this wonderful interview.
Dirk Blocker: Again, thank you.
The Movie Culture Synopsis
A very nuanced look at his career through his own words. It's certainly cool to see from his eyes the changes in the industry and how he has grown accustomed to.
It's always fun to see what the actor thinks about his most famous role and same can be said in this case.
Speaking of famous role, Dirk Blocker will be back as the detective in the upcoming season 8 of Brooklyn Nine-Nine.