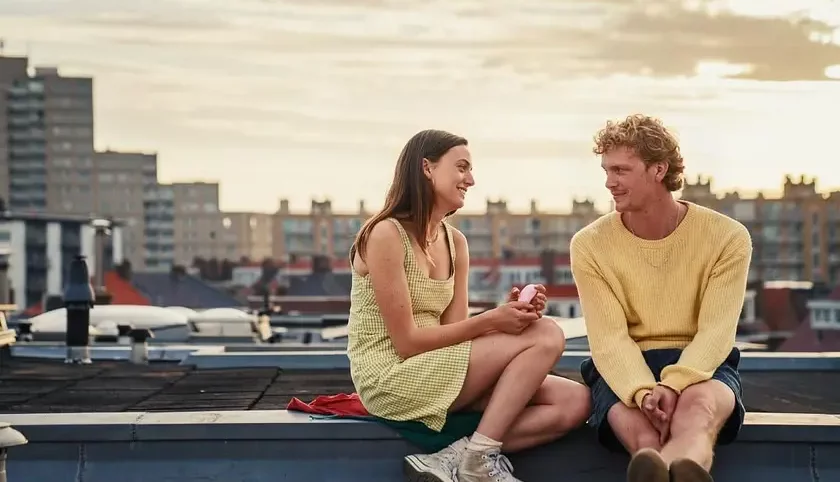 Happy Ending is a Dutch Netflix film that is quickly gaining popularity due to its take on problems of identity, sexual needs, and gender. Directed and written by Joosje Duk, the romance-comedy was released on the OTT platform in September 2023.
The story revolves around Mink and Luna, a happy-go-lucky couple celebrating their one-year anniversary. However, not everything is perfect. Luna has been faking it since the beginning of their relationship. The couple decides to have a threesome with a girl named Eve, and the mutual sympathy and love are portrayed beautifully. 
The problem is that Luna gets her first climax not from Mink but from Eve. Making the story much more complicated is the constant back-and-forth of love and lust in the heroine's mind.
Happy Ending (2023) Movie Cast
Gaite Jansen as Luna, nicknamed 'Loon'
Martijn Lakemeier as Mink
Joy Delima as Eve
Sinem Kavus as Luna's bubbly friend
Claire Bender as Luna's reserved friend
Sidar Toskovz as Minl's friend
Happy Ending (2023) Movie Plot & Summary
Ironically, Happy Ending begins with no 'happy ending' for Luna as she fakes her orgasm for the 132nd time. She is seen moaning loudly to not disappoint Mink, implying that their sex life is hot, but that is rarely the case. The story then flashbacks to the time when she first met Mink, how she gave obvious hints that she was interested until the boy reciprocated.
When a waiter asks them about a mocktail named 'trio', Luna casually pops up the question of a threesome while having dinner with Mink in a restaurant. He is hesitant at first but yields to her request. Luna tries to seduce a person in a bar but is unsuccessful as she can't flirt for her own life. It is only during one of her 'bike flirting' trips that she exchanges glances with Eve.
Back at home, frustrations grow as Luna has to rely on toys for her climax. Fortunately, she finds Eve on a dating app and arranges a meeting with her. The couple approaches Eve with an offer of a threesome, which is accepted, and a sensual scene follows where each take turns and, to quote Mink, "have the best sex of their life." Notably, Eve asks Luna what she prefers in sex.
The plot thickens when Luna continuously fantasizes about Eve and often travels to her place for some action. Her tensions get the better of her and she finally musters the courage to direct Mink while they have sex. Despite taking control, she doesn't like it any bit, even revealing that she has been faking her orgasms. The couple break up. To make matters worse, Eve leaves Luna because she is unable to decide whether their relationship is serious or casual.
Happy Ending (2023) Movie Review
Luna's obsession with having good sex almost drives her to insanity. She fantasizes about asking the whole restaurant if they want a threesome or using handcuffs and blindfolds to finally get the happy ending that she wants. The narrative is tactfully spun around her desires, the achievement of her desires and need for more, the question of love and lust, and the ultimate confrontations that leave her relationships in tatters.
For a 92-minute movie, the sequence of events doesn't seem rushed like the latest One Piece Live Action series. The tension builds up until the threesome, after which the tension picks tempo once again. Viewers are introduced to Luna's problem from the beginning with a sex scene. Gaite Jansen shines in the role with her expressions and voice changes, pointing out how visibly disgusted she was by her boyfriend's incapabilities and how she was pushed to her breaking point for a 'trio.'
Interestingly, Luna's character is not fully introduced in the story. Her name is only revealed when Mink talks about the message he received from Eve, symbolizing how Luna was like any other woman in this world, struggling with her partner in bed. There are also symbols that highlight her inner conflict: the "satisfaction" project she works for in her company and the references to 'sandwich', a position that y'all can find in the Kama Sutra.
Sensuality is created in almost every scene because it is the whole point of the film. Romance and sex drive the whole story, but viewers get to which are enjoyable to the characters via the expressions of actresses. Despite many bed-breaking scenes, the movie is not overly vulgar or contains excessive nudity. It only captures the essence of the sex.
Happy Ending also raises questions about sexual identity formation. Are Luna's feelings for the same sex validated, or do they arrive solely from lust? Is Mink not good in bed to meet his girlfriend's needs or is he the wrong gender? The larger message in the story is that Luna shouldn't sacrifice her sexual feelings for her boyfriend's sake. Happy Ending ends with the moral that romantic partners need to be attentive to each other's sexual and emotional needs while talking openly about them.
Luna, being fearful of how Mink would react to her revelation, somewhat puts her to fault. On the other hand, Mink, not being able to understand his girlfriend's needs, raises fingers at him. Eve, given that there are obvious feministic orientations and connotations in the film is depicted as the Biblical Eve who assists her offspring and is Goodness incarnate.
Happy Ending (2023) Movie Ending Explained
Although it belongs to the rom-com genre, the 'com' side of Happy Ending is slightly on the edgier and cringier side. There are a few witty remarks between Mink and Luna at the beginning of the story, before the arrival of Eve, but it will only garner a few smirks from the viewers. 
There is no definite conclusion at the end of Happy Ending. Luna realizes that she harmed herself by keeping secrets from Mink. Meanwhile, the film devaluates men as Mink refuses to take her apology and somehow, the narrative victimizes the girlfriend and puts the blame on the boyfriend, who was clearly ready to go to lengths to impress Luna: agreeing to a threesome, let her get in charge in bed, and remaining friends even after their breakup.
The film makes it clear that Luna is in a difficult situation during the climax. She still has lusty feelings for Eve, fantasizing about her eating a certain "sandwich", but is also bound by her love for Mink. Joosje Duk leaves the story to open interpretation but it would have been better if there was a clear answer about Luna and Mink's sexual identity or a reunion, thereby putting the many themes that the film birthed a definite conclusion.