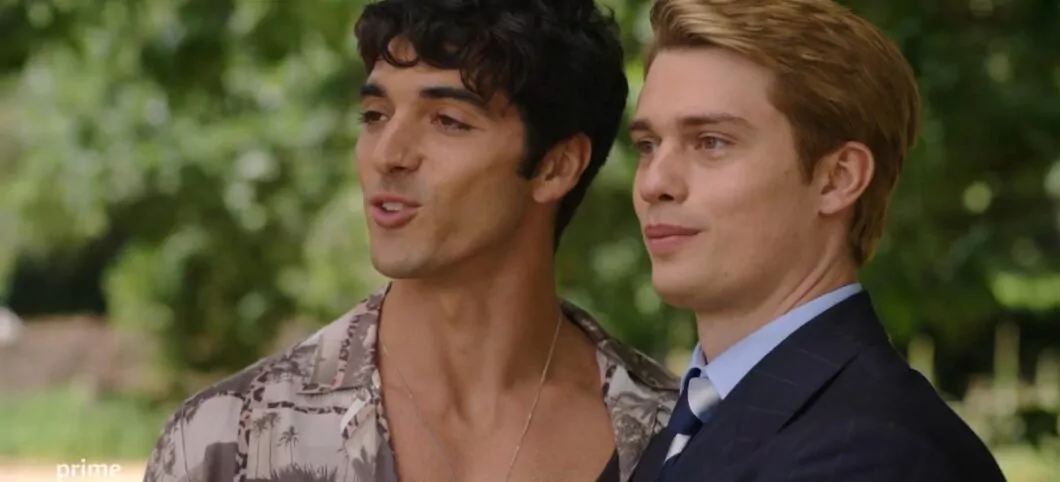 Red White and Royal Blue released on 22nd July 2023. It is available on Amazon Prime and has a run time of 2 hours. Based on the novel of the same name by Casey McQuiston, it is directed by Matthew Lopez.
Red, White And Royal Blue (2023) Cast
Nicholas Galitzine as Prince Henry
Taylor Zakhar Perez as Alex Claremont-Diaz
Uma Thurman as Madam President
Rachel Hilson as Nora Holleran
Red, White And Royal Blue (2023) Plot
The main focus of this movie is the conflict between Henry, Prince of Britain, and Alex Claremont-Diaz, the son of United State's President. The two are compelled to convince the two countries that they are great friends even though secretly they hate each other. Their hate quickly develops into a forced friendship before expanding into something even greater.
Red, White And Royal Blue (2023) Review
 Enemies to lovers is a trope that has way more criteria than any other trope has. A writer needs to sell pure hatred between protagonists, and it can never stem from miscommunication. There has to be way more. For this reason, I would like to clarify that Red, White, and Royal Blue is not enemies to lovers. It is a romance movie, but there isn't enough distaste between the Prince of England and First Son to bestow them with the title of Enemies. They should get the credit of lovers. They did that really well.
The Cast Supremacy
Taylor and Nicholas have such sweet chemistry. They are the kind of couple you want to protect from the rest of the world. No, I cannot explain that more. Mind you; they are not a shy, blushing couple. They do make you blush and feel many things. Matthew Lopez did not shy away from intimacy scenes and was good for us.
The ensemble is pleasantly diverse, with an understated, almost casual, natural feeling that this is just the plot these folks live in. Each supporting character is confident in their own skin and does not feel the need to "blend in." People are not dropping their accents, and their caste/identity isn't a hindrance to the plot in any way.
Uma Thurman was easily one of the most iconic. Her pointedness as Madam President convinced me of how she would make a great president. Maybe next elections? Her maternal nature wasn't something she needed to switch on; it existed alongside her Presidential duties. Balance.
The set designs weren't overstated, and they didn't overpower the story. As the plot is light and hearty, it is not overshadowed by extravagant sets or strong visuals. I do have to give a special mention to the New Year's Eve scene because the scene played as a song. There was a flow and rhythm to it. As if Lopez wanted you to drift into a party too and witness our protagonists having their moment.
In terms of comedic relief, the movie is inclined towards banter and not slapstick. While it would be a lot easier to pull off the latter, I liked how the banter was written out. Alex, with his PR (Sarah Shahi), had the best banter.
Public figures and their love lives is a great topic; the movie covered that well. The privacy that public figures deserve but don't have and how they end up impacting the world is a conversation we should have, considering how into social media we all are.
Another scene that deserves a mention is when the pair still dislike each other, and they are trapped in a physical closet. It's the perfect combination of claustrophobic agony, a growing recognition of their connection, and, even more shocking, mutual respect. I love how Prince of England was found in the closet twice literally. Could it be more on the nose?
Coming to what I did not like. The movie felt rushed once you realize they want to fit in the "falling," "relationship," and "being ousted" in a span of 2 hours. I would have loved to see the falling and being ousted play out longer. There were some liberties of convenience taken, which, again, the limited time can be blamed for. Lastly, and extremely personal criticism, is that Akshay Khanna, who played Shaan, should have got a lot more screen time. For reasons I hope you can interpret.
The Movie Culture Synopsis
Red White and Royal Blue was a great adaptation and yet, I would recommend everyone to watch this movie without comparing it to the book. Some characters were cut out, but again, blame the lack of time and space films have. The film was pleasant and hearty and displayed Lopez's great storytelling. Complete with fantastic cast performance and comedic timings.