Nostalgia clocks in with the chosen boy as the clock ticks in announcing a new year! Get your wands ready for a long night, mischief managed! 
Harry Potter 20th Anniversary: Return to Hogwarts Cast
Emma Watson as Self
Daniel Radcliffe as Self
Rupert Grint as Self
Tom Felton as Self
Jason Isaacs as Self
Harry Potter 20th Anniversary: Return to Hogwarts Review
As a die-hard fan myself, nostalgia took me in when I saw the camera soar above the old victorian street; I'm back home. "The best way to begin a new year!" my friend shouted. Today, I'm inviting us to what is the closest work to the aesthetics of Hogwarts. The Harry Potter reunion exceptional Return to Hogwarts, marking 20 years since the first day it stole our hearts. As a regular fan, you probably won't find anything special in the 2-hours long reunion, but if you were that big of a fan (like me), you'd melt in all the secrets spilt! The on-set crushes over the years (the magical love between Felton and Watson), the Weasly's life, and the kids' mistakes! 
The reunion talks about literally everything; for instance, It brought out the four directors – Chris Columbus, Alfonso Cuarón, Mike Newell, and David Yates – paying huge attention to little details in their films. The first two films simply warm your hearts, preparing you for the darkness ahead. You go back in time, when you were a little Potterhead, waiting for your Hogwarts letter yourself, and forget reality around you. Magic is real, muggles! 
A Wholesome Nostalgia Trip
Hagrid in his hut again, Dumbledore, and the three musketeers! Life is good, Harry is in Griffindor, but suddenly… he defeats who must be named! Yes, this is our favourite movie! When you get to the third movie, your heart breaks again as you remember and relive everything: Sirius Black, the man who took our hearts. They remind you of his death; they actually bring the murderer and the murdered in a chat together! But who can't love Bellatrix with the hurricane she is? This is where you start knowing, Harry Potter is no longer happy and sunny. 
When the reunion takes you to the fourth movie, you both smile and cry. Here is where you grew with Harry, but you get the chance to witness them growing into teenagers with the reunion. Bits of videotapes of actors and actresses show on the screen as they live their awkward teen life on the set. And then the reunion takes on a dark arc; he who must be named is on the screen (with a nose) speaking about his experience. Then you go back to the moment where Cedric died,  where his dad "howled like a dog," and everything transforms. Harry Potter is no longer a kid; he is the chosen one. He who must fight him.  
Of course, we shouldn't forget the segment about Malfoy! I particularly enjoyed it, as it forecasted Draco's struggles with his dad and with Voldemort. It showed how a hero was himself, fighting his problems, while harry was fighting his own. For a moment, we might have forgiven him for killing Dumbledore! The reunion puts spotlights on the Malfoy's like the movies didn't do before, making them appear as not villains, but as a family who had its kind of problems and struggles.  
Return to Hogwarts makes us want to ball up and cry! The trio remembers how they were only kids when they were cast, and they go back in time to see if they would've left the series. To our huge surprise, they did think of leaving the films at some point; however, they never spoke of it to anyone (phew!) because they thought, who would understand?
It turns out they all did! It's only a chance to show us how the actors were human beings and not actually wizards and witches in a magical world, with no problems. And that when they get on the 9 ¾ platforms, they don't transform to another realm; they stay here with us. As I write, I try to remember every single detail that has happened in the reunion. They have given us everything- bottled up everything- in this, and I can't find enough words to describe it. The stories of many characters- dobby, Luna, Neville- the editing, the details, and the graphics are perfect as it once was. How can you critique something that rekindles in you the light of childhood? And brings back characters you thought you wouldn't see again.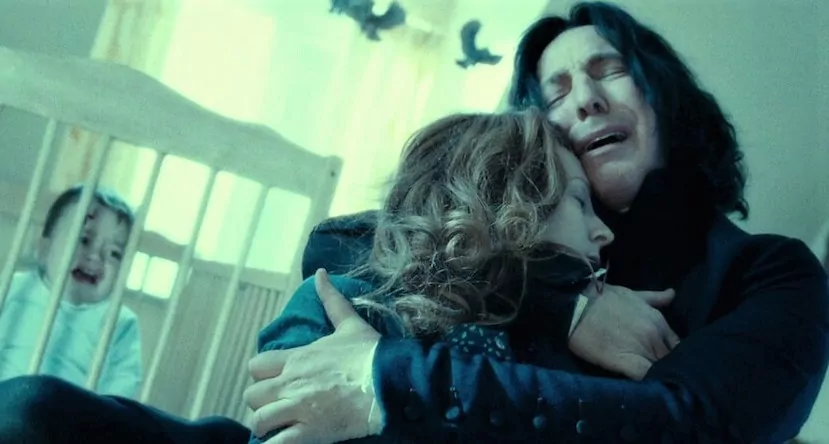 Alan Rickman was Sorely Missed
To see the faces of Richard Harris and Maggie Smith is to see childhood again! Even though Return to Hogwarts feels like a time capsule, taking us back to the 90s, we return with only half of the characters. Our hearts ache for those who aren't around with us anymore, especially Alan Rickman, the one we hated and loved the most! Oh! I nearly forgot the awkward first kiss of Ron and Hormone! Of course, as in books and movies, they're fated for each other. They narrate how they were building up for this moment for 6 movies; however, it didn't go as well. Emma and Rupert were not an on-screen couple, and the kiss was awkward as it could go.
Return to Hogwarts catches everything; it's a decade's work in two hours. It pictures the sibling love of the trio, how they'd do anything for each other, and how they're still there after all this time… always. The only missing thing from this spectacular reunion is the presence of J.K. Rowling. We would have loved to see her in this spin-off. Other than that, Return to Hogwarts passes all the checks and tests. It's what the Potterheads wanted and needed, without them even knowing.  They gave us everything, and I've realized this again as I typed this article. 
The Movie Culture Synopsis
The last ten minutes of the reunion would leave you in tears even if you weren't a Potterhead. And yet again, we say goodbye to the series that we gave a piece of our hearts to. Long and forever Harry Potter!