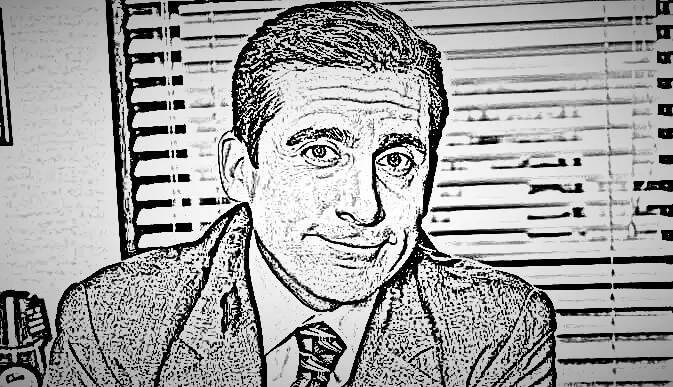 The goofy, ignorant boss with a childlike ego, this is how I would describe Michael Scott. His immaturity is what made him likeable and so filled with life. Yet the journey of this character has never been the same.
What makes Michael Scott so Lovable?
Like any good Sit-com, The Office made sure that they elevated the character of Michael Scott to a level where his departure from the show would hit us with a thousand emotions. He is one guy who always wants to be the funny one in the room, whether that is through his sexual or mildly offensive jokes or his infinite gimmicks. Yet somehow, he always ends up being the butt of a joke and his unawareness works as his greatest strength and weakness, for it allows him to face those circumstances while giving rise to those circumstances too.
The Office is filled with an array of characters, and each of them goes through significant layers of development by the end. Jim finally dates Pam and they both get married, Dwight and Angela's weird on and off relationship comes to a satisfying end and Andy, well, his arc got weird didn't it. Out of all of these great, iconic characters, Michael Scott and his love life and work life were the heart and soul of the show. He would always end up embarrassing himself or someone else but the show would never shy away from bringing out his talented and kind-hearted side to the picture. It makes you feel for him while simultaneously allowing you to make fun of him. At his absolute core, in whatever weird way, he is a true people person. Friends and family are the two most important things in life for him and he often doesn't even distinguish between those two. 
Michael Scott's Character Arc
This arc tries to explain the evolution of Michael Scott through out the seasons. His persona, attitude and relationship are deeply explored further.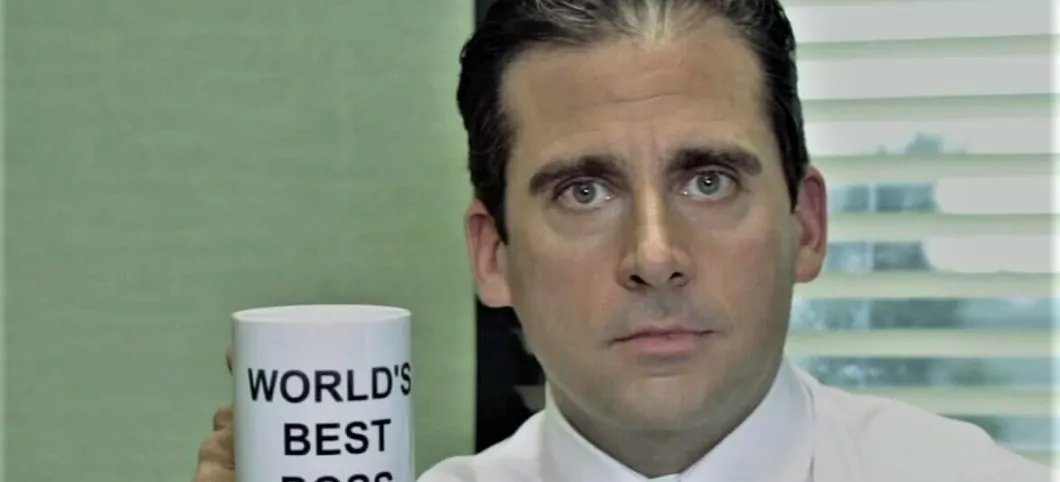 Season 1: The UK Version of Michael Scott
This was when The Office was stepping into a US based audience. Both the viewers and the makers of the show were concerned about how well it will be received in America and most of the episodes of the show were direct rip-offs of The Office UK. During the season we are introduced to Michael Scott, the manager of Dunder Mifflin Scranton Branch. More than being likeable, he is shown as a jerk who likes to poke fun at people just for self pleasure, with the excuse of bringing humor in the atmosphere. He still has very less self awareness yet his character is shrewder than any other season.
And he evidently makes some really bad moves on his part which makes some of his co-workers even cry in front of him. The Season 1 Michael Scott is drastically different from the other versions of Michael Scott, both in terms of personality and in terms of his actual appearance. It was a conscious decision on the part of Makers to make him more lean and younger in the later seasons as to increase his likeability. His presence in the show brought more dark humor than light humor and while it tried to do what The Office UK did best, it was certainly not the show which was expected by the US audience.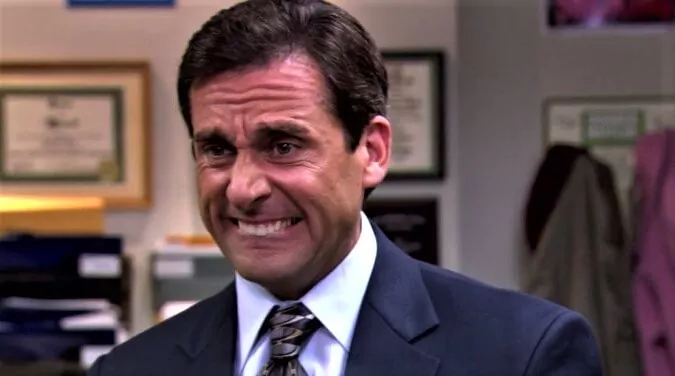 Season 2: Michael and his fun Little Gimmicks
Season 2 instantly brings a change in the character of Michael Scott, in terms of his Appearances, his relationships with his co-workers and his love life. This season in particular brought so much depth into the character of Michael Scott which is visible in episodes like Booze Cruise, The Client, The Injury and Casino Night. The Injury was probably one of the greatest episodes of the show yet due to the sheer unpredictability and dumbness of the situation. Michael gets his foot stuck in a George Foreman Grill and instantly starts comparing himself with all the other people with actual disabilities. He comes to work with walking sticks and expects an increased level of care and importance from his co-workers, just because he has got a minor burn on his foot. It went on to elevate his need to feel appreciated and loved no matter what, and it also explored the extents that he is ready to go to in order to acquire this.
In Booze Cruise, his conversation with Jim becomes the reason why Jim doesn't give up in pursuing Pam even after she gets engaged. It brought the humane side of Michael which was surprisingly mature and uplifting. It was truly fascinating to see that out of all people in The Office, it was Michael who gave Jim the most important advice of his life. His relationship with Jan also takes a full pedal as she becomes impressed with him after the meeting in the episode The Client.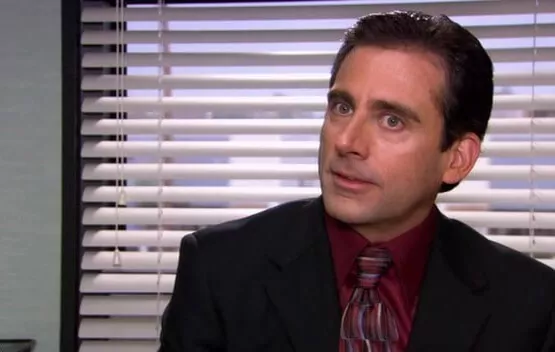 Season 3: Exploring his Relationships Even Further
This is one of the seasons where we get even deeper bonding between Michael and Dwight. I am talking about the episode, The Return, where Michael wrongfully fires Dwight under the influence of Andy. Yet when he learns of his mistake, he goes to the place where Dwight has been working and apologizes to him in the most shy and wholesome ways. Till this point in the show, the viewers were more under the impression that Michael just uses Dwight as his sidekick, but their friendship was finally given some space to breathe in the ending of The Return.
Business School, is another episode where we learn more about Michael's managerial skills and his love for his workers, especially Pam. He is the only person from The Office to show up for Pam's art gallery and Pam who had been feeling devastated and hopeless till that point, is immediately cheered up and left in tears as she sees Michael respecting and appreciating her for her art. They share a sweet moment of hug between them, and it is still one of the best moments of the entire show. Gay Witch Hunt, just went on to show Steve Carell's dedication towards this character as he improvised the iconic kissing scene between Michael and Oscar.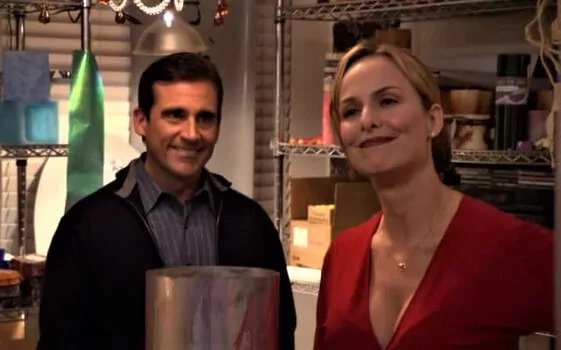 Season 4: An Entire Character and Relationship, Summarized in an Episode
Season 4 arguably has one of the best episodes of the entire show, Dinner Party. I feel like describing Michael in this episode alone would be equivalent to describing his character in the entire season. The amount of awkwardness that was struck with viewers and characters alike is insurmountable and beats everything else in the season. The relationship between Michael and Jan is seen in the most up-close and terrifying forms. Jim and Pam who are stuck in this horrific situation, just can't seem to find a way out of this.
With so many weird revelations like Michaels vasectomy history, his sleeping situation and his ice-cream truck incident, this was truly the most memorable episode. It only gets even more fun as Dwight enters the scene with a random aged woman as a date, and he is clearly the one who is enjoying this party the most. In the deposition, we also learn more about Michael's code and how he gets angry at Jan for leaking his diary. The aftermath of which results in Michael siding with the corporate just because a person expects to be betrayed by the corporate, but not by his love.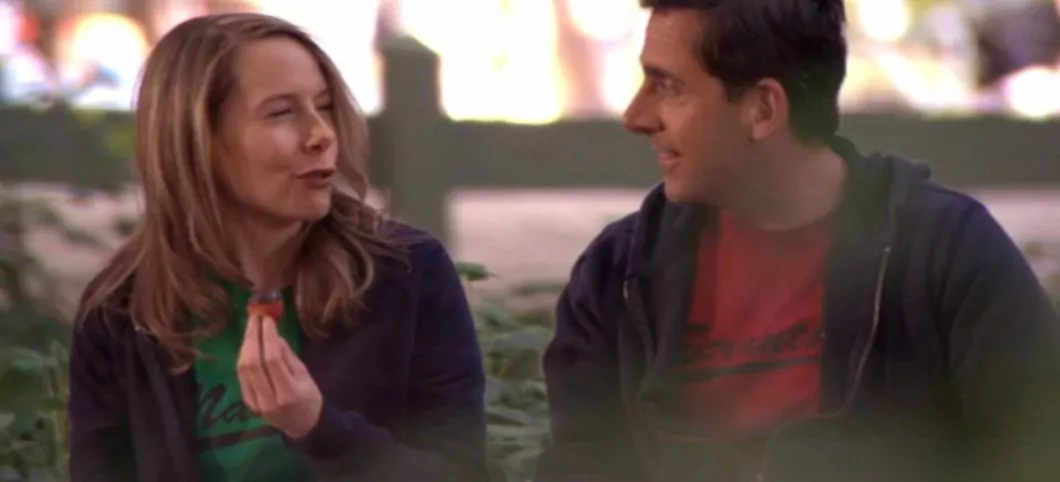 Season 5: Michael Meets Again With the Love of his Life
This season, Michael reunites with his lost love, Holly in the Company Picnic episode. They work together and create some really awkward games and goofs and their chemistry really shines again and solidifies the fact that they are made to be with each other. Other than that, Broke is the best episode of the show which highlighted how good of a salesman and a negotiator Michael Scott truly is. His entire Michael Scott Paper company comes to an end in this episode and the way he is able to manoeuvre the situation in favour of Himself, Ryan and Pam, was truly shocking and admirable.
To this point the show mostly hinted on his salesman skills in more subtle ways, but watching him talk down to David Wallace in a threatening and astoundingly clever manner really made the tables turn. Stress Relief is one of the highest rated episodes of The Office and for good reasons. While it wasn't that impactful in elevating Michael's character, we can see him try to guide the workers through a crisis in the most childish and unprepared way ever. "Everybody stay Calm", he screams at the top of his lungs.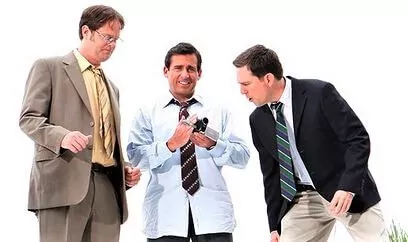 Season 6: Michael Represents All of us in Jim and Pam's Wedding
This season gave us so many episodes like Scott's Tots, Murder and Happy Hour which dwell deeper in some horrendous bad decisions and some great management and pickup skills of Michael Scott. Scott's Tots was insanely difficult to sit through as it involved Michael breaking his dumb promise of sponsoring a student group's education. There's so much hope from the side of students that with each passing minute, it becomes difficult to realize how devastating it's going to be for them when they realize that Michael can hardly sponsor his own expenses, let alone theirs.
Murder is yet another episode where Michael orchestrates a board game in order to get everyone's attention away from all the depressing news of the branch shutting down. He plays his best version of the manager as all of them take part in the Murder of Savannah with heavy southern accents. In Niagara, the episode which featured the wedding of Jim and Pam, we can see Michael smiling so gleefully as both of them kiss on the stage. Yet another moment where he is truly happy and ecstatic watching his co-workers marry.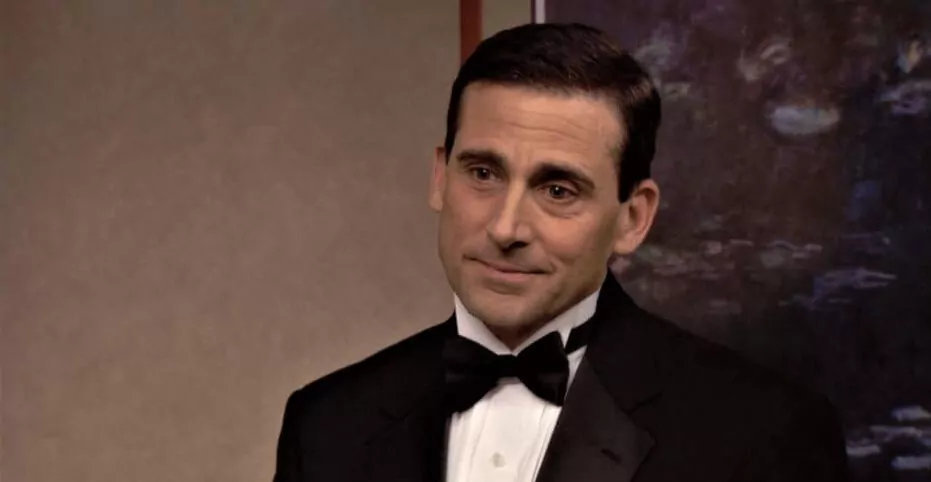 Season 7: The Heartfelt Farewell of a Legendary Character
The Final Season of Michael Scott, this is when Michael comes back with Holly and their proposal scene in The Office was a wholesome amalgam of Humor and Intimacy. There was no better way to send off a character who is so iconic and filled with life. We see his relationship with his nephew who is as annoying as he is mischievous, so by the end of the episode when he goes over the top with his gimmicks, Michael gives him a good old spanking, bringing in front his view of parenting, which doesn't necessarily see the age of the child. Garage sale was the proposal episode of Michael and Holly, wherein the entire atmosphere of The Office is filled with candles and it inevitably triggers the sprinklers. So, in a sense this was the second proposal in The Office which accompanied rain.
The last dundies of Michael Scott, involved him treating everyone with equal respect and mostly appreciated his co-workers without poking fun at them. Threat Level Midnight finally conceptualized the script of Michael Scott which has been in the works since god knows when. And finally Goodbye, Michael, involved him bidding farewell to everyone in The Office. He constantly questions his decision, breaks down and tries to put on a happy face when in reality he is deeply sad inside. From Paintball with Dwight to a potential lunch with Jim and the final hug with Pam, every goodbye resulted in tears and highlighted the importance and the aura of Michael in The Office. 
The Movie Culture Synopsis
I hope you liked reading this character arc of one of the most iconic people to be ever seen in a Sit-Com. Let's see how the reunion of The Office brings back these same characters in Scranton, especially Michael Scott.