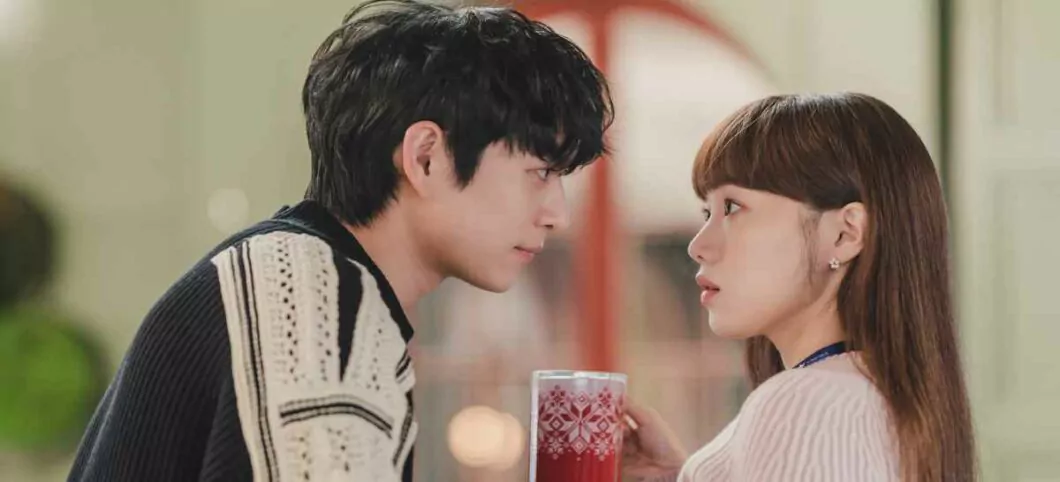 Shooting Stars or Sh**ting stars is a 16-episode drama from TVN, directed by Lee Soo-Hyun. It aired on Netflix from 22nd April to 11th June.
Shooting Stars K-Drama Cast
Kim Young-Dae as Gong Tae-Sung
Lee Syung-Kyung as Oh Han-Byeol
Yoon Jong-Hoong as Kang Yoo-Sung
Lee Jung-Shin as Doo Soo-Hyuk
Kim Yoon-Hye as Park Ho-Young
Lee Si-Woo as Jin Yu-Na
Jang Hee-Ryung as Baek Da-Hye
Sojin as Ki-Bum
Shooting Stars K-Drama Plot
The show revolves around Gong Tae-Sung, an actor having an enemies-to-lover relationship with his college mate and fellow PR manager Oh Han-Byeol. It also shows the relationship between office colleagues and how they tackle the problems they face in the industry.
Shooting Stars K-Drama Review
2022 is the year of K-Dramas having sad endings. Endings that make you bawl day and night, ones that you wish could be turned around. And even though you can't stop watching them ( believe me, they are irresistible), sometimes you need a comfort show. For this, Shooting Stars is one of the dramas which you can watch to get your heart soft again. The episodes are almost one hour each, but the time doesn't matter when one's having fun, right? Also, It's Young-Dae's first leading role!
Now Into the story, the setting is- Tae-Sung is Koreas one of the top actors, since his rookie times. He works in Starforce Agency. Due to his chaotic nature, none of his managers last much. He is close with Yoo-Seong, his fellow manager in the company. Han-Byeol's character is pretty much a typical K-drama girl- hardworking and doesn't want her heart broken again after her ex. She is shown as a cool colleague, who gets along with everyone except the infamous actor. Ki-Bum who plays a role of a journalist is in a trio with Han-Byeol and Ho-Young. They gather around in their friend's bar, who was an ex-employee at Starforce, for catching up regularly.
A scandal, which was unknowingly caused by Han-Byeol, caused Tae-Sung's reputation to falter a bit, and he goes to Africa for working with a charity. He comes back, does the regular fan service, and regains his reputation. During this time, both of our leads discover their hidden feelings of attraction for each other.
Even though the show is centered around Gong and Han, we can see some scenes packed up with romances of our side leads. Two new rookie actors, Yu-Na ( Lee Si-Woo) and Jae-Hyun ( Shin Heyon-Seung) meet on the set of their first acting gig, and banter all the time, only to fall in love. Our manager, Yoo-Seong, falls in love with Ho-Yong later in the drama, who is the cutest I find. Also, the bromance between our lawyer-nim and our actor is really cute, progressing with each episode.
While Actor and Manager romances are a typical trope in Korea, this drama is cute with a small glimpse of the dark truth. To be honest, I thought the drama would show the reality of working in the entertainment industry, but it just brushed past the things we already know. The drama got into a bit of controversy regarding its depiction of Africa, which is shown in the first 2 episodes. The show is predictable to those who are avid k-drama fans and would find this show a bit slow-paced. To keep the uproar going, the show introduced some cameos from popular dramas, which the fans loved. I was very excited to see the familiar faces having their roles perfectly aligned. There is a happy ending for all the couples in the show, which is a great factor considering the year of K-dramas. The show also covers a few dark themes, regarding loss and distance from family, and it is portrayed well enough to shed some light on them.
All the actors play their roles very well, and it should be said they were the perfect cast for the series. The chemistry between the main characters is note-worthy, it seems like they are really into it. The show targets young audiences, it's not much steamy but it's cute. Plus, the visuals, the background everything complimented the story perfectly. And a quick tip, The soundtrack can be played when you are having a romantic time with your partner, so add that to your playlist.
A Scandalous Point Of View
The show gained a great audience from around the world, with a majority of them loving this drama. The drama certainly has a point of scandal, and even though the themes are covered with other sensitive ones, the first 2 episodes are disappointing for the audience. The plot further related to Luca and Tae-Sung doesn't do justice for it, despite being heartfelt. There is humor, yes, but in a few scenes, it feels a bit forced instead of actual comedy. There is a bit of suspense in the last few episodes. The production team seems to have rushed to give all the answers to the questions, but yet somehow it feels incomplete. But the show makes up in the fact that romance is top-tier for each couple.
This show is for people who like typical, predictable romance stories, and also who like office dramas. It is a perfect one-time watch for someone who wants to watch something for a change.
The Movie Culture Synopsis
The story is a light-hearted one for a quick watch when you need some cute smooches and swoon-worthy romance. Some things could have been changed for a better outcome, but still, it stands as a good rom-com drama. Might I add, there is a bit of second-lead syndrome for me, which might not be for you. It's a soft and cute drama, with visual charms and a beautiful soundtrack.