Soul, produced by Pixar Animation Studios and Walt Disney Pictures, is an American animated comedy-drama film. The film stars the voices of Jamie Foxx, Tina Fey, Questlove, Phylicia Rashad, Daveed Diggs, Richard Ayoade and Angela Bassett and is directed by Pete Docter, co-directed by Kemp Powers, and written by Docter, Powers and Mike Jones.
A middle school music teacher named Joe Gardner follows the plot, who attempts to reunite his soul and body after being mistakenly split, just before he got his break.
Soul Movie Voice Cast
Jamie Foxx as Joe Gardner, a passionate jazz pianist and music teacher whose soul gets separated from his body after an accident.
Tina Fey as 22, a soul trapped in the Great Before with a dim view of life.
Questlove as Curley, a drummer in Dorothea Williams' band. He is also a former student of Joe's and was taught how to drum by him.
Phylicia Rashad as Libba Gardner, Joe's mother.
Daveed Diggs as Paul, Joe's neighborhood nemesis.
Angela Bassett as Dorothea Williams, a respected jazz musician and saxophone player.
Graham Norton as Moonwind, a spiritual sign twirler.
Rachel House as Terry, a soul counter in the Great Beyond.
Richard Ayoade, Alice Braga, Wes Studi, Fortune Feimster and Zenobia Shroff as soul counselors in the Great Before who are all named Jerry.
Donnell Rawlings as Dez, Joe's barber.
June Squibb as Gerel.
Esther Chae as Miho, a bassist in Williams' band.
Additionally, Cody Chesnutt voices a singer with a guitar. Cora Champommier, Margo Hall, Rhodessa Jones, Sakina Jaffrey, Calum Grant, Laura Mooney, Peggy Flood, Ochuwa Oghie, Jeannie Tirado, and Cathy Cavadini provide the voices of Connie, Melba, Lulu, Doctor, Hedge Fund Manager, Therapy Cat Lady, Marge, Dancerstar, Principal Arrayo and Dreamerwind.
Soul Movie Plot
Joe Gardner, a middle school music teacher, feels stuck in life and unfulfilled at his job. He dreams of a career in jazz, to which his mother, Libba, objects. By chance, his former student Curly informs him of an opening in the band of jazz legend Dorothea Williams. Joe impresses Dorothea with his piano playing and is offered the job on the spot. As Joe happily heads off to prepare for his first performance later that night, he falls down a manhole. And things started to change for him since then. 
Soul Movie Review
Pixar had us again! Soul is such a good family movie, after 'Inside Out' Soul is a film you must watch, because its very inspiring and unique. This film , you know just wakes your soul up, it tells you so many things you want to know or the things you already know but you thought you didn't  know , okay lol sorry to make you trip.
But yeah, this film will inspire you to live and love your life and do things not because you were born to do it but because you WANT to do it and that you SHOULD do it to satisfy yourself the inner you, your soul.
Joe Gardner who teaches music to middle schoolers for part time has been given the full time position but he had other plans , he wants to pursue his career in jazz but his mom didn't  want that to happen.
Somehow he gets to play in front of legend Dorothea Williams and she offers the job to him on the spot because his piano playing was quite impressive. Later that day he get so excited about playing with her that he falls down a manhole and now is stuck between death and life. 
He gets scared of the "Great Beyond" and tries running away , and that makes him fall all the way back to the "Great Before" where he accidentally becomes a mentor and then is assigned to this soul called 22. This soul , 22, has remained in the Great Before for many years , 22 just doesn't want to be born on a place called earth and that is why she has been stalling for a long long time!
22 has a badge that is filled with all the traits and once she finds the "spark" she can finally go on earth it's like a pass for that. So Joe and 22 make a deal on that Joe will help 22 find her spark and then take the badge and go back in his body on earth to finally play with Dorothea Williams. 
They couldn't find the spark so 22 takes Joe to Moonwind, and they then mess up and are both sent to earth where Joe accidentally enters a Cats body and 22 enters Joe's body. Here then 22 finally finds her spark but Joe tells her that it's not hers it's because she was in his body.
Joe then finally gets into his body back after Terry comes and takes them both back to the Great Before and tells everyone how Joe is cheating on death.
But 22 just gives her pass away to Joe even though she wants to live on earth , it's because Joe made her think that she doesn't actually has a purpose but it was all Joe's body. 
Joe gets into his body after taking the pass, and gets to play with Dorothea but he doesn't feel any better so he goes back into the Great Before and tells 22 that her soul actually has a purpose and then 22 takes the pass and decides to go back to earth. While Joe is forgiven and given one more chance.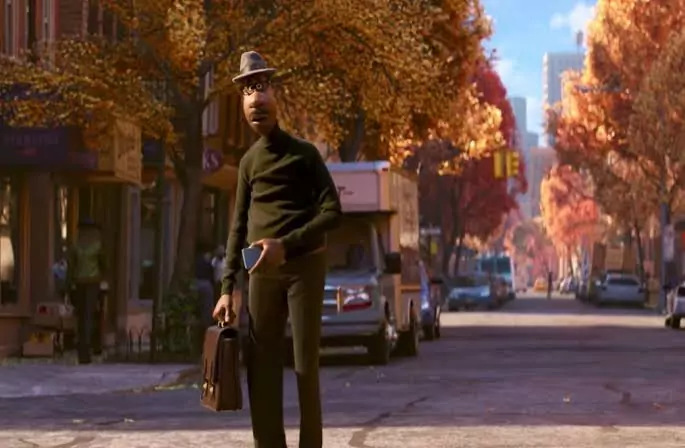 Soul Movie Critical Reception
Critical response to Soul has been "highly positive", and it has been described as one of Pixar's "most ambitiously existential" and finest films.
On the review aggregation website Rotten Tomatoes, the film has an approval rating of 97% based on 178 reviews, with an average score of 8.40/10. The site's critics consensus states, "A film as beautiful to contemplate as it is to behold, Soul proves Pixar's power to deliver outstanding all-ages entertainment remains undimmed."
According to Metacritic, which compiled 38 reviews and calculated an average score of 85 out of 100, the film received "universal acclaim".
Joe Utichi of Deadline Hollywood called the film "a joy to behold".
Kaleem Aftab of IndieWire gave the film an A–, calling it a "captivating journey" and writing "Like some of the best jazz compositions, it uses a traditional framework to veer off in many unexpected directions, so that even the inevitable end point feels just right." 
Leslie Felperin of The Hollywood Reporter called the film "peak Pixar" and "miles ahead and sublime in every sense", and praised the soundtrack.
Jason Solomons of TheWrap said the film "aims admirably high, yet ultimately can't quite fulfill the scale of its ambitions" but "it pops with colorful visuals and gentle wisdom while the story clips along despite the dizzying height of the concept."
The Movie Culture Synopsis
Murray said that the film will take audiences "to a world where no one's ever been … for a long time", while co-writer/co-director Kemp Powers said that it is "completely different" to Docter's previous films. Powers also said that the film will answer important questions in "a really fun way".
Tina Fey also contributed to the screenplay, having helped to write her character's lines.
This film really does teach you things in a fun way, it will make you laugh and it will take you to places within yourself and make you realize so many things.
Gives strong positive vibes, It is very enjoyable and inspiring. Soul is a must watch film, we would give it a 9/10!!
Soul is available to watch on Disney+ .