Chilling Adventures of Sabrina Season 4 is out on Netflix and here's our review of the following. Chilling Adventures of Sabrina has been going on for quite a while and Season 4 looked promising on behalf of giving us some closure.
Chilling Adventures of Sabrina is an American supernatural horror television series developed by Roberto Aguirre-Sacasa for Netflix, based on the Archie comic book series of the same name.
The series is produced by Warner Bros. Television, in association with Berlanti Productions and Archie Comics.
Chilling Adventures of Sabrina Season 4 Cast And Characters
Kiernan Shipka as Sabrina Spellman and Sabrina Morningstar.
Gavin Leatherwood as Nicholas Scratch.
Ross Lynch as Harvey Kinkle.
Lachlan Watson as Theo Putnam.
Jaz Sinclair as Rosalind Walker.
Tati Gabrielle as Prudence.
Chance Predomo as Ambrose Spellman.
Miranda Otto as Zelda Spellman.
Lucy Davis as Hilda Spellman.
Michelle Gomez as Lilith and Mary.
Luke Cook as Lucifer Morningstar.
Richard Coyle as Father Blackwood.
Jonathan Whitesell as Puck.
Sam Corlett as Caliban.
Adeline Rudolph as Agatha.
Skye P. Marshall as Mambo Marie.
Chilling Adventures of Sabrina Season 4 Plot
Chilling Adventures of Sabrina Season 4 is very messy and has many subplots. This part is all about the 'Eldritch Terrors' taking place one by one in every episode.
There are total 8 episodes which present all 8 Terrors which Sabrina has to face and fight if she can one by one which gets complicated after every Terror that takes place. Father Blackwood doesn't gives up at all in wanting to defeat Sabrina. 
Chilling Adventures of Sabrina Season 4 Review
Chilling Adventures of Sabrina Season 4 has many and very messy subplots , but we loved to see how it brought so many feelings and adventure even though it was messy it was really interesting.
As the Eldritch Terror takes over episode by episode Sabrina gets ready to fight them with the help of the coven , her family and friends. Season 4 is where you'll get to see a lot of scenes of two Sabrina's in one screen and it's awesome. 
In Chilling Adventures of Sabrina Season 4 Sabrina thinks she is very sad and lonely and that nobody pays attention to her or that does she matter to her friends?  Sabrina Spellman and Sabrina Morningstar are facing the Eldritch Terrors that Father Blackwood unleashed by opening the time Egg in the Season 3 Finale.
Chilling Adventures of Sabrina Season 4 picks up where Part 3 left off. Father Blackwood just does not gives up on wanting to defeat Sabrina and anyone who comes in his way.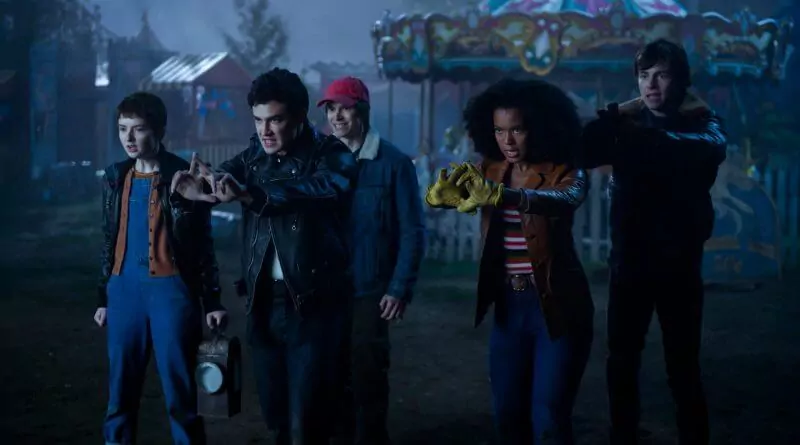 Chilling Adventures of Sabrina Season 4 Episodes
"Chapter Twenty-Nine: The Eldritch Dark" Jeff Woolnough, Roberto Aguirre-Sacasa & Gigi Swift.
"Chapter Thirty: The Uninvited" Alex Pillai, Katie Avery.
"Chapter Thirty-One: The Weird One" Lisa Soper, Jenina Kibuka.
"Chapter Thirty-Two: The Imp of the Perverse" Antonio Negret, Christianne Hedtke.
"Chapter Thirty-Three: Deus Ex Machina" Amanda Tapping, Elle McLeland. 
"Chapter Thirty-Four: The Returned" Catriona McKenzie , Oanh Ly & Ross Maxwell.
"Chapter Thirty-Five: The Endless" Kevin Sullivan, Donna Thorland & Matthew Barry.
"Chapter Thirty-Six: At the Mountains of Madness" Rob Seidenglanz, Robertoguirre-Sacasa. 
Chilling Adventures of Sabrina Season 4: All The "Eldricth Terrors" Explained
Episode 1 – The Dark
The Dark arrives into Greendale through the mines in the form of miners bringing an entire army. They start with destroying any source that produces light. They can even kill people without touching them and they can also bring darkness in a person mentally by getting into their heads, reading their fears and weaknesses and bringing a sense of darkness in their minds which makes them lose their senses and go into depression. Sabrina Spellman and Morningstar both try to contain this darkness with the help of The coven and her aunts and her cousin. 
Episode 2 – The Uninvited
The Uninvited arrives in Greendale in his true form which is an undead man who needs shelter and food. He knocks on people's doors and asks them for help and if he is turned down he rips the hearts out of the people who were being heartless towards him by not letting him in and helping him. The Uninvited , in the beginning of time was turned away from the fire and was told that he wasn't invited and that's how he became the immortal man 'The Uninvited' who wandered the cosmos alone until he was welcomed by the Eldritch Terrors. Sabrina Spellman traps this man into her Yellow Room.
Episode 3 – The Weird
The Weird arrives in Greendale in a drowned corpse's body using it as host, The Weird's real form is like an octopus-like creature. When it meets Father Blackwood and when Blackwood offers his body as host it says that Blackwood wasn't a strong host and that it needs Sabrina Spellman's body to host. After when the drowned corpse's body is brought to the mortuary while Ambrose is doing his research it sneaks out and finds Sabrina and hosts her body. Later Ambrose helps Sabrina to get The Weird out of her body and containing it.
Episode 4 – The Perverse
The Perverse arrives in Greendale in the form of a small golden statute brought by a Trinket Salesman. Blackwood steals this statue from the Trinket Salesman. This statue makes its owner to make a wish where the owner can warp reality. Blackwood wishes on this which makes him the Emperor of Greendale. Later Roz and Sabrina find a way to fight this and get everything and everyone back to normal with the help of Ambrose. 
Episode 5 – The Cosmic
The Cosmic is nothing but a collision of realms. Which first started between the infernal realm and the mortal realm then it slowly started attracting the celestial realm too. Then an angel arrives and gives them a solution as they know it's happening because of the two Sabrina's existing. The solutions were to either kill one Sabrina or merge them in one. As the merge was happening Ambrose stops it and then later one of the Sabrina's are send to another duplicate or call it a parallel realm where she lives in a sitcom of this show. And the collision finally stops taking place. 
Episode 6 – The Returned
The Returned arrives in Greendale in the form of all the dead beings. They are to be welcomed and are not supposed to be reminded that they are dead because if that happens they go crazy. Mambo Marie needs to defeat the man who can't be killed Lazarus, if Mambo Marie loses , the dead and the living will have to coexist and feel suffer and pain together and the dead just won't stop returning for revenge. Meanwhile , Sabrina and her friends defeat a mad band who holds Harvey's father as hostage and tells them if they lose the competition of the battle of bands then Harvey's father burns in hell. 
Episode 7 – The Endless
Sabrina Morningstar who was banished to a parallel earth to stop The Cosmic was stuck into this Endless routine of being an actor in her own sitcom. A sitcom about her life of course where everyone plays everyone except her aunts who were replaced by other Zelda and Hilda. The Endless manifests itself through Salem , Sabrina's familiar. But Salem in this universe can talk and dictate and is the head writer of this sitcom and whatever he says happens. There are no real homes or anything, all of the characters in this universe live in sets of their own (and maybe they used the actual set of the show to film this scene) then later with the help of Salem she finds her Magic Mirror and before the void kills her she enters into Sabrina's  room and before she dies she warns her about The Void. 
Episode 8 – The Void
The Void now is the final Eldritch Terror which Sabrina has to face and fight. The Void here , appears to be a white room with all the planets or say all the realms it has absorbed. The Void is just nothingness, its like a black hole which absorbs things and takes them into nothingness. The Void is the end of all things, it existed before any of the Gods or anything at all existed. Sabrina tries to defeat this by thinking of warping reality using one of the Eldritch Terrors called The Imp of Perverse. But then the day is saved by the Trinket Salesman which offers her Pandora's Box and trades it with the Imp of Perverse. As the episode comes to an end Sabrina has to make an undoable sacrifice to defeat The Void, which costs her alot more than anyone can imagine.
Chilling Adventures of Sabrina Season 4 Critical Reception
On Rotten Tomatoes, part four has an approval rating of 77% based on reviews from 13 critics, with an average rating of 7.19/10.
The Movie Culture Synopsis
Chilling Adventures of Sabrina part 4 is very chaotic. The trailer made it look really interesting and it is interesting there's just too much plot and very less episodes.
The ending might not be something as you expected it's just unimaginable and something that shouldn't have happened and could've been a little more interesting that what it was.
In the 7th episode The Endless, the original aunties (Caroline Rhea and Beth Broderick) from Sabrina the Teenage Witch make a cameo that works surprisingly well.
This plot must have been divided into two parts and could've made the ending a little bit better , thinking about the long term fans. This part just kills all the hype of the entire show.
It's just too quick and neither the viewers or Sabrina get one second to breathe. It becomes hard to recommend this part to anyone but you can still enjoy it very well.
Season 4 of Chilling Adventures of Sabrina is now streaming on Netflix.