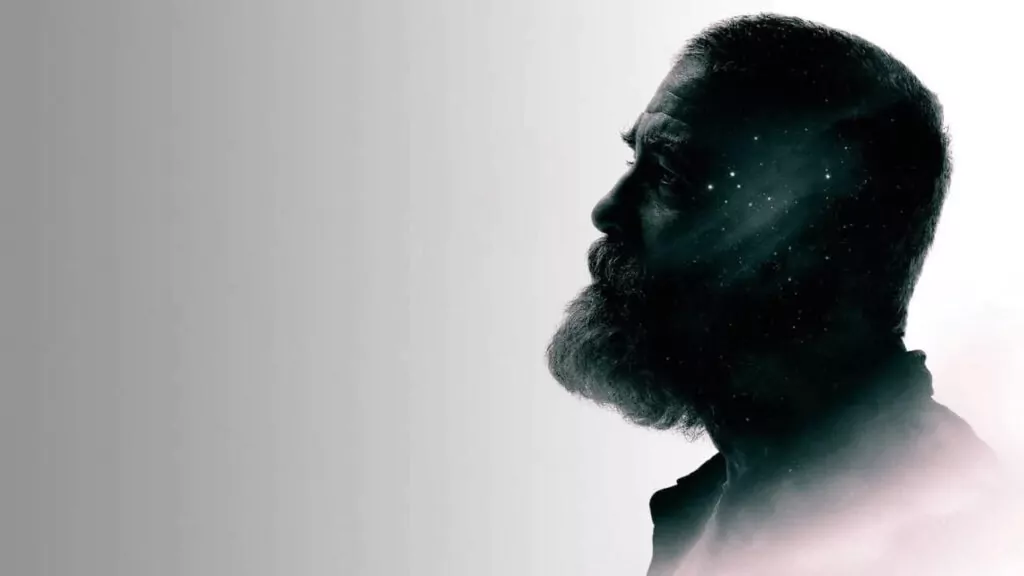 The Midnight Sky is a 2020 American science fiction film directed by George Clooney, based on the novel Good Morning, Midnight by Lily Brooks-Dalton.
It stars Clooney, and follows a scientist who must venture through the Arctic Circle with a young girl to warn off a returning spaceship following a global catastrophe.
The Midnight Sky Movie Cast
George Clooney as Augustine Lofthouse
Ethan Peck as young Augustine
Felicity Jones as Sully
David Oyelowo as Commander Gordon Adewole
Tiffany Boone as Maya
Demián Bichir as Sanchez
Kyle Chandler as Mitchell
Caoilinn Springall as Iris
Sophie Rundle as Jean
Tim Russ as Mason Mosley
Miriam Shor as Mitchell's Wife
The Midnight Sky Movie Plot
Augustine Lofthouse is an ambitious scientist who works towards finding habitable planets where humanity could expand. One night at a gala he meets Jean and after a brief adventure she leaves him due to his obsession with work and inability to form bonds with other human beings.
Thirty years later a cataclysmic event decimates most of the Earth, killing almost all of the population with powerful radiation. Two weeks later, Augustine, now working in the Arctic, refuses to evacuate his base, knowing he hasn't got long to live due to his cancer. Alone, he tries to contact any space mission hoping to warn them about the situation on Earth but finds that most of them have been dismantled.
The Midnight Sky Movie Review
A lone scientist in the Arctic races to contact a crew of astronauts returning home to a mysterious global catastrophe. Augustine Lofthouse is a scientist who finds planets that have life on them , where humanity can expand. We get to see a Post- Apocalyptic Earth, where evacuation is taking place all over the world due to some kind of radiation which is unknown to us because they didn't show that in the film about what exactly happened with earth.
We are also taken in Augustine Lofthouse's flashback scenes where we get to see how much he is obsessed with his work and that he  lacks the ability to connect to real life human beings, people around him. Then back to the present where he is suffering from cancer and refuses to evacuate his base. Because he says that he doesn't have much time to live anyway so why not spend it just here. Then he looks for all active missions and only finds one which is called Æther which is currently returning from Jupiter after discovering habitatal life on its moon,K-23. They don't know that Earth isn't the safe place to be at and that's how Augustine tries to contact them to let them know not to come back. And return to K-23.
Augustine finds a young girl in the station, she draws Iris on paper and that's how he starts calling her by that name. As the antenna at the base wasn't strong enough to connect and warn Æther , Augustine is on his way to another base hoping it has a stronger antenna. He grows fond of Iris. At the end he contacts them and warns them and we also get to know that the young girl iris was none other than young Sully herself who is the daughter of Augustine and that is why he imagines her.
The question here is, what the heck happened to Earth though? What and How are two of the words that keeps on coming up while watching this film.
Overall the visuals are amazing and the filming is too the storyline just lacks the spice.
The Midnight Sky Movie Cinematography
Martin Ruhe spoke to The Movie Culture about his approach to shooting The Midnight Sky,  "Even when it is CGI we did our previz and figured out the shots we wanted. Matt Kasmir our VFX supervisor (and also a great collaborator on Catch 22) helped us to use the right tools to find our shots. We used a virtual camera and previsualized our two set pieces/action scenes. That way we knew what to shoot practically what would be CGI and so on. We had a model of our spaceship and designed a lot of shots with that virtual camera. Then the VFX department did a fantastic job filling the gaps. A lot of the final shots were based on our previz. In the end we all worked closely together to get to what you see on screen/tv now."
The Midnight Sky Movie Critical Reception
The Midnight Sky received some praise for its "ambition and emotional tone," though was compared unfavorably to other sci-fi films. Review aggregator Rotten Tomatoes reports that 54% of 129 reviews of the film were positive, with an average rating of 5.9/10. The website's critics consensus states, "The Midnight Sky lacks the dramatic heft to match its narrative scale, but its flaws are often balanced by thoughtful themes and a poignant performance from director-star George Clooney."
According to Metacritic, which sampled 28 critics and calculated a weighted average score of 58 out of 100, the film received "mixed or average reviews".
Alonso Duralde of TheWrap wrote "There's a lot that's frustrating about George Clooney's new film The Midnight Sky, from its egregious borrowing from any number of better movies to its pacing issues, but thanks to a few grace notes, its shortcomings are mostly forgivable."
Leah Greenblatt of Entertainment Weekly gave the film a B and described it as "a dystopian drama whose fluctuating tone—grim, with flickers of hopeful sentiment—feels almost comfortingly familiar, if a little on the nose for 2020."
Wall Street Journal reviewer Joe Morganstern gave the film a warm review, but added: "The film isn't perfect. The narrative piles crisis upon crisis, from a fat fire in the observatory kitchen to spectacular repair efforts in space and a startling sequence that involves droplets of blood. The pace, paradoxically, can be awfully slow, but it may seem less so to home viewers with plenty of time and patience; the metabolic rate of motion pictures will be changing in the streaming era, to an extent we can't foresee." However, he ends with a recommendation: "In the here and now, [the film] makes a dramatic case for planetary stewardship, and a stirring one for the connections we crave. In the course of those deep-space repairs the astronauts start to sing Neil Diamond's Sweet Caroline . . "Hands, touching hands, reaching out, touching me, touching you" . . it sounds silly in the telling, but not in the singing. Whenever they can, reaching out and touching is what people do."
The Movie Culture Synopsis
We also have interviewed DOP Martin Ruhe on this film so do check it out.  Felicity Jones was added to the cast in July. Jones became pregnant sometime after having been cast. Clooney opted to rewrite her character as pregnant versus using a body double.
Not really a must watch film because of the plot and all the questions that will come in your head while watching this film.
Great visuals , A scene that takes place in blizzard was filmed in 50-mile-per-hour winds with temperatures at 40 below zero. For his role, Clooney lost 25 pounds. Scenes set on Earth and involving Clooney were shot before the end of 2019, while scenes set in space were shot after the production's Christmas break.
The film is available to watch on Netflix.