Penthouse is one of those dramas you can't stop watching once you start. The suspense, thrill, mystery, and drama make it so hard to tear yourself away from the screen, and all you can think is "what's gonna happen next?" until you've finished the entire series.
The Penthouse: War In Life Cast
Lee Ji Ah as Shim Su Ryeon
Kim  So Yeon as Cheon Seo Jin
Eugene as Oh Yoon Hee
Uhm Ki Joon as Joo  Dan Tae
Kim Hyun Soo as Bae Rona
Park Eun Seok as Logan Lee
Yoon Jong-Hoon as Ha Yoon-Cheol
Kim Young Dae as Joo Seok Hoon
Choi Ye Bin as Ha Eun Byol
Han Ji Hyun as Joo Seok Kyung
The Penthouse: War In Life K-Drama Plot
Cheon Seo Jin is a world famous soprano who will do anything to fulfill her ambitions for her daughter. Shim Su Ryeon is a wealthy woman living in Hera Palace, who has a tragic past and seeks vengeance. Oh Yoon Hee is a working class woman who wants a bright future for her daughter, but financial woes and her bad blood with Cheon Seo Jin pose obstacles.
When Min Seol A, a young girl falls to her death at Hera Palace, their lives are changed forever.
Penthouse is the twisted tale of these three women who will go to any lengths to protect their children. It's a story of education and real estate war, where everyone has something to hide and nobody can be trusted.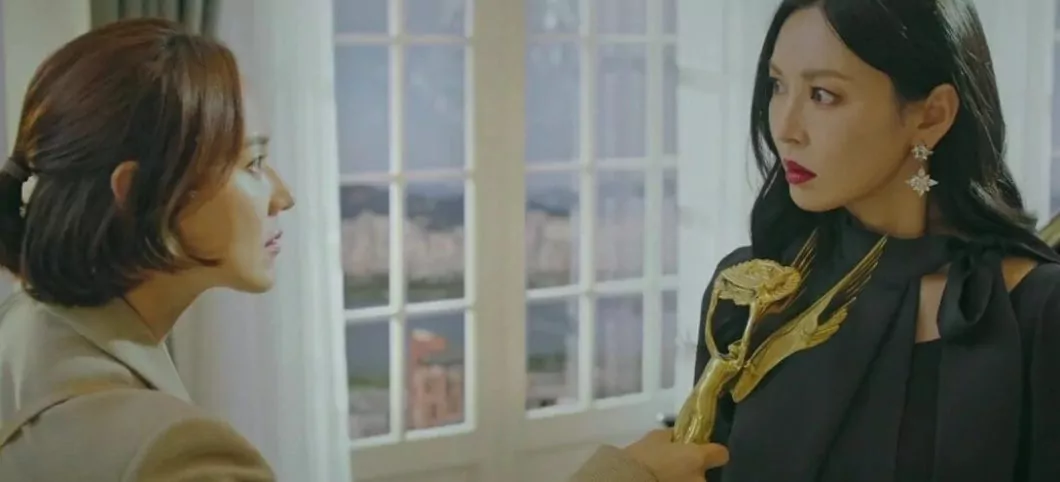 The Penthouse: War In Life K-Drama Review
Watching The Penthouse: War In Life was an unforgettable experience. I binged the first season and watched the second and third seasons while they were on air, and for the first two seasons at least, I was on the edge of my seat at the end of every episode.
(I was not a fan of season three. We'll get to that in a while.)
Penthouse is about terrible people doing terrible things to each other. Most of the characters are plain evil, and while a select few end up having decent redemption arcs, the others just become worse. That made the show so enjoyable to me though – no matter how much it infuriated me, I couldn't wait to see how far the characters would go to fulfill their ambitions or take revenge. The theatrical storyline, the exaggerated performance by the cast, the insane plot twists, and the stellar soundtrack make Penthouse a very entertaining drama, unrealistic as it may be sometimes.
Penthouse is really, really intriguing. It's dark, suspenseful, thrilling and certain parts were simply horrifying to me. The characters are complex and well-written – they're supposed to make you question humanity in present day and the show delivered on that front. And the best part? I could never guess who actually committed murder because nearly all the characters had some motive to do it. 
Every episode ended with a cliffhanger so I was hooked, desperate to find out what happens next (hence, the reason I ended up binge watching it). The drama, the intrigue, the thrill… oh, it's irresistible.
And Penthouse was cinematic. I can't stress enough how important cinematography is for a good viewing experience, and Penthouse was incredible on that front as well.
The main theme in the show is the class disparity between the rich and the poor, and the consequences it has on the characters' actions. Not giving any spoilers here, but the way the Hera Palace kids (and their parents) bully Min Seol A for being poor does not end well – it's the cause of the central conflict of the show, in fact. The Hera Palace residents are extremely rich and want their children to get into the prestigious Cheong-ah Arts School, and will do anything to achieve their goals. 
The drama throws light on the classism prevalent in South Korea and the lengths to which the rich can go to for their selfish motives. Their cruelty and indifference towards the working class as well as their superiority complex are perfectly portrayed through the way the Hera Palace residents treat Min Seol A, Oh Yoon Hee and Bae Rona. The show handled heavy themes pretty well (for the most part, at least).
However, what really makes the drama so amazing is the stellar cast.
Lee Ji Ah, Kim So Yeon, and Eugene play the roles of Shim Su Ryeon, Cheon Seo Jin and Oh Yoon Hee respectively. Their performances were top-notch and portrayed the complex characters well. Cheon Seo Jin was a villain, a cruel woman who was borderline psychopathic, and Kim So Yeon's played her role spectacularly – she stole the spotlight. Choi Ye Bin, who plays the role of Ha Sun Byeol, was quite amazing too. The way she portrayed Run Byeol's crumbling psych was incredible and I can't wait to see her in more K-dramas. The rest of the cast's acting left me awed too, and if they weren't so good I would not have enjoyed the drama half as much.
The Less Cheerful Part of the Review
I love soap operas, I'm not going to lie – and Penthouse is very much a soap opera. But there's only so much unnecessary drama one can take, you know? I was perfectly satisfied with season two's ending, adding Penthouse to my Top 10 Favourite K-dramas list, and then comes along season three with its terrible plot and poor execution to ruin everything. The gaping plot holes, confusing storyline, and ridiculous plot twists were tiresome; I wanted the show to end as soon as possible.
Penthouse season three was a hot mess. It was like watching an expensive car crash in real time. How could a show that started out so well end up feeling like a cheap parody of its previous seasons? I was baffled.
Season three of Penthouse was wholly unnecessary and a waste of time because they were drawing out the plot for no reason. The previous season's ending was fine – the villains got the punishment they deserved, the good guys get to lead normal lives without all that insanity, and the audience are satisfied. But poor writing cast a shadow over all the drama had achieved so far. They should've done away with all that jealousy and murder and conspiracy because instead of being interesting, it starts to feel annoying. And nobody wants that to happen with one of their favourite shows.
(Between you and me, I'd suggest skipping season three entirely. Just pretend it never happened and that the show ended with season two, and you'll walk away happier.)
The Movie Culture Synopsis
Despite its shortcomings, Penthouse is a must-watch if you love suspense and drama. The commendable performance by the cast, the convoluted but well-written storyline, the dramatic soundtrack, and the fact that every episode ends on a cliffhanger made the show worth the watch. So I'd certainly recommend this series for K-Drama fans!
You can watch The Penthouse: War In Life on multiple streaming platforms like Netflix, Amazon Prime and Viki Rakuten.