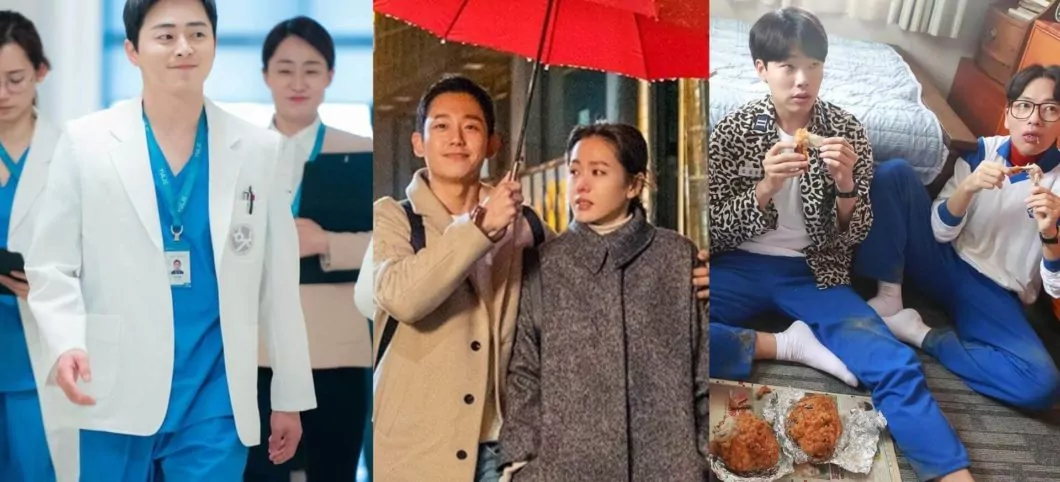 Everyone loves a good fantasy or thriller series with intense plots, or a charming romance drama where the main lead sweeps you off your feet, or a period political drama where the fate of the kingdom is at stake. The otherworldly storylines and larger-than-life characters are a wonderful escape from reality, but sometimes what you need for comfort are stories about ordinary people who live ordinary lives and tackle struggles related to growing up, family, friendship, and more.
Slice of life dramas don't have impressive action sequences, mythical creatures or extraordinary storylines, but they do have realistic, complex characters that face the same challenges we do and overcome them. If you're in the mood for something like that, here's a list of some of the best slice of life K-dramas out there:
1. Reply Series
The Reply series consists of three seasons – Reply 1997, Reply 1994 and Reply 1988 (in that order) revolving around the daily lives of different sets of characters. One of the most popular and loved slice of life dramas, the Reply series are about friendship, family, and the ups and downs of adolescence.
Season 1, Reply 1977, is about Shi Won, a high school student who loves the K-pop band H.O.T. and is set in Busan. The story moves back and forth from the high school years in 1977 and their reunion in 2012. Reply 1994 is about six university students living together in a boarding house in Seoul, and like the previous season, the story moves back and forth between 1994 and 2013; as the story progresses viewers are left guessing which male character ended up marrying Na Jung, the daughter of the owners of the boarding house. The last season Reply 1988 was the most beloved by audience – it has the fourth highest ratings in the history of South Korean television. Set in Ssangmun-dong, Dobong District in Seoul, Reply 1988 is about a group of five friends living in the same neighburhood and their everyday lives.
2. Hospital playlist
The hit drama is about a group of five doctors who have been friends since college and work at the same hospital. Though it takes place in a medical setting, it revolves around their mutual love for music, their relationships, and the ups and downs of life. Rather than focusing on the professional aspect of the doctors, the drama highlights their relationships with each other and their patients, which is quite heartwarming to watch. As the title suggests, music plays a key role in the drama hence it has a wonderful soundtrack as well. Hospital Playlist is a must watch for loves of slice of life dramas.
3. Prison Playbook
Prison Playbook is the story about Kim Je-Hyuk, a baseball player who is behind bars for assault while he was protecting his sister from sexual attack. Since the offender suffered from fatal injuries, Je-Hyuk went from being a superstar baseball pitcher to a convict. The drama revolves around the lives of the prisoners and their struggles in prison. It's a heartwarming series that will certainly bring a smile on your face, so you can't miss out on this one!
Prison Playbook was well received and is one of the highest rated dramas in Korean television history.
4. My Mister
My Mister is a a moving drama about the hardships faced by Lee Ji-an, a woman in her twenties who must pay her mother's debts and look after her sick grandmother, and Park Dong-hoon, her supervisor who is also miserable and dealing with problems in life. Dysfunctional families, the weight of their responsibilities, and their past scars are something both characters help each other overcome as the drama progresses.. My Mister is known for its engrossing storyline, well-written and relatable characters, and quality performances by the cast. It's considered among the best dramas of 2018.
5. Weightlifting Fairy Kim Bok Joo
If you love light-hearted slice of life k-dramas that are a wonderful combination of romance, humour, and friendship, you absolutely have to watch Weightlifting Fairy Kim Bok Joo. It's a coming-of-age story revolving around a group of college athletes and the struggles they face both in their personal lives as well as students. The titular character Kkim Bok Joo is a weightlifting athlete, one of the best in her university, and as the drama progresses she deals with first love, friendship, and fighting for her dream. The characters are wonderful and relatable, and one can't help but root for them. Weightlifting Fairy Kim Bok Joo will leave you feeling all warm and smiley, so if you need some cheering up, be sure to watch it!
6. Something in The Rain
The 2018 drama starring Jung Hae In and Son Ye Jin is about the love story between a career oriented woman and her best friend's younger brother. Jin-ah works as adistrict  supervisor at a cafe chain and Joon-hee is an animator, and the drama deals with their relationship, age difference, and struggles Jin-ah faces at her workplace.
7. Twenty-Five Twenty-One
Ne Hee-Do is a high school student and a fencer who struggles to pursue her dreams and Baek Yijin is a young man who's trying to rebuild his life. When their paths cross, together they overcome these obstacles and fall in love along the way, Twenty-Five Twenty-One is a drama about hope, love, determination to fulfill one's dreams, and most importantly – growing up. The drama is emotional, humourous, and comforting, and is certainly a must watch. The brilliant storyline, the amazing performance by the actors and the cinematography prove why the drama was such a hit.
8. Our Beloved Summer
Our Beloved Summer coming-of-age romantic comedy about a couple who meet again five years after their breakup. When Choi Ung and Kook Yeon-soo were high school students, they filmed a documentary together and fell in love and were together for five years; however, after a promise to never see each other again post their breakup, life has brought them back to the same place where they started – film a documentary together again. The drama revolves around their romance as well as how much they've grown as individuals over the years. It's a sweet, light-hearted drama.
9. Hometown Cha Cha Cha
Another hit drama, Hometown  Cha Cha Cha is about Yoon Hye-jin, a wealthy dentist who moves to the village of Gongjin after she loses her job and Hong Du-sik, a resident liked by the villagers due to his helpful nature. Both characters cross paths multiple times and this begins their journey dealing with the problems of every day life and falling in love. Hometown Cha Cha Cha is a 'healing' drama, and honestly that should be your cue to watch it as soon as possible.
10. Itaewon  Class 
Park Saeroyi was convicted after he tried to kill the man who caused his father's accident, and after being released from prison he wishes to lead a simple life and fulfill his father's dream. He opens a small restaurant in Itaewon, and with the help of Jo Yi-seo and his employees, the business begins to thrive. However, along with running his restaurant in Itaewon, he also seeks revenge towards the Jangga Group for his father's death. Itaewon Clas class was extremely popular and well-received, and rightly so – the plot, the characters, the cinematography and of course, the performance by the stellar cast are the reason why the drama did so well. And the amazing soundtrack elevates the drama too.
The Movie Culture Synopsis
Slice of life dramas are ultimate comfort shows, and the series mentioned above are some of the best out there. You will fall in love with the characters and start rooting for them, and hopefully, along the way you'll find the inspiration to overcome your own life struggles too.