Anthony Hopkins is by far, one of the finest actors still alive. His aura and his butter like smoothness slides him in the most evil and the most innocent roles alike. From playing the violent yet irresistible cannibal, Hannibal to playing a person with dementia, reaching the final moments of his life, his career has been all sorts of rollercoaster and not one bit dull or disengaging. Anthony not only brings the best out if him, but he inspires his co-stars to bring their A game forward too. I can only imagine what it must be like to share a scene with him, knowing that he is about to impress and inspire you and all one can do is just stay in the scene.
A lot of what creates Anthony Hopkins comes from the charismatic goofiness which is visible all over in his ever so active social media handles. Watching an 80 year old man, who has been a legend at what he does, have the most animated seizure on camera can really change a lot of perspectives about how people see legends. After playing so many serious roles, he still has mastered the art of not taking himself seriously and I have nothing but applause for that. You go sir, you go. But well lets talk about his latest oscar win now, shall we. There has been a lot of uproar online, and this article is in no way disregarding the heart and soul put by Chadwick Boseman in Ma Rainey's Black Bottom. In fact, I won't be making any comparison between the two performances, just a casual analysis into why Anthony Hopkins earns all the accolades for his performance in The Father.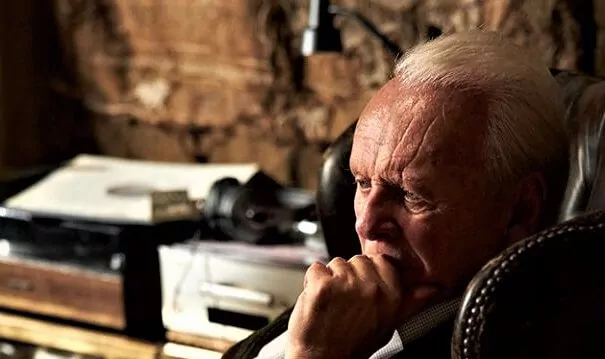 The Father is hauntingly moving and inspired. Not for one moment, does it leave you, and with everything that is going on in the screen in front of us, the viewers feel just as disoriented as Anthony himself. We begin with a mildly arrogant and easy going Anthony who doesn't need the care that is being forced upon him. He would casually abuse his caretakers without caring about the repercussions. He is as free as he can be, but then we notice the sudden breakage of his hard demeanor as his daughter mentions that she is moving to Paris. "They don't even speak English", he says with as much pretentious calmness as he can possibly conjure in himself. His daughter goes away, crying and he simply gets on with the chores for the day. Yet when the dementia hits and the actual caretakers finally show themselves, Anthony is caught in a weird feeling of being caught in a bottomless hole.
The lostness and the feeling of holding on to whatever sense of reality he has left, hits full pedal, as everyone is as clueless as him. He channels his fears through the boyfriend of his daughter, who took her away to Paris. His fear of being mistreated, being taken advantage of and being exploited are all transferred in that one slap which he receives throughout the movie. The one slap which disintegrates him and renders him truly, in its absolute core, helpless.
Anthony Hopkins not only makes you feel for him, but his aura brings you along on a journey of relentless progression into Dementia. Knowing the moment and knowing the time are the two things which keep him in the fight. Yet, later it becomes clear that the fight was lost from the very beginning. Later it becomes clear, that Anthony was merely living a life which was taken from him long ago. The memories which lingered with him, drew a sharp footprint, but now they can hardly be differentiated. The timelines, the people in his life, even his own dead daughter, everything has become as good as a hoax for him. He searches for his daughter, through the alleyways and through the caretakers, and when he finds her in an hospital bed taking her last breath, the sense of refusal hits him.
The trauma, regret and loss are all visible on his face yet the most unfortunate thing is that he doesn't know what's what. The caretaker finally comes inside his room in the nursing home, which has been his home for sometime now. He is again rendered helpless but this time, his urge to fight the reality is lost. He sits on his bed as she gives him his medications, he wants to go home, meet his daughter. The sheer sense of claustrophobia in this scene alone transcended anything and everything I have seen in a long long time. He is trapped, but the fact that he still thinks that there is a way out saddened me and made me weep with Anthony as he remembered the fondest memories of his mom, in that state of vulnerability. When all memories failed him, he turned to the person who raised him, loved him with all her heart and created him to be the man he is. This was the last cry, the last shout from within him, which highlights that his clarity of his mother is still there, to ease him and to sooth him when nothing works.
The Movie Culture Synopsis
I stayed with Anthony Hopkins on this journey and by the end of it, I wept with him. He made me feel claustrophobic, and left me sad as if it was me who was grieving with him. The fact that I don't regret one bit of this journey, is reason alone that he earned his academy award.