Anticipation for the next big thing. That one non-franchise movie that will blow your mind. Every year has that one movie the entire year builds up to. 2022 unfortunately is a year for which this highly charged writer has way too many options. Timothee Chalamet starrer, Bones and All; Michelle Yeoh masterpiece, Everything Everywhere All At Once; or the Nick Cage wonder, The Unbearable Weight of Massive Talent. Or should it be the star-studded shocker, Don't Worry Darling. There are far too many options this year and all the writer can say is, expectations are high. 
While the writer deals with her latest crisis, there is the fact of Don't Worry Darling taking the world up by a storm. The trailer has dropped for all fans to devour and boy, were they hungry. Don't Worry Darling has been a social media favourite since Olivia Wilde thought up the idea. Everyone first showed their love for the early casting choices. Harry Styles and Florence Pugh are world treasures. The latter is known for her impeccable performances, for Harry Styles, this is the first movie that he will be starring in. 
Harry Styles Made His Acting Debut with Dunkirk
His debut was in Dunkirk but Styles has garnered a huge following whose loyalty extends enough to make any of his cinematic experiences a big deal. Ahem, Eternals, Ahem. In Don't Worry Darling, the two play a couple from the 1950s. alongside them, the cast includes Gemma Chan, Chris Pine and Sydney Chandler. Olivia Wilde is both directing the movie as well as appearing as a side character in the movie. 
According to Deadline, the movie was summarized as,
"an unhappy housewife in the 1950s [who] discovers a disturbing truth, while her loving husband hides a dark secret,"
Warner Bros themselves have described the film by saying,
"Alice (Pugh) and Jack (Styles) are lucky to be living in Victory, the experimental company town housing the men who work for the top-secret Victory Project and their families. Life is perfect, with every resident's needs met by the company. All they ask in return is an unquestioning commitment to the Victory cause. But when cracks in their idyllic life begin to appear, exposing flashes of something much more sinister lurking beneath the attractive façade, Alice can't help questioning what they're doing in Victory, and why. Just how much is Alice willing to lose to expose what's really going on in paradise?"
Olivia Wilde said to Vogue in December 2021 that Fatal Attraction and Indecent Proposal were among the films that influenced her idea behind this movie. "[Those films are] quite sensual, in a mature sense…." "Why isn't there any excellent sex in movies anymore?" I kept asking. "The Feminine Mystique on acid," Wilde quipped at the time, when asked which movie she would equate Don't Worry Darling to.
Wilde expanded on the thriller's premise in April 2022. "Imagine a world where you had everything you could ever desire. It's not just about material, physical things like a beautiful house, lovely weather, and gorgeous automobiles," she stated at CinemaCon during an early showing of the film. "But also the things that really matter, like true love, the perfect spouse, genuine, trusted friendships, and a meaningful purpose."
"What would it take for you to give up that life, that ideal existence?" the New York native added. "What are you truly willing to give up to do the right thing? Are you willing to deconstruct the system that was created to help you?"
The Rumors of Harry Styles & Olivia Wilde's relationship
With these burning questions in mind, the shooting for the movie began. There were several hurdles with many of the prior casting leaving the production due to conflicting schedules. When the shooting did start, the problem of Covid 19 became a pertinent hurdle. Following that Wilde was also going through her divorce and rumours about her budding relationship with Harry Styles began. This kind of publicity affects how a movie works as it disrupts the people working on it. 
The trailer was first shown at CinemaCon, however, it is now available on the internet. Pugh portrays Alice, a housewife in an experimental utopian village who is married to Styles' Jack. Alice's life is turned upside down when she discovers the horrible reality about her adoring husband's glamorous firm.
It eerily reminded me of a collaboration between Midsommar and Little Woman. The Florence Pugh world colliding with each other and making a world that comprised of Eternals cast members and Olivia Wilde. As promised by several cast, the movie has the vision of having mature sensual scenes as Wilde hoped. Styles had talked about how this movie has been able to bring him out of his comfort zones and taught him a great deal. Sounds promising, I guess. 
Another interesting detail about the film was how the perfect life was unlike the richness that is usually displayed on screen to convince the audience of the material richness the family possesses. It can also be noted that the Black Widow star is ready to remind the audience of her roots. The mighty talent of Pugh thrillers.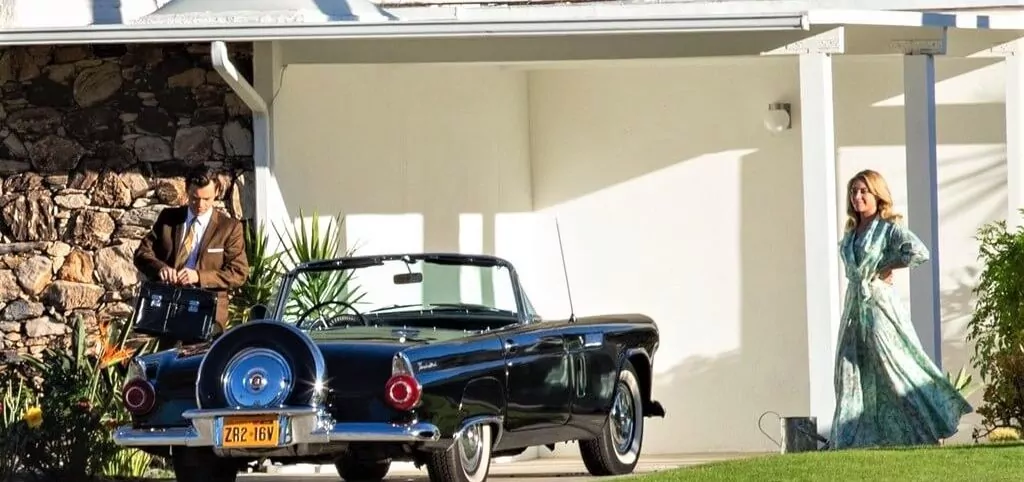 Don't Worry Darling Feels very Midsommar-esque with its Theme
The plot has the underlying theme of cults and sects which is a theme that Midsommar has become synonymous with. Based on her jaw-dropping performance in Midsommar, the plastic sheet face scene of this movie should not come as a shock to anyone.
Another speculation that is ripe for this movie is Pugh using her musical prowess. Many have questioned whether she has contributed to the vocals of the film and even the one that is used in the trailer. The movie stars Harry Styles so there are high expectations for the score to include some of his talents too. 
The Movie Culture Synopsis
There has been no disclosure of any music information for the movie. Neither is there an official poster. What we do know is that on September 23rd 2022, one will find the writer sitting at the edge of her seat drinking in every second of what is going to be one rollercoaster. Though the movie may have enough romance, gaslighting and saucy scenes as the trailer suggest, it is also a psychological thriller about a cult going rogue. What is there not to anticipate?