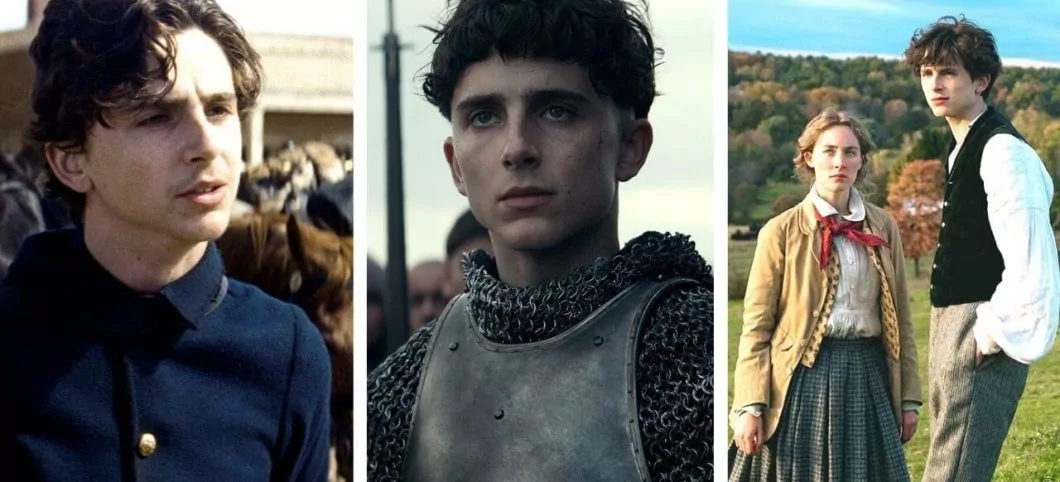 Timothée Chalamet, dubbed "Hollywood's Next Big Thing", combines sensitive performances with attractive talk-show appearances and revolutionary red-carpet flair. He's captivated global audiences since his award-winning appearance in 'Call Me By Your Name', spawning a fan base that rivals 1990s Leo-mania.
The Movie Culture examines Timothée Chalamet's best roles ahead of the premiere of his most recent films, David Michôd's 'The King' and Greta Gerwig's 'Little Women'.
10. Hostiles (2017)
Timothée Chalamet's scene-stealing cameo as French private Philippe DeJardin in Scott Cooper's savage Western allows him to brush elbows with Christian Bale and Rosamund Pike.
The plot revolves around a cavalry commander tasked with returning a Cheyenne war chief and his family to their native homelands. DeJardin is the officer's team's newest member, and he spends the movie riding horses, preparing for ambushes, and looking fine in uniform.
9. Lady Bird (2017)
Kyle, the arrogant "artthrob" who romances Saoirse Ronan's character in Greta Gerwig's directorial debut, is the epitome of the early 2000s' rebel: a chain-smoking, tousled-haired bassist fascinated with conspiracy theories and the Iraq War.
Despite his cringe-inducing one-liners (Kyle's slogan is "hella tight"), Timothée Chalamet keeps the role from becoming clichéd by imbuing it with quiet intelligence and tenderness. While his romance with Lady Bird is brief, it provides some of the film's most amusing scenes and elevates the actor's image.
8. Hot Summer Nights (2017)
A lanky loner is sent out to Cape Cod to spend the summer with his aunt in Elijah Bynum's coming-of-age crime drama. Instead, he joins a nasty gang of hustlers and burnouts and assists them in expanding their drug-dealing operations.
A swirl of house parties and automobile chases ensues, but Timothée Chalamet adnd his acting holds the film together — a heady mix of silly charisma and fumbling sexiness that transforms him into an odd pin-up.
7. Miss Stevens (2016)
In Julia Hart's moving directorial debut, a disturbed high school teacher chaperones three students to a theatre competition. Following the film's premiere, Lily Rabe won SXSW's Best Actress award for her performance as the titular Miss Stevens, but Timothée Chalamet is the real revelation.
He plays Billy, the most brilliant of the three young performers, who is dealing with a slew of behavioral challenges and yearns for emotional connection. It's a moving performance that foreshadows a bright future.
6. Interstellar (2014)
A former NASA pilot (Matthew McConaughey) is recruited to journey to space in search of other livable planets in Christopher Nolan's sci-fi epic.
Timothée Chalamet plays his son, in a role that also provides him screen time alongside John Lithgow, an acting icon. The young actor spent months on set with the group, which featured Jessica Chastain, Anne Hathaway, Matt Damon, and Casey Affleck, while only being in front of the camera for ten days.
5. Homeland (2012)
Timothée Chalamet's first big break came in the second run of Homeland, where he played Finn, Vice President William Walden's son. He dates Nicholas Brody's daughter Dana, but their relationship falls apart after he is involved in a hit-and-run accident that leads to the death of a lady.
Finn meets a horrible end in the season finale, when he and his friends are killed by a vehicle bomb alongside his mother.
4. Beautiful Boy (2018)
David Sheff's work A Father's Journey Through His Son's Addiction is about a father's journey through his son's addiction. Nic, played by Timothée Chalamet, and David, played by Steve Carell, realise that the road to rehabilitation is rarely easy.
Timothée Chalamet's performance was both moving and mournful, earning him nods for BAFTA, Golden Globe, and SAG awards.
3. Little Women (2019)
Timothée Chalamet reunites alongside Greta Gerwig and Saoirse Ronan from Lady Bird in the latest adaptation of Louisa May Alcott's renowned classic. Laurie, Ronan's moody love interest who attends balls and sprints around the countryside in magnificent historical attire, is played by him.
The picture, which also stars Emma Watson and Meryl Streep, was released internationally in late December.
2. The King (2019)
Timothée Chalamet's role in David Michôd's Shakespearean epic entails a snarling British accent, a bowl cut, and battered armour. He is Hal, the reluctant monarch who, with the help of cunning courtiers and his devoted companion Falstaff (Joel Edgerton), leads England into conflict against France.
There's a lot of court intrigue, violent battle sequences, and a clash with the Dauphin (a nasty Robert Pattinson) in this film, which marks a bold change from Chalamet's past artsy roles.
1. Call Me By Your Name (2017)
Timothée Chalamet will always be Elio, the coltish kid who shimmies on the dancing beside Armie Hammer in Luca Guadagnino's sun-drenched romance, for many diehard fans. The role is the perfect showcase for Timothée Chalamet's various talents, since he speaks French and Italian, plays the piano and guitar, and dazzles everyone he meets.
It garnered him a SAG, BAFTA, Golden Globe, and Oscar nomination. Another big-screen adaptation could be on the way, as André Aciman is now working on a sequel to Call Me By Your Name called Find Me.
The Movie Culture Synopsis
Timothée Chalamet is perhaps most recognised in mainstream culture for being the finest thing to happen.  At 25 years old, he's had a significant impact on the Hollywood landscape. He had a few roles in big films (like 2014 hit Interstellar) before getting his big break in both Luca Guadagnino's Call Me By Your Name and Greta Gerwig's Lady Bird (arguably, the best year for coming-of-age films in Oscar moden history). 
Since then, he's collaborated with some of the industry's biggest stars, from Wes Anderson on the upcoming The French Dispatch to Greta Gerwig and Little Women's titular Little women, and his schedule is only getting busier