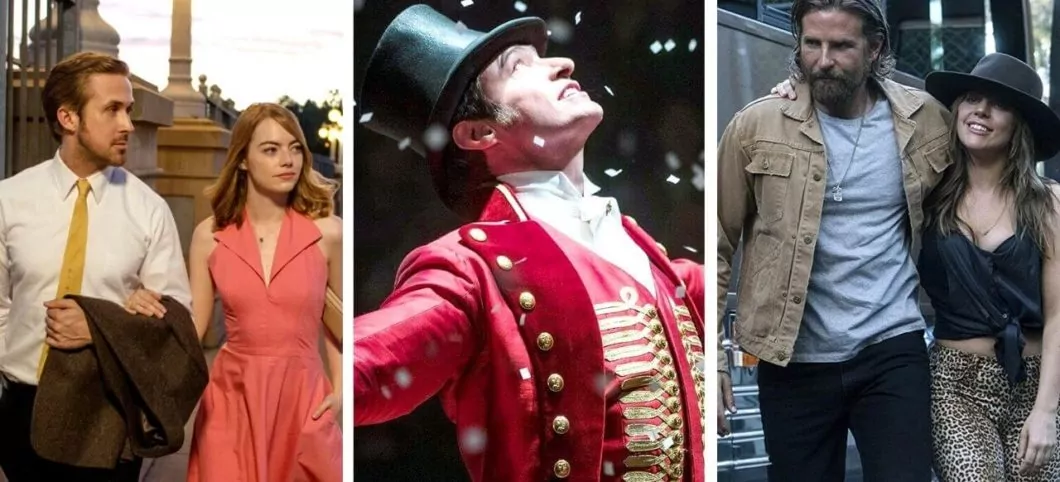 Musical films have long been a historical element of cinema, and have even experienced a revival in recent years, notably with the increased popularity of music biopics, stage-to-screen adaptations, and live-action films, since the introduction of sound technology in the 1920s. Musical movie lovers are used to dancing to incredible choreography and listening to fantastic songs, but this time there's a twist. The movies now focus around emotions that will break your heart and, of course, leave you yearning for more musicals.
This collection offers everything a musical enthusiast could want, from the most legendary musicals to undervalued treasures you may not have heard of.
10. The Greatest Showman
If you ask me, I'd have to say that this musical is my personal favourite. The execution is flawless, as are the performances. 'Never Enough' is still my favourite and most frequently played song. The Greatest Showman is a true work of art, based on the storey of P. T. Barnum's creation of the circus and the lives of its star attractions. The songs are appealing enough to let you overlook the numerous artistic liberties they take with Barnum's history. The movie has excellent synchronisation and a compelling plot. It conveys a powerful and healthy message to the world that everyone is beautiful in their own way, regardless of colour, structure, or other factors. I dare you not to cry when Keala Settle performs "This Is Me."
9. Whiplash
Whiplash is more about drumming and such, but the tunes were fantastic. Seriously, without any vocals, you may appreciate the sound of the drumming alone. It has a lot of appeal. The film is about a musician's passion for his instrument and giving it everything he has. It also relies around precision: how can you meticulously arrange your drums to your rhythm and groove along.
8. La La Land
"City of Stars, are you shining just for me," sure, who hasn't heard this song? This film is all about music and the love for it. The quality of the film, together with the appropriate use of music, is impressive. In golden-age Los Angeles, La La Land recounts the romantic romance of an aspiring actress (Emma Stone) and a jazz musician (Ryan Gosling). It's a breathtakingly gorgeous film that will take your breath away, especially with the fantastic soundtrack and moving ending. Personally, I did not like the ending, but it is what it is. We don't always get a happy ending, but it would have been fantastic if they had ended up together.
7. Begin Again
Did you guys like 'Once', if yes then you'll love this equally heartwarming film from the same director which follows a young singer (Keira Knightley) as she meets a record label executive (Mark Ruffalo). Its track "Lost Stars" (by Maroon 5's Adam Levine) even won the Oscar for Best Original Song. The two main protagonists, who are both emotionally troubled, use music to help each other. What could be more beautiful than that? And there are a few scenes that are truly spectacular. It's amazing to be able to walk about the city with your loved one while listening to your favourite tunes.
6. Cabaret
In this musical movie that launched Liza Minnelli's career, she takes centre stage (it swept up eight Oscars in its day). She plays a young American cabaret singer who gets caught up in a love triangle with a British academic and a German playboy at the Kit Kat Klub in Nazi-era Berlin. It leads to a classic love triangle and a whole slew of spectacular musical numbers. This isn't a typical musical. Part of its success stems from the fact that it defies the classic assumption that musicals must make you happy.  Liza proves indisputably that she is one of the greatest musical artists of all time in various musical numbers.
5. High School Musical
This was my go-to movie when I was in school. Oh my God, let me just stop myself from screaming my emotions all over again for  Zac Efron. You have no idea how many times I've re-watched the film, and each time I get the same excitement. This is a sweet high school romance which is perfectly brewed and is a lot of fun; I even enjoyed the sequel. The Disney musical recounts the journey of a popular jock who, much to his friends and family's dismay, discovers love and his voice. High School Musical was so well-received that it spawned two sequels along with a few spinoffs. And, yes, we must confess that we still know how to dance to "We're All in This Together".
4. Into The Woods
Into The Woods, based on the classic Broadway musical of the same name by Stephen Sondheim, combines the narratives of all of our favourite childhood fairy tales like Little Red Riding Hood, Jack and the Beanstalk, Rapunzel, Cinderella, and countless others into one huge magical bow. Meryl Streep, Emily Blunt, Chris Pine, Anna Kendrick, and James Corden are among the great stars who appear in this film. This beautifully shot musical brings the idea to life. The classic fairy tale genre is brought to life with creative innovation, an epic sense of adventure, and unforgettable performances from a genuinely remarkable cast.
3. Annie
The sun will come out tomorrow, and this renowned musical will remind you of that. This musical, set in 1933 during the Great Depression, follows the storey of Little Orphan Annie, a New York City orphan who is adopted by America's richest billionaire, Oliver Warbucks. You'll learn that you're never properly dressed without a smile. This rendition of the Wonderful World of Disney is quite pleasant. It is quick, sweet and accurate to the stage production. The musical passages are done in high style but they nevertheless feel spontaneous and unaffected, thanks to director Alan Marshall's excellent integration of music into the movie.
2. A Star Is Born
Bradley Cooper co-wrote and directed the fourth (and perhaps greatest) remake of the 1937 film, which stars none other than Lady Gaga. An alcoholic yet well-known musician (Cooper) falls in love with a young singer in this film (Gaga). This movie shows how Cooper helps Gaga achieve popularity and how the two fall madly in love. The songs are, without a doubt, the best part of this film. "Always Remember Us This Way" and "Shallow" are two of the most well-known songs in the world. These lyrics are memorised by any true musical enthusiast. Lady Gaga won her very first Oscar for her song "Shallow".
1. The Wizard Of Oz
The Wizard of Oz, arguably one of the most well-known musical films of all time, has lasted decades as a fascinating pop culture legacy as well as a great family film that has enthralled many generations with its beautiful journey and iconic tunes. It transported audiences to the technicolour land of Oz, complete with flying monkeys, witches, and a wizard. Judy Garland plays a lost girl who is escorted by a cast of characters including the Lion, the Scarecrow, and the Tin Man as she tries to find her way home.
The Movie Culture Synopsis
Musicals have a way of creeping into our rooms and getting us out from the couch thanks to their magical ability to turn every situation into an emotive ballad or catchy dance routine. Musicals are essentially a win-win situation for both music and film fans. In musicals, every raw element is depicted, with an emphasis on melodies.