DATE : 5TH OF NOVEMBER 2020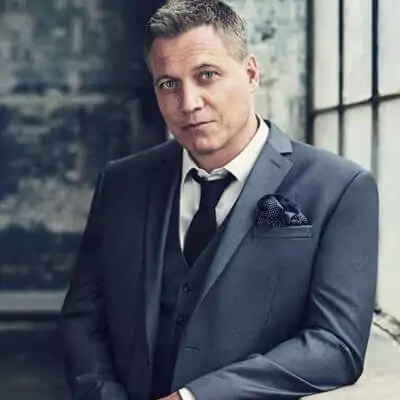 The Movie Culture would like to introduce a man very much in front of camera who we recently Interviewed with, it's none other than Holt McCallany who you recognize from Fight Club, Jack Reacher and more recently Mindhunter.
Some factual information on Holt McCallany will find you that, he starred in the Netflix series Mindhunter where he played Bill Tench, an FBI agent researching serial killers in the late 1970s.
He also has roles in three upcoming films: Nightmare Alley by Academy Award winning director Guillermo del Toro, Cash Truck by Guy Ritchie and The Ice Road by Jonathan Hensleigh. Holt has appeared in memorable supporting roles in movies like Fight Club, Three Kings, Alien III, and Men of Honor to name a few.
Greetings Mr. McCallany, we at The Movie Culture are thrilled to have you. We certainly hope that during times like these you and your family are doing well.
Q. To start this interview we have to ask you about Mindhunter Season 3, Do you want one? What was your experience like working on the brilliant two seasons?
Holt McCallany: It would be wonderful to do a third season but unfortunately I don't think it will happen. Nevertheless I'm grateful that we had two wonderful seasons.
Q. How did you find Bill Tench, given the research he did during the time depicted in Mindhunter is pretty mind boggling?
Holt McCallany: I based the character on a real FBI agent named Robert Ressler. He was the partner of John Douglas who wrote the book Mindhunter. He was in the Behavioral Science Unit, and coined the term "serial killer."
Q. You are currently working with Guillermo Del Toro on Nightmare Alley, could you tell us about the film a little bit? And the experience to work with Guillermo Del Toro?
Holt McCallany: Nightmare Alley is a remake of a film noir from 1947, a psychological thriller that stars Bradley Cooper as a corrupt con man. It's a very intriguing story and Guillermo's direction is brilliant.
Q. You have an incredible range as an actor, from what I can see on Mindhunter. As an Actor do you feel scared of being Typecasted?
Holt McCallany: There's an old saying in Hollywood "anatomy is destiny." I'm a leading man trapped in a bad guy's body.
Q. Elaborating on our previous question, how much of importance it is to distinguish your Filmography from one another?
Holt McCallany: Every actor's journey is different, but we all want to leave behind a filmography that includes memorable films with great actors and directors.
Q. You have worked with Tom Cruise on Jack Reacher Never Go Back where you play a mean bad guy. How was that experience like to play opposite To Cruise?
Holt McCallany: I treat every actor the same. Whether he's a movie star or a day player.
Q. You have worked continuously through the 90s and are currently doing fine. Is there a Change between the Hollywood of now to that of the 90s?
Holt McCallany: Yes. In the 90's there was a tremendous amount of independent cinema. Those films are more rare now, but we're in a golden age of television.
Q. You have studied theatre in your time. Do you still wish to do theater? Will you recommend to other young Actors?
Holt McCallany: Absolutely. Theater is good training for young actors, and for us older guys it's good for the soul.
Q. Speaking of Upcoming actors, in your days as an upcoming actor is there any actor who you looked up to as an idol? Was there a favourite movie which you saw and that made you fell in love with the artform?
Holt McCallany: My favorite film as a boy was A Clockwork Orange. And my favorite actor was Steve McQueen.
Q. You have a fantastic relationship with David Fincher, because not only you have worked with him on Mindhunter but you were a part of Alien 3 and Fight Club too. How much do you cherish your collaboration with him (keeping aside Alien 3)?
Holt McCallany: David Fincher is the best director in Hollywood. I'm very lucky that I get to work with him.
Q. Speaking of films and TV series which format satisfies you the most as an Actor?
Holt McCallany: Film and television are very different in one crucial respect — a film is only two hours or so — but a series can last for years. It can be very gratifying for an actor to examine a character in great detail as one can in a series, but it's important to choose a character and a story that inspire you.
Q. You had a cameo in Justice League Theatrical Cut, which is crazy. How did that happen?
Holt McCallany: It's a sad story. The original director Zack Snyder had a family tragedy and was replaced by Joss Whedon, who directed The Avengers. Joss wanted a new opening so he offered me the role of The Cluemaster, a cat burglar who has an antagonistic relationship with Batman. He wrote the scene in a comedic way and it was actually very funny. But the studio didn't like it so they recut it and took out the humor. I was so angry I took my name off the picture.
Q. The Movie Culture is situated in India and we being fans of your work, we'd like to know whether you are aware of Bollywood? If yes, is there an actor you admire or a film?
Holt McCallany: I like Irrfan Khan and a film called New York. I was born in New York and was there when the towers came down so that film resonated with me. But Mr. Kahn has been in many memorable films.
Q. We hope to see you in many movies and series to come ahead, but is there a Director working today with whom you'd like to work? Given you have already worked with David Fincher, Guillermo del Toro, David O'Russell, Guy Ritchie, William Friedkin, Lawrence Kasdan, Walter Hill, Clint Eastwood, Brian De Palma, and Michael Mann; who's your favorite?
Holt McCallany: My favorite will always be David Fincher. He gave me my start and it's from him I've learned the most.
Q. Mindhunter Ran for Two Seasons and that's a a couple of years working with the same group of people. Do you have any special bonds with the group of actors you have worked with?
Holt McCallany: I formed a close friendship with Jonathan Groff who plays my partner on the show. He's a very talented actor, on both film and stage.
Q. Do you have any future projects lined up which you'd like to share with us and your fans ?
Holt McCallany: Yes. I can be seen in the new Guy Ricthie film Cash Truck costarring with Jason Statham, of course Nightmare Alley with Bradley Cooper, and The Ice Road with Liam Neeson.
Q. Being a great actor such as yourself, is there a key advice which you give to actors and actresses trying to make it big? Given the vast competition in the media field, how does one cope with rejection, any words?
Holt McCallany: Believe in yourself. Talent will win in the end. With this I'd like to wrap up with the interview questions.
The Movie Culture would indeed like to thank Mr. McCallany for agreeing to this wonderful interview.
The Movie Culture Synopsis
We are so thankful that we got this opportunity and we can tell you how generous Holt McCallany even though he plays someone like Bill Tench on Mindhunter.His artistic preference over commercial is admirable as we noticed his answer on Justice league.
You can catch Holt's current role as Bill Tench on Mindhunter on Netflix while we wait for his next project to come out.