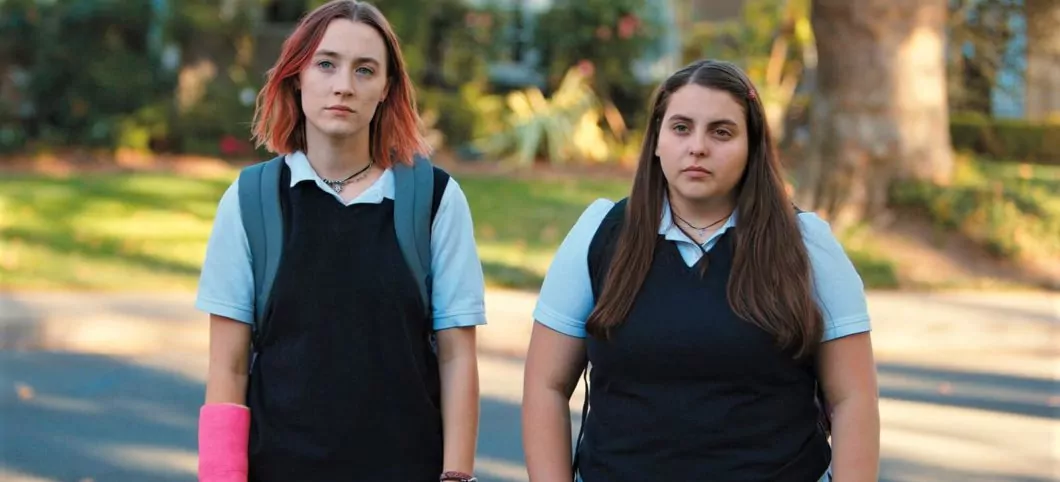 2017 was 4 years ago. Yes, let that sink in. It was the year, I had just entered high school and as the cliché goes, I was rebellious, or at least I was trying to be. High school does that to you. Makes you say "No" to everything. Makes you want to try new things even if they feel uncomfortable, foreign and sometimes isolating. It opens you up to a world of choices where the possibility of happiness feels bleak so you have to do everything to seize it. This experience that is more on the tip of my tongue than articulated here was exquisitely depicted in Lady Bird (2017). 
Lady Bird was released 4 years ago and was the directorial debut of Greta Gerwig. It is a high school coming of age movie of a fascinatingly confused girl who gave herself the name Lady Bird. Saoirse Ronan, the artsy queen of Hollywood plays the role of the pink-haired Lady Bird along with Beanie Feldstein as her best friend, Julie. 
If you are anything like me, you came upon this movie because of a certain beautiful boy, Timothee Chalamet. He played the supporting role of the mysterious and perfect haired high school senior named Kyle. Though his role in the movie was comparatively small, it gave rise to the cutest platonic friendship of Saoirse and Timothee. They went on to act together in 2 other movies, Little Women and The French Dispatch. 
Introspection of Lady Bird
It has been over 4 years since the movie was released and amidst everything we have witnessed over the years, one can agree that this movie is still great! It has lady bird's introspection as its main plot and its subplots include a parental feud, relationship with a closeted boy, losing virginity to a narcissistic bad boy and friendship troubles. A rite of passage is called the teenage. 
Describing the movie or even summarizing it feels like an injustice. Gerwig's art of storytelling is more about what one can see than the story itself. From Kyle reading the "People's History of the United States" to Lady Bird buying a PlayGirl magazine, the movie makes you want to savour its details for as long as possible. There is a touch of nostalgia in the film that is born out of Gerwig herself belonging to Sacramento where the movie is set.
It is an Oscar-nominated movie and like all her previous works, Gerwig's characters are detailed, have many layers and her dialogues make you want to whip out a notebook and scrawl down every word, every pause. There is a scene where Lady Bird's mother (Laurie Metcalf) was talking to her about her father sinking into a depression where she says "Money isn't life's report card. Being successful doesn't mean that you're happy." She replies "But he's not happy" meaning that even if money does not guarantee happiness, it is no bar to it either while her idea of her life will require money. 
As the summary of the movie will not exudate the brilliance and to note down every reason why it is fantastic will require at least one entire day, the perfect way to celebrate the movie is to see where are the cast and crew now! 
Saoirse Ronan  
Saoirse Ronan has been in the industry since she was a child. She has worked with Keira Knightley in the film Atonement and with Wes Anderson in The Grand Budapest Hotel. With over 40 movies to her credit, Ronan has worked in indie projects as well as large franchises such as The Hobbit. Since the release of Lady Bird back in 2017, she has worked with Greta in Little Women as Jo March alongside Timothee Chalament, Emma Watson, Florence Pugh, Meryl Streep and Laura Dern. The movie won an Academy Award as well as a Bafta and Saoirse was also nominated for Oscar Best Actress becoming the youngest ever to be nominated a total of 4 times for an Oscar. She has also been nominated for Academy Awards and Film Critics awards for her role in Lady Bird. In 2020 she starred with Kate Winslet in Ammonite which received a lot of praise in the critic's circle. Additionally, she also made an appearance in Anderson's The French Dispatch reuniting her with Chalamet. 
Timothée Chalamet
Timothee Chalamet, Hollywood's new reigning king has been rising in power since Call Me By Your Name first released in 2017. The same year he worked with Gerwig and brought Kyle into our lives. Since then his life has been packed with directors, producers and the world calling his name. After Lady Bird, Gerwig presented him with the opportunity of Laurie and Netflix gave him the role of Prince of Wales, Henry.
He worked with Robert Pattison on that and then with Steve Carell on the autobiographical Beautiful Boy. In 2021, he had a double blockbuster release of Dune and The French Dispatch. With Times naming him one of the leaders of the youth, Chalamet's career is on a slope that is only going up. Dune has got the green light for part 2 and he has started shooting for Wonka. 
Beanie Feldstein
The bubbly and loyal Julie was played by Beanie Feldstein. Though many critics commented her character to not having a life of her own, Beanie definitely has a thriving life of her own. After the success of the movie, Feldstein went on to star in movies like Booksmart and How to Build A Girl and has recently been cast in the first-ever revival of Funny Girl. She will be playing the role of Fanny Brice which was originally played by Barbra Streisand back in 1964. 
Greta Gerwig
The mastermind behind Lady Bird is an actor and a director. Greta has acted in several movies where she also often wrote dialogues and assisted in the making. Critic favourite, Frances Ha where she starred as a young New Yorker gave rise to her fame. She then went on to make cameo appearances in shows like Mindy Kaling's Mind Project.
After the wild success and acclaim for the movies she directed, she has been working on a movie named White Noise. On the completion of this project, she will be heading on to direct the highly anticipated live-action movie of Barbie which will be starring Margot Robbie and Ryan Gosling. 
The Movie Culture Synopsis
Other cast members of Lady Bird includes Laurie Metcalf, Lucas Hedges and Tracy Letts. Metcalf appeared as Sheldon's mother in The Big Bang Theory, while Hedges worked alongside Meryl Streep in Let Them All Talk (2020). The cast was as stellar as any other project Gerwig has worked on. 
Lady Bird was a movie not many saw coming but upon its release, it showed the world the power of good storytelling and also reimagined high school coming of age movies. It is a movie everyone should see at least once for its thought-provoking plots, nostalgic elements and the way it forces the audience to be involved at every second of the film. It has been 4 years and yet it feels both a century and a day since it was released.