Locke & Key is a 2020 American supernatural horror drama streaming television series developed by Carlton Cuse, Meredith Averill, and Aron Eli Coleite, based on the comic-book series of the same name by Joe Hill and Gabriel Rodríguez. Locke & Key premiered on Netflix on February 7, 2020.
Locke & Key series stars Darby Stanchfield, Connor Jessup, Emilia Jones, Jackson Robert Scott, Laysla De Oliveira, Petrice Jones, and Griffin Gluck.
In March 2020, Netflix announced that the series had been renewed for a second season.
Locke & Key Series Cast
Darby Stanchfield as Nina Locke, the matriarch of the Locke family
Connor Jessup as Tyler Locke, the eldest son of the Locke family.
Emilia Jones as Kinsey Locke, the middle child and only daughter of the Locke family.
Jackson Robert Scott as Bode Locke, the youngest son of the Locke family.
Petrice Jones as Scot Cavendish, a British student filmmaker at Matheson Academy, and a love interest of Kinsey's.
Laysla De Oliveira as Echo/Dodge,the "well lady" of Keyhouse, who is revealed to be a demonic entity.
Griffin Gluck as Gabe,a new student at Matheson Academy, and a love interest of Kinsey's.
Locke & Key Series Plot
After Rendell Locke is murdered at the hands of former student Sam Lesser, his wife Nina decides to move with her three children, Tyler, Kinsey, and Bode, from Seattle to Matheson, Massachusetts, and take residence in Rendell's family home, Keyhouse.
The children soon discover a number of mysterious keys throughout the house that can be used to unlock various doors in magical ways. They soon become aware, though, of a demonic entity that is also searching for the keys for its own malevolent purposes.
Locke & Key Series Review
Adapted from the famous comics series by Joe Hill with major differences. This new Netflix original series is about a family who moves in a family home the "Keyhouse" after Rendell Locke the father and husband, gets killed by his own student.
The keyhouse is a mysterious place with a lot of family secrets hidden in it. These keys are said to be really powerful and the kids one by one discover them and experience the magical things that happen. There is also a demonic entity that is looking for the keys for their own benefits and the kids try to face all this drama.
Locke & Key was originally developed as a television series by the Fox broadcast network during the 2010–11 television season by DreamWorks Television and 20th Century Fox Television with Josh Friedman writing the pilot script adaptation.
Alex Kurtzman and Bob Orci served as executive producers for the pilot, which starred Mark Pellegrino, Miranda Otto, Jesse McCartney, Sarah Bolger, Skylar Gaertner, and Nick Stahl.
The pilot was not given a series order by Fox, though it was screened at the 2011 San Diego Comic-Con. At the 2014 San Diego Comic-Con, a feature-film trilogy was announced through Universal Pictures with Kurtzman and Orci expected to serve as executive producers.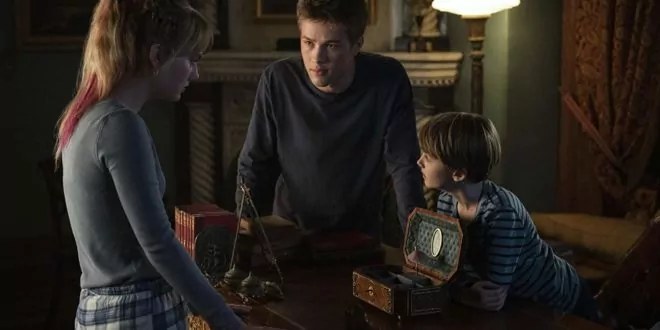 Locke & Key Series Episodes
"Welcome to Matheson"  by Michael Morris , Joe Hill and Aron Eli Coleite.
"Trapper / Keeper" by  Michael Morris and Liz Phang.
"Head Games" by Tim Southam and Meredith Averill.
"The Keepers of the Keys" by Tim Southam and Mackenzie Dohr.
"Family Tree"  by Mark Tonderai-Hodges and Andres Fischer-Centeno.
"The Black Door" by Mark Tonderai-Hodges, Brett Treacy & Dan Woodward.
"Dissection" by Dawn Wilkinson and Michael D. Fuller.
"Ray of F**king Sunshine" by   Dawn Wilkinson and Vanessa Rojas.
"Echoes" by Vincenzo Natali,    Meredith Averill & Liz Phang.
"Crown of Shadows" by Vincenzo Natali, Carlton Cuse & Meredith Averill.
Locke & Key Series Critical Reception
Locke & Key series received generally positive reviews from critics, with the score, set design, and visual effects being singled out as highlights of the series. Critics mainly praised the series' handling of themes relating to loss and trauma, as well as its use of horror genre elements, while criticizing the use of teen drama and romance subplots to drag out the story. The performances of Jackson Robert Scott and Laysla de Oliveira received particular praise.
USA Today claimed that the series was "nearly as strong a debut as Stranger Things was in 2016, but it [needed] a few tweaks to jump the hurdle between good and great." IGN credited the series for its portrayal of trauma and its visual effects, and praised the performances of Scott and de Oliveira, while criticizing it for not consistently building tension throughout.
Polygon gave a more negative review, criticizing the decision to make the television adaptation emphasize the coming-of-age story and fantasy elements of the series, while glossing over the horror elements and haunting visuals of the source material. In particular, its review criticized the uninteresting subplots and inconsistent pacing.
On the review aggregator website Rotten Tomatoes, the series has a 66% approval rating with 61 reviews, with an average rating of 6.58/10. The website's critical consensus reads, "Though Locke & Key at times struggles to strike a consistent tone, it captures enough of the essence of its source material to provide a fiendishly fun and sufficiently spooky time."
On Metacritic the series has a score of 62 out of 100 based on 19 critics, indicating "generally favorable reviews".
The Movie Culture Synopsis
Locke & Key is a 2020 drama/mystery that is good to binge watch with your family. On May 9, 2016, IDW Entertainment was reported to be developing a television-series adaptation of Locke & Key again.
The novel's writer, Joe Hill, was expected to write the production's pilot and serve as an executive producer. The project was being developed in association with Circle of Confusion with the intent of pitching the series to cable networks and streaming services.
Despite the fact Locke & Key series had yet received an order for a second season, writing for a potential second season began ahead of the series' first-season premiere.
Netflix renewed the series for a second season on March 30, 2020.  In December 2019, Netflix announced that the series would be released on February 7, 2020. On January 8, 2020, Netflix released an official trailer for the series.