Laurie Nunn's sex-positive and hilarious Season 3 of Sex Education returns with more drama, love triangles, and refreshingly honest and thought-provoking stories about the lives and desires of a group of British teenagers. By the end of last season, things had really heated up, so a Sex Education recap will help you get right into Season 3 when you tune in.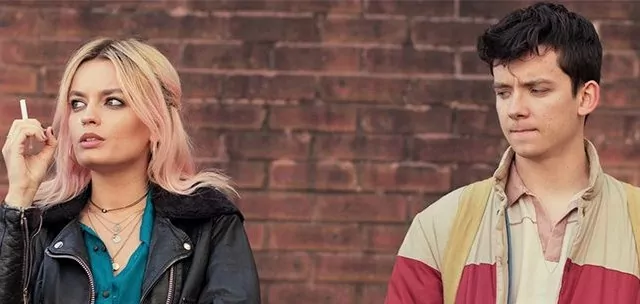 Sex Education Season 1 Recap & Breakdown
Otis, played by Asa Butterfield, was at the centre of the first season. Otis is a bit nerdy and socially awkward adolescent who is unable to mas*bate, thanks to his sex therapist mother Jean, played with delight by Gillian Anderson who is quite intrusive in her son's sexual life.
Maeve (Emma Mackey), Moordale's resident bad-girl and something of a social outcast, approaches Otis about opening a sex therapy clinic at the school due to a number of sex-related concerns that their classmates have had at the start of the season. Maeve would schedule appointments, and Otis will apply the knowledge he has gained as a result of his mother's career.
Otis accepts, and the sex clinic becomes popular and often successful throughout the course of the series, with Otis starts developing significant feelings for Maeve along the way. This becomes problematic when Jackson, the school's head boy and swim team captain, has sex with Maeve at a party and pursues a relationship with her, even seeking guidance from Otis on how to ask Maeve out. When Otis' attempt to discredit Jackson by suggesting he make a huge gesture backfires and Jackson and Maeve become a couple, he is left dumbstruck.
Meanwhile, Otis' best friend Eric, played by Ncuti Gatwa, has been chosen to join the swing band and enlists the help of Lily, another band member (who writes alien-themed erotica) to bring him up to speed at his place. Lily tries to have sex with Eric while she's there, unaware of the fact that he's gay. She subsequently asks Otis if he'd like to have sex with her, regardless of the fact that they're both virgins, which he initially declines.
Later, a humiliating photo of one of the sex clinic clients is circulated around the school against the client's wishes, and Otis and Maeve team up to track down the source. However, their investigation takes a long time, and Otis misses a trip to the movies with Eric to see Hedwig and the Angry Inch, which has become a yearly tradition for Eric's birthday. Eric is assaulted by two homophobes and has his wallet and phone taken after Otis fails to appear, and when he returns home, he has a large quarrel with Otis, reprimanding him for standing him up.
Otis eventually decides to accept Lily's prior offer, but their attempts at sex end in disaster, with Otis suffering from a panic attack. Ola, the daughter of his mother's handyman (and soon to be lover) Jakub, asks him out later. He says yes, unaware of the fact that Maeve had shown love for him.
Meanwhile, Eric responds to his attack by dressing more conservatively, and he is soon suspended from school when, in the midst of his growing isolation and fury, he lashes out at the swing band instructor.
Adam, the son of Mr. Groff, is another important character introduced in season one. He has a strained relationship with his father and is a school bully who targets Eric in particular. Adam unexpectedly wins an essay writing competition near the end of season one but, as English teacher Miss Sands rightly predicts, he did not write the essay in question, instead hiring Maeve to do it. Maeve's older brother Sean, who had been missing for some months, arrives around the same time.
Eric (dressed in full drag) and Otis make up after their prior falling out at the school dance, Maeve and Jackson argue after Jackson accurately assessed Maeve's feelings for Otis. Meanwhile, Adam engages his father in a physical confrontation.
There are a lot of resolutions in the last episode, but there are also a lot of twists. After taking the fall for drugs sold at the dance which were actually supplied by her brother, Maeve is expelled from school, and Jackson, after being rejected by Maeve, begins to skip swimming practise.
Meanwhile, Eric and Adam, who are also in detention, get into a violent battle with each other, which quickly turns into passionate sex as we learn that Adam has been suppressing homosexuality. Any prospect of a romance developing is put on hold when Adam's father sends him to military school.
Maeve goes to Otis' house towards the end of the series, only to be saddened when she sees him kissing Ola. Otis realises that he can finally mas*bate that evening.
Sex Education Season 2 Recap & Breakdown
Otis Milburn, Moordale High's resident virgin sex therapist, finally mas*bated in the season finale, but now he can't stop and continues getting unintentional erections. Otis pleasuring himself in his mother's car while she runs into the shop culminates in a montage of these occurrences in the shower, during an assembly, and while cycling home. As he winds down, his mother appears, and things get a little crazy.
In the midst of all of this, Otis begins to be concerned about his partner Ola finding out about his problem. However, when he finally informs her, she appears unconcerned and says they'll deal with it together. Awwwwwww…
But when Lily tells Ola about Maeve and Otis' connection, Ola feels intimidated.
Jean, Otis's professional sex therapist mother, has been dating with Jakob, her plumber-turned-lover who also happens to be Ola's father.
Otis, embarrassed by his masturbation/erection problem, runs out of Ola's room with his pants down and stumbles down the stairs, literally tripping onto Jean and a half-naked Jakob who are also making out. Otis is offended by Jean's relationship with Jakob.
Maeve, meanwhile, works at a small pretzel shop after being expelled from school for saying her brother's drugs were hers in order to keep him safe. She unexpectedly finds herself reunited with her estranged drug-addict mother and half-sister. Her mother is supposedly one year sober, working on Narcotics Anonymous step nine, and dating a nice man who has no idea Maeve and her brother exist. Maeve doesn't forgive her mom, and she and her mother part ways on bad terms. Maeve, on the other hand, is inspired by the encounter to leave her job, dye her hair black, and return to school to battle for re-enrollment.
She brings essays she wrote for other students to Headmaster Groff's office and threatens to expose the school for cheating. Ms. Sands ingeniously concocts a reason for Groff to re-admit Maeve in order to save face.
Without Maeve, Otis decides not to start their clinic (so called). The school, however, devolves into anarchy as a result of a chlamydia outbreak. Everyone wants Otis' assistance. He fights it at first, but when a student, Fiona, tells him that her classmates are unfairly accusing her of starting the spread, he caves in.
While attempting to break up the fight, Otis is struck out by one of the girls. Following the fight, Owen and Otis have a heart to heart about honesty, and Eric and Otis come to the conclusion that Maeve is needed.  Otis and Maeve then agree to resume the clinic together.
Otis conducts internet research on how to achieve digital penetration and discovers the "clock" method. Ola pretends to enjoy it when he uses it on her, but afterwards tells Lily that it was terrible. Otis receives this info from Lily.
Mr. Hendrix and Ms. Sands have sex. Sands wants Hendrix to say something dirty, but he fails miserably. Hendrix asks Otis' assistance during the fair. Otis advises him to develop a script. Even though Hendrix follows the advice, things still go wrong. He eventually figures it out, and the two have "dirty" makeup sex.
Meanwhile, Jean attempts to restructure the sex education programme with an assembly speech that she absolutely fails, humiliating both herself and Otis. Despite this, she persuades Groff to allow her observe Hendrix's sex education classes so she may learn more about the programme.
Maeve gets chosen to be a member of the quiz team. When she tells Otis about the news, he congratulates her then rushes away to find Ola. Maeve ultimately reveals that she still has feelings for Otis.
While Jackson is recovering, Groff sends him a tutor to help him improve his grades. Lily tosses him a flyer advertising auditions for Romeo and Juliet.
Adam is scolded for gun mismanagement when we first encounter him at military training. he subsequently receives assistance from two guys, who invite him to join them in the woods for a secret pot-smoking session. he walks in on the guys pleasuring each other. he swears he won't tell anyone, so the boys plant mar*ana on his bed and push adam out to keep their secret hidden.
Rahim sits next to Eric at an assembly, then rides the Ferris Wheel with him at the carnival. When the ride is over, Rahim exits, leaving Eric perplexed. Then, during sex education class, Rahim makes a hint at his sexuality by asking a question regarding gay sex.
Since Aimee stood up to the "Untouchables" for herself and Maeve, she no longer rides with them to school and must rely on the bus. It's Maeve's birthday that day, so Aimee bakes a cake and carries it precariously on the bus. However, she has a horrible encounter on the bus when a man mas*bates on her backside and gets his ej*late on her jeans. She cries when she gets home that night after finishing the report, and the next day she can't bring herself to go on the bus.
Rahim invites Eric out on a date for the first time. They go to an arcade and play a game similar to Dance Dance Revolution. Rahim is enamoured with Eric's ability. Eric is shocked and pleased when he kisses him.
Jean also gets an unexpected new client, Maureen Groff. Maureen confides in Jean, reluctantly, that her husband hasn't touched her in six years. Maureen tries to entice her husband with a seductive look that night, but he dismisses her. She withdraws, sobbing quietly.
After failing to talk to Adam about their pre-military school sexual experience, Eric is awoken by pebbles hurled at his window one night. It's Adam here. Outside, Eric meets him and accompanies him to a junkyard-like location where they spend the night breaking glass. They stroll home to Adam's residence as the sun rises and share a long, awkward goodbye before Eric is kissed by Adam. Rahim, on the other hand, asks Eric to be his boyfriend that morning at school.
Ola and Otis plan to have sex, but Otis had always fantasised about having sex with someone he loves, but he eventually decides that likeness is sufficient for sex. Maeve's mother arrives on the day of the quiz and asks her to babysit her sister, but Maeve is late for her quiz, so she asks Otis for assistance. However, the kid is misplaced while Otis is having a session. He then meets Maeve, and the two of them go out to find the kid. Maeve informs Otis of this, claiming that she is the one who messes everything up.
As Otis prepares to leave, she tells that she messed up with him, because she liked him and didn't tell him because she was afraid, and then he met Ola. Otis is absolutely taken aback and lashes out at her for waiting so long when he had always admired her and had only recently moved.
Otis receives a message from Maeve while ready to have sex, which Ola sees and offers him an ultimatum to either stop seeing Maeve or they will have to break up.
Remi, Otis' father, shows up at Jean's house suddenly. Although Otis isn't present, Jakob is. Jean, Remi, and Jakob eventually sit down to eat dinner together. Jean and Remi begin kissing, but Otis interrupts them. Later, Jean tells Jakob about kissing Remi, and he walks away silently. Remi takes Otis and Eric camping, but things go wrong.
Eric accepts to be Rahim's boyfriend and then ignores Adam when he shows up later that evening.
Ola has a dream about kissing Lily and is curious about her sexuality. She discovers that she is pansexual. Otis thinks that he should be with Ola and texts Maeve to tell her that they should stop hanging together, but he is disappointed to learn that Ola is splitting up with him, claiming that they are better off being friends.
Maeve has a handicapped neighbour, Isaac who lives with his brother. She had a good time with them. Otis is throwing a party at his house, but he hasn't invited Maeve, whereas Eric has. Isaac informed Maeve that he, too, wishes to attend the party, and the two of them attend together. Otis got drunk and began making comments about Maeve and Ola. Otis continues to party despite the fact that both females are profoundly offended. He pukes, dances, and eventually sleeping with Ruby the "Untouchable."
Otis' sex clinic is revealed by Malek, and Jean subsequently verifies it by discovering a wad of cash in Otis' room. Otis denies the sex clinic when Jean confronts him about it. When he lies, she claims he looks like his father.
While working on the task, Ola and Maeve argue. Aimee screams at them to stop fighting and then sobs. She informs everyone that she would be unable to board the bus due to the incident. She no longer feels safe in any of her surroundings.
Then the girls share their own stories; Olivia was groped at a train station, a man followed Ola home from work, guys in Maeve's neighborhood cat-called her when she was younger and an older woman blamed Maeve for it, a man flashed his private part to Viv in a public pool when she was a child and afterward, Viv's mother never took her back to the pool. They realize experiences with misogyny is something they all have in common.
Maeve and Ola apologise to each other for the Otis incident. The gang meets Aimee at the bus stop the next day to assist her overcome her fear.
Otis wakes up in Ruby's bed. They had sex, but it's unclear whether they used a condom. They make the decision to take the morning-after pill.
Jackson is picked up from school by his mums and sent to a counsellor. When they acquire a flat tyre, though, things go wrong. His mothers squabble while they try to mend it, and Jackson eventually suggests that they divorce.
Lily tells Ola to walk her home after the Bad Girls Club's smashing session. Lily explains to Ola that her intentions were for sweaty lads, not vanilla-scented chicks. Lily kisses Ola and Ola kisses Lily back.
Otis embarks on a public apologising tour. He sends Maeve a sincere note (more on this later). He apologises to Jakob, who compliments him on his character.
For the sake of her sister, Maeve informs social services about her mother. However, Erin unexpectedly appears during the tournament, catching Maeve off guard. Erin takes Maeve out to celebrate, but social services is waiting for them when they arrive home. She admits to slipping up with the drugs, but claims it isn't a big problem. Erin and her daughter are detained for investigation. Maeve is in a bad mood. She sobs and then walks over to Isaac's. He assures her that she made the correct decision and welcomes her in. She accepts, but then goes to the store to grab some goods.
Otis appears at that same moment. Isaac acts as if he hasn't seen Maeve at all. Otis requests that he inform Maeve of her voicemail. Isaac gives his promise, but then he takes Maeve's phone, which she had left behind, and listens to the message, which ends with Otis expressing he loves her, before deleting it. Ouch! Like seriously…
Adam sees Eric. They catch up and bond over a talk in which Eric learns Adam knows his instrument and may enjoy musicals, they laugh over the play flier (which Rahim notices and envies), and Adam admits how he damaged Eric all those years.
Later, during a discussion regarding Adam's father, Adam's mother states that if you love someone, you must tell them no matter what. He interrupts the play's conclusion to ask Eric to hold his hand on stage in front of everyone. Eric looks at Rahim with a guilty expression on his face, but he accepts. Eric presents Adam to his family after the show. Adam is content. Outside, Eric apologizes to Rahim. Eric is warned by Rahim that Adam might not be a good match for him.
The Movie Culture Synopsis
And there are a lot of interesting anecdotes in these last two seasons of sex education. Everyone should definitely watch the show because you will learn a lot. The show is available on Netflix to watch.