Shiva Baby is phenomenal in creating a character and putting her in one of the most unpredictable situations. It's revoltingly fun and fast paced, and it paves way for some really unique character moments, where I genuinely burst out loud, trying to comprehend the insanity of the event. 
Shiva Baby Movie Plot
Shiva Baby is based on a Teenager whose day takes a turn for the worst as her personal and sexual life collide in a funeral. She tries to dodge and move away from it but ends up being pulled in a gaping hole of awkwardness and heartbreaking self-realization. 
Shiva Baby Movie Cast
Rachel Sennott as Danielle
Molly Gordon as Maya
Danny Deferrari as Max
Polly Draper as Debbie
Fred Melamed as Joel
Shiva Baby Movie Review
Shiva Baby is an hour-long nightmare, in the best way possible. The entire situation which forms the narrative feels engaging and claustrophobic and the total credit goes to Rachel Sennott who plays the hell out of this clueless and fumbling young teenager.
The movie revolves around a situation which is weird yet urgent and, well, very weird. The entire movie takes place in an after-funeral called Shiva and it acutely plays off the ironies and the ignorance of people around us and the protagonist herself. It exposes us to a series of spontaneous and outrageous decisions which lead the protagonist on an endless spiral of oppressive treatment which keeps demanding her entire conscience while having her introspect about her own morals, goals and where she stands in a community which has high-reaching expectations of her.
Shiva Baby Movie: The Uniqueness of the Situation
Danielle (Played by Rachel Sennott) is a teenage student who is clueless about her life and her what she is going to become in the future. Her decisions don't involve a lot of logical thinking, and for most part, she does what she does to feel important for once. Self-worth is what she lacks in her life, whether she herself is aware of it or not. With the excuse of Babysitting, she bangs rich sugar daddies, and earns something for herself. She isn't necessarily in a financial constraint, yet she does it because she doesn't have anything else to do. One fine day, she goes to a Shiva and witnesses the most unusual two people crashing at the same place at the same time. Her sugar daddy and her past love interest collide in the same setting and Danielle has no idea how she is going to deal with this. She hesitates and stutters her way through the entire function, and during this she learns so much about the two which she was previously unaware about. Her hormonal imbalances and her feeling of emptiness collide into creating some of the most awkward, in your face situations in a movie. 
Shiva Baby knows its boundaries and its spirit, and it never tries to do too much at the same time. The camera is glued on Danielle the entire runtime and we follow her as she miserably struggles to get out of uncomfortable situations and people. Every now and the, a Jewish aunt would grab her, push her to the side and indulge in the most unusual conversations. If they start nagging her about her plans for major, they make sure that they keep doing that for the entirety of the conversation, doesn't matter whether Danielle is in the mood for it or not. I mean, she is never really in the mood for it. She pierces herself, drenches herself in coffee, kisses her girlfriend on a funeral and pretty much does everything which shouldn't normally take place. It's her inability to fight a situation and how she constantly keeps trapping herself more and more into it, which keeps Shiva Baby entertaining and fun throughout the runtime.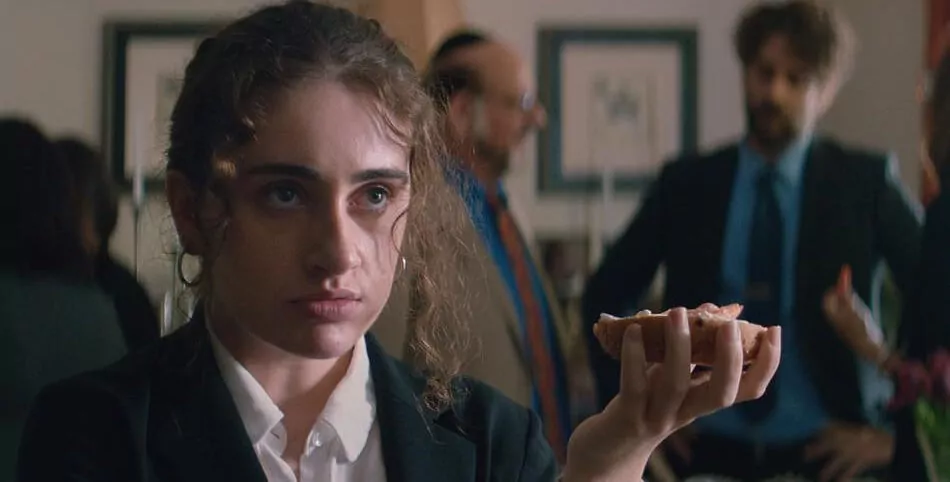 Shiva Baby Movie: The Technicality and the Performances Merge into Creating an Outrageous Comedy
There is a sense of unpredictability which naturally arises due to a concept which is so far fetched and unusual that no-one had ever imagined it would take place. It's a constant question of whether they will or won't find her awkward secret which kept me on the edge and rooting for her. Screenplay of Shiva Baby takes full advantage of a situation like this and doesn't hole back in panning the camera all over Danielle's face as she goes through these horrendous situations.
The eerie sound design which is ever so discomforting, the high pitched wails of the crying baby which snaps at her conscience by every second and the sheer reality of all of this happening at once creates so much tension and lunacy. While I would have liked the situations to have been a bit more subtle. Some convos I felt, didn't come off naturally and felt formulaic, written just to make her even more disoriented. But this was a flaw that I hardly noticed ever again and for most part, I was just hooked on to the constraining performance of Rachel Sennott.
Shiva Baby Movie: Rachel Sennott and Her Terrific Work
She is the game changer in Shiva Baby. Rachel plays a role which is clearly demanding and forces her to display such a wide range of emotions in such suddenness, but never was I caught off guard with her performance. She flows into every situation and turn by turn disintegrates into her final breakdown with her mother. Her arc in the movie opened a lot of philosophical windows, and presented a personality which needs some appreciation in her life. For so long, one has seen her friends and her relatives succeed, become entrepreneurs and elite in society, that she has long forgotten what it once meant to be needed. To be loved and to be cared for. It's her impulse which strikes, as she turns into a needy teenager, but deep down, she feels regret all the same. Her past love who won't text hits a certain ego inside her and chips her off her self respect, and the whole movie of Shiva Baby gradually works towards making her realize that.
Shiva Baby is a constraining drama, which will make you feel anxiety along with the protagonist. It's bizarre, unique and filled with dark humor to the absolute brim. More than that, it focuses on an unravelling and fleshes out so much depth in a defined setting. Danielle kept wishing to get out of this situation but I for one, always craved more. Does that make me sadist, I don't know. What I do know is that Shiva Baby is one of the best comedies to come out in 2021. 
Shiva Baby Movie Critical Reception
Shiva Baby stands at 97% on Rotten Tomatoes with the consensus being, "A ruefully funny calling card for debuting director Emma Seligman, Shiva Baby transcends its sitcom setup with strong performances and satisfying insights." Its Metascore is 79 with Generally favorable reviews based on 18 Critic Reviews. 
The Movie Culture Synopsis
Shiva Baby is a top tier comedy which is filled with anxiety inducing and ridiculously fun black humor sequences. The performances stand out, especially Rachel Sennott's. The shots are tight and add to the claustrophobic feeling of the film, but it has its light moments and ends up being a well packed cinematic which ushers uniqueness.