Written & Directed by Ben Falcone, Thunder Force is a 2021 Superhero-Comedy film, starring Melissa Mccarthy and Octavia Spencer in leading roles. Ben Falcone has directed films like Tammy, Life of the Party, The Boss, and Superintelligence. This also the 5th collaboration of Ben Falcone and Melissa McCarthy.
Thunder Force Movie Cast
Melissa Mccarthy as Lydia
Octavia Spencer as Emily Stanton
Taylor Mosby as Tracy
Jason Bateman as The Crab
Bobby Cannavale as The King Pom Klementieff
Ben Flacone as Kenny
Thunder Force Movie Plot
Lydia and Emily two childhood best friends unite to defeat a group of super-natural being called the Miscreants who cause a great amount of destruction and were also the reason due to which Emily lost her parents. Due to which Emily makes it her ultimate life goal to stop the Miscreants and bring them to justice and Lydia joins her best friend in accomplishing her objective.
Thunder Force Movie Review
An enormous pulse of interstellar Cosmic-Rays hits earth and its population in the March of 1983, causing a genetic alteration in some human beings and provides them incomprehensible power. But the superpowers were only unlocked in specific individuals who were genetically inclined to be sociopaths. The community of people or supernatural beings thus formed were denominated as the Miscreants. The Miscreants are infamous for their aggressive and destructive nature which causes mayhem among common people.
Emily Stanton (played by Octavia Spencer) is one of the two leads who lost her parents due to Miscreants. Her parents were working on a formula to fight these Miscreants and after their death, Emily's motive was to complete what her parents had started. During Emily's school days she met Lydia who is the other lead (played by Melissa McCarthy) who rescues Emily from some bullies in the school. Emily and Lydia become best friends until they drift apart due to their differences as Emily had a proper life goal and was studious and smart whereas Lydia was the complete opposite of what her best friend is. 
After the drifting of the two friends, the film cuts to the future where Emily is a successful scientist and Lydia is living an ordinary life. Later due to a school reunion, Lydia tries to get in touch with her childhood companion, and luckily she does. After Emily did not show up at the reunion Lydia goes to Emily's office and then they meet and after a series of accidents and sheer luck, Lydia becomes superhuman. Now after this it's the usual Superhero movie stuff, where both the friends convert into superheroes forming the Thunder Force, they have their own specific superpower and then they eventually stop the bad guys. 
Jason Bateman had a good arc and he did justice to the character in spite of his character being a lame Crab guy who is Half-Kreant , meaning he is half human and half crab. Now the reason why he became the half crab might attract you to an almost similar storyline of the film called "Spider-Man" because apparently a radioactive crab bites him when he was a normal human and he transforms into a Half-Kreant termed The Crab. A very creative name you might say. The main villain of the film 'The King' played by Bobby Cannavale was a good and entertaining character. To be honest this was the only character that you might find funny besides The Crab.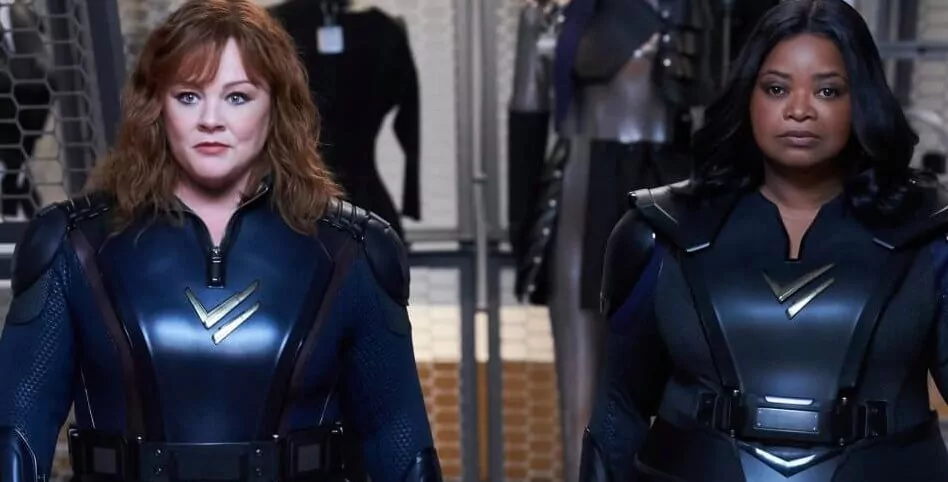 Thunder Force is the film that defines the "Netflix and Chill" term, as this is the movie, which you might just watch after a long day at work or maybe after a stressful day solely for entertainment purposes and to chill of course. The film won't make you think much as there is not much logic in it, it has a very generic plot and premise which can easily be understood and the story is completely predictable. Like the twists are not actually twists because we can see them coming from miles away. It was almost all the basic elements that we all have witnessed in all the superhero movies to date. Like the main lead goes to a science lab in this case to meet her friend, then accidentally goes to her main lab and obviously, there is 0 security in spite of the fact that there is a formula(which evidently was made after 5 years of hard work) and complete setup inside that lab to create a superhuman with supernatural powers, and the then she goes through all the machines and presses all the exact right buttons and stuff and then accidentally gets injected with the formula and now she is a Super-Human. 
Thunder Force as a SuperHero movie might be okayish as it does not bring anything new to the table yet it does qualify as the same old sci-fi movie. When it comes to comedy and to call this a comedy film, it is difficult. Because there is no clever comedy nor action-comedy. They have tried situational comedy in the film but even that was a bust. Like nothing will really make you laugh, other than as I mentioned above about Jason Bateman's The Crab and Bobby Cannavale's The King, but even they don't have that much screen time, as the main centers are on the lead. That being said Thunder Force might just entertain you as you won't even realize how quick the 1hr 47mins went. But yes you if you are a person who expects logic and reasoning in a film then Thunder Force is not for you.
The thing I liked about the film is that they have portrayed two Women SuperHeroes who are in their 40s or mid-40s which is really amazing. To see women in their mid-40s as superheroes on-screen is indeed a delight and credit goes to Melissa McCarthy and Octavia Spencer for portraying the characters in an entertaining way for most part. Also, a performance that stands out would be that of Taylor Mosby who plays Tracy the daughter of Emily Stanton.
Will Thunder Force Have a Sequel or Develop into a Movie Franchise?
Thunder Force ended with Lydia and Emily triumphing over The King. The King was not killed and was sent to jail, his right hand a Miscreant called Laser escaped and was at large by the end. Furthermore, Emily's daughter Tracy also transformed into a SuperHero with super speed, with the help of the formula that her mother developed. The Mayor asks the Thunder Force to officially go into an agreement with the Government thus giving them the authority, and thus onward officially permitting them to be the guardians of the city. 
For a sequel, The King can come back for revenge against the Thunder Force and Laser might help her boss to escape from the prison. By the time Thunder Force might build a team adding some more members. The film does have the potential as a Super Hero-Comedy but they will have to work on the comedy part a bit more. If successfully executed this could have a proper sequel or maybe even become a film franchise. Now this, we have to wait and see.
Thunder Force Movie Critical Reception
Thunder Force has a  25% on Rotten Tomatoes and a 4.2/10 rating on IMDb. The film has a Metascore of 34 based on 27 critic reviews on Metacritic.
The Movie Culture Synopsis
Overall the film was entertaining, but not logical enough and there is nothing new that one can witness. But the movie is entertaining for sure and you should definitely watch it you are looking for a light pop-corn movie with nothing much to think about and can watch it with your entire family.
Thunder Force is available on Netflix to watch.