The Big Bull falls mediocre to an extent where its only afloat due to the unabashed performance by Abhishek Bachchan. It keeps you engaged to some extent yet a certain depth which is essential in making a story of this calibre shine, is unfortunately missing. 
The Big Bull Movie Plot
The Big Bull revolves around Hemant Shah and his rise in the Indian Stock Market. It is a classic rags to riches story which is inspired by the true events of the Harshad Mehta Scam.
The Big Bull Movie Cast
Abhishek Bachchan as Hemant Shah
Nikita Dutta as Priya Patel Shah
Ileana D'Cruz as Meera Rao
Sohum Shah as Viren Shah
The Big Bull Movie Movie Review
The Big Bull works on a lot of levels and yet it is filled with some flaws which are hard to look by. Loosely inspired by the real events of the infamous Harshad Mehta scam, this Abhishek Bachchan Starrer functions in a fool proof manner which is devoid of innovation yet it succeeds in creating the emotional impact which is expected of a film of this calibre. The performances, especially Bachchan's, keep this Drama engaging yet the character progression and the rise in financial ranks feels way too rushed and fast paced which affects the overall pay-offs in The Big Bull. 
The Big Bull follows the story of Hemant Shah (Played by Abhishek Bachchan). Hemant Shah is a man of high goals and dreams yet his living situation constrain him into living this ordinary life. Then his life changes when he stumbles upon a tip and after thorough study on the company, he invests and obtains magical returns on it. This opens his world-view on stock and causes him to learn more about the workings of a stock market. His passion for money making defies everything else, so his means to obtain this money are a lot more different and nuanced than what people were doing back then. He believed in making his own tips and relying on information rather than rumours to decide his investments. So he began gathering this inside information and became one of the most sought out insider traders in India. 
The Big Bull Movie: From Rags to Riches 
The movie follows the classic rags to riches story and is based on Harshad Mehta's true story. In fact, one can easily spot numerous similarities in the tones, colour grading and the overall look and feel of the movie when compared with Scam 1992. The flashbacks are filmed in this orange hue which was dominant in Scam and the build-up, the interviews and the courtroom sequences felt more like rip off rather than inspiration. I am not sure what the filming schedule of The Big Bull and Scam 1992 was and whether these inspirations were intentional or not, but the tone of The Big Bull threw me off in a wrong way.
The character progression of Hemant Shah is sped up to fit in a 2-and-a-half-hour movie and we never really get to understand his family relations and the kind of man he was, before he became so notoriously successful in the industry. The plot feels like it's jumping from one event to another and in every 20 minutes, the entire settings, living conditions and circumstances change, without any prior development or indication. And I am not trying to portray a comparison between the two mediums this time for I know the story could have been perceived in much more nuance in a big screen medium.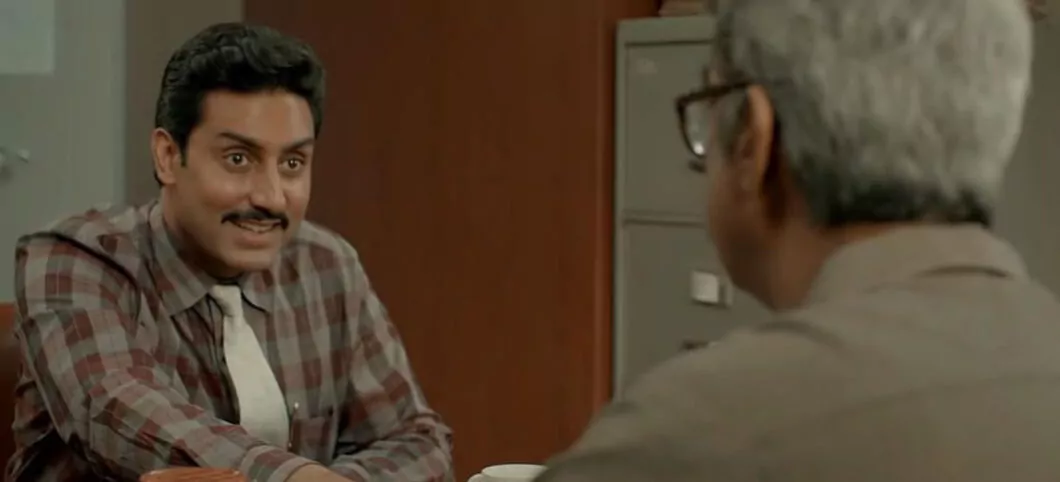 The Big Bull Movie: A Strong Performance, Clouded by Weak Progression
The performance by Abhishek Bachchan is what keeps this movie going further. And while the screenplay doesn't give him enough chances to reflect on his past and his present self, he somehow adapts to the entire changed setting of the scene and doesn't add to the problems of the movie. His egoist personality in the movie feels often brash but it still feels personal and impacting, especially in a movie which doesn't have anything else to root for. The other characters, even his brother Viren Shah (Played by Sohum Shah) don't hit the mark, considering how talented of an actor Sohum is. The rise and decline of Hemant, how so ever rushed it may seem, still feels believable and all credit goes to Abhishek Bachchan. 
The character of Meera Rao (Played by Ileana D'Cruz), who was inspired by Sucheta Dalal, feels like a pushover rather than a powerful journalist. The expressions and the personality of this character feels wimpy and inconsequential. Even the love interest of Hemant seems to have much more character than Meera and that is saying a lot, considering how impactful Sucheta's role was in bringing down Harshad Mehta. To like this movie means to ignore some very glaring flaws, yet I feel that some section of the audience out there will love it, whether it is for Bachchan or whether it is for their love for the Stock Market.
The Big Bull Movie: An easily consumable watch
The terminologies and workings are more upfront and easily explainable, which shows that The Big Bull had a larger mass to cater. From Bank Receipts to Insider Trading, there are many share market concepts present which will be easy to dive into when compared to a show like Scam 1992. This works as both, an Advantage and a Disadvantage for the film, as, to some level it takes away the depth of the situation, but it also becomes easily accessible for a larger audience. It will inspire you to look at the stock market and shares more closely as it is presented in a manner which can be effortlessly consumed. 
The Big Bull is just fine. It hardly gives a tough competition to a series like Scam 1992, and even after considering the kind of advantages Scam had in terms of runtime and character progression, The Big Bull still falls short in trying to adapt that story for the big screen effectively. Abhishek Bachchan gives all he has and evidently becomes the reason why people will tune into this. It will inspire you without going in too much depth, and if you are looking for a simple watch without having to keep track of everything, The Big Bull might just work for you.
The Movie Culture Synopsis
The Big Bull will give you a very inspired performance by Abhishek Bachchan but sadly, that's about the only thing that keeps it engaging for the hefty runtime. It has weird pacing issues and a lack of depth which can't be excused. But if you are looking for a simple 2-and-a-half-hour watch to provoke you into getting into Stock Market and Trading, The Big Bull might just meet your expectations. 
The Big Bull is availabke on Disney+ Hotstar to watch.