Sweet Girl is a 2021 action thriller film directed by Brian Andrew Mendoza and is his directorial debut. The film is written by Philip Eisner and Gregg Hurwitz. 
Sweet Girl Movie Cast
Jason Momoa as Ray Cooper
Isabela Merced as Rachel Cooper
Milena Rivero as young Rachel Cooper
Manuel Garcia-Rulfo as Amo Santos
Amy Brenneman as Diana Morgan
Adria Arjona as Amanda Cooper
Justin Bartha as Simon Keeley
Raza Jaffrey as Vinod Shah
Lex Scott Davis as FBI Agent Sarah Meeker
Michael Raymond-James as FBI Agent John Rothman
Dominic Fumusa as Sam Walker
Nelson Franklin as Martin Bennett
Brian Howe as Pete Micelli
Reggie Lee as Dr. Wu
Sweet Girl Movie Plot
The plot follows Ray Cooper whose wife is dying from cancer. A new medication that can save her life is pulled from the market even before its distribution and it is revealed that there is something fishy behind the scenes. Ray's wife dies because of no cure and he vows to seek revenge on everyone who "killed" his wife.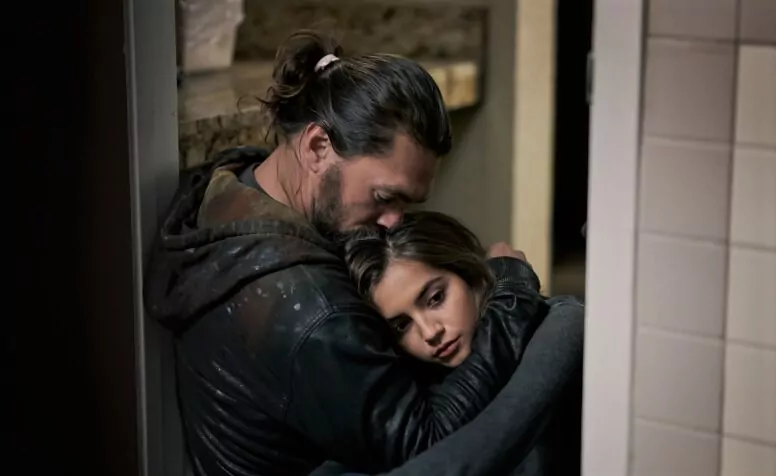 Sweet Girl Movie Review
Jason Momoa's Ray Cooper is the lead in the film who is trying to avenge his wife's death caused by the greediness of the big corporation and powerful people. The action-packed film does satisfy the itch for action with many fight scenes which does involve guns but is mainly hand to hand combat but still leave the urge of wanting more. 
The film might be full of action but lacks in every other aspect. The plot has nothing much to offer other than a basic story of revenge against powerful people by a common man as he takes them all one by one, at least that's what it seems like for most of the film until a big plot twist. The film is sloppy with its plot, it tries what it can but isn't the best that it can be and feels as if it was rushed and not polished. 
It felt like the film wants you to believe that the story is going on for a long time, with time jumps of 6 months and also a few years but it does not hit the mark. Even the main sequence of the film where all the major plot occurs also happens within a few days but it is rushed. 
The film has too many plot holes, even the development of the relationship between the FBI agent and Rachel is rushed, it just doesn't sit right. The FBI Agent Sarah Meeker played by Lex Scott Davis is just there to give some substance as she tries to develop a relationship with Rachel but it is out of place and rushed from the moment it was established. 
From the very beginning, when Ray's wife dies, it is obvious that he is set out to hunt everyone who did him or more like his wife wrong but has literally no planning. It is later revealed that it never was him but that is not what the film wants you to think in the first half. 
Sweet Girl is Disappointing even with a Surprising Plot Twist
The plot twist of the film is that it never was Ray who was hunting everyone down but it was Rachel, his daughter. Ray was killed in the encounter with the hitman Santos played by Manuel Garcia-Rulfo. In this incident, Rachel was hit in the head which led to her being traumatized and the realization of both her parents being dead caused her mental issues. The plot twist is the only unpredictable part of the film but introduces even more plot holes. 
The death of Ray and the events ahead occur a few years apart, Ray/Rachel tries to piece everything together in that time but we find out that she doesn't know anything other than the location of Simon Keeley, who she thought was the reason behind her parent's death. Which we find out that he isn't the one pulling the string, neither is Vinod Shah, the investor but Senator Diana Morgan is the main antagonist, which is predictable as the plot moves forward. So basically all that work for a few years just to find out nothing. 
The mental trauma that Rachel has was caused when she was hit in the head in the altercation with Santos and that leads her to believe that she is her father but the film makes the viewers believe that he is the one doing it all. After the reveal, other than the viewers, only Agent Meeker knows about this but we never know how did she find out? The first phone call between them might definitely be a confusing one for Agent Meeker but finding out that Rachel is mentally unstable and that she thinks that she is her father is just sheer guesswork from her side, which doesn't make sense for the audience.   
The confrontation between Rachel and Agent Meeker on the roof is where Rachel realizes who she is and sets out to kill Senator Diana Morgan. All this conspires in her killing the hitman Santos, extracting the confession from Diana Morgan about her bribes from BioPrime, sending the recording and revealing it all to Agent Meeker as she leaves in a plane and leaves the viewers with an ambiguous ending. 
The thing that is confusing to me is how did she board a plane and escaped from the cops and FBI when she is a suspect for Simon's murder and maybe many more murders or is she even a suspect anymore? As we do find out that Diana Morgan is charged for ordering a hit on Bennett and Ray but who was charged for the murder of Simon Keeley, the two assassins that were killed in the motel, Vinod Shah and Santos.
Sweet girl has only two aspects in the movie that are at all entertaining and convincing. One of them is the action sequences, mainly the hand to hand combat and the other thing is the performance by Jason Momoa as Ray Cooper and Isabella Merced as Rachel Cooper which is pretty appealing. 
Sweet Girl Movie Critical Reception
On Rotten Tomatoes, Sweet Girl has an approval rating of 19% based on 36 reviews. On Metacritic, the film scored 46 out of 100, based on 16 critics. 
The Movie Culture Synopsis
Sweet Girl is a movie where it tries to do some things but fails in achieving them. If you want to watch a movie filled with action then it is a movie for you but if you are expecting a good plot and a pleasing storyline then the movie is not for you. Other than that if you wanna watch it for Jason Momoa then it is somewhat fun to watch, if you are not expecting much from it. 
Sweet Girl is a Netflix film, released on 20th August 2020 and is available to watch on Netflix worldwide.