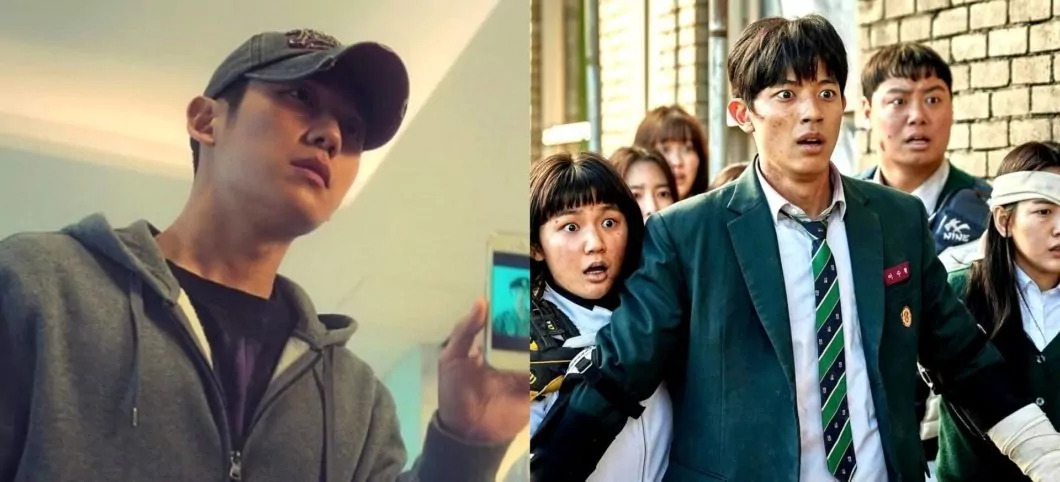 If you are into K-Dramas then you are most likely you have already watched one series that was once a webtoon. Web-based comics that are told in a continuous strip, webtoons are a uniquely Korean storytelling format that developed alongside the internet via platforms like the day I'm webtoon (also called kakao webtoon) and the Naver webtoon (known as just webtoon). They are sometimes also referred to as manhwas in Korean. As webtoons have been expanding globally due to works of talented artists/authors and their ever-increasing popularity it has become a major element of that ever cresting Hallyu. Let's look at some of the globally popular K-Dramas that you may or may not know are based on webtoons. 
1. All of Us Are Dead
High school can be hell,  but this becomes especially true at Hyosan high when it becomes ground zero for a zombie outbreak leaving kids to fight for themselves while trapped inside a building. This is the basic premise for Now at our school, the webtoon that was adapted by Netflix to create the famous highest-ranking K-Drama, All of Us Are Dead. The series was created by Joo Dong geun and released in 131 chapters from 2009 to 2011. An English language translation is available on the Webtoon app. 
Webtoon – Naver
Series – Netflix
2. Dr. Brain
Due to webtoons' prominence in Korean culture,  it is perhaps fitting that AppleTV's first Korean language series, Dr. Brain started out as one. Dr. Brain premiered in November 2021 as part of the streaming service's official launch in East Asia. The series was based on the popular Daum webtoon by Hongjacga that was wrapped up back in 2016. It is based on a Brain scientist trying to solve the mysterious death of his family by accessing the memories and consciousness of the dead. 
Webtoon – Kakao
Series – AppleTV+
3. Sweet Home
Before Squid Games was the big thing and top the Netflix US, Sweet Home had also made the list on its release. The apocalyptic horror show is about a high schooler who moves into an apartment building after the death of his parents, only to discover it is the home of a species of monsters set on world domination. It was the first Korean series to rank on Netflix US top ten. The webtoon source material was written by Carnby Kim and illustrated by Hwang Young chan,  and it ran for 140 chapters and prologue from 2017 to 2020. It also has English translations on Webtoon. 
Webtoon – Naver
Series – Netflix
4. Yumi's Cells
This K-Drama is a slice of life and rom-com about a normal office worker named Yumi (played by Kim Go eun of Goblin). It tells an ordinary story from the perspective of her body's cells, it is a K-Drama outlier in many ways. It is really funny and relatable to an average person and also something out of the box in terms of the use of cells in the plot. It will be a multi-season K-Drama due to having rich source material. 
Webtoon – Naver
Series – Viki
5. DP Dog Days
This is a webtoon adapted into a Netflix series earlier this year,  is about a team of Korean military police whose mission is to catch deserters,  and it is very much based on reality. It was written and illustrated by Kim Bo tong and released from 2015 to 2016. The plot follows Jun Ho who is a private in the military police, it also works to contextualize the pain and struggle of the young people who chose to desert. The live-action Netflix adaptation managed to spark a cultural conversation within Korea when it was released earlier this year. 
Webtoon – Lezhin (originally), Naver (now) 
Series – Netflix
6. Love Alarm
Love Alarm is a 2 season Netflix adaptation originally released on the streamer in 2019. The story is set in a world in which a mobile app can notify people when someone within the vicinity (specifically 10 metres) has romantic feelings for them. The Drama follows a group of high school kids, especially protagonist Kim Jojo in the immediate aftermath of the app's release. The webtoon by Chon Kye young is still ongoing even after seven years and 169 chapters.
Webtoon – Kakao
Series – Netflix
7. Nevertheless
This follows Yoo Na bi (My name's Han So hee) a university art student who hesitates to enter another relationship after discovering her boyfriend has cheated on her. However, things get complicated when she meets Park Jae yeon and the two immediately hit it off. A bumpier and perhaps more realistic depiction of dating in your 20s than the average K-Drama or Webtoon. It was made into a live-action Netflix series earlier this year. 
Webtoon – Naver
Series – Netflix
8. Itaewon Class
This was one of the most talked-about series in 2020 and for good reason. The series about a group of misfits who open a restaurant in the hip Itaewon district of Seoul has a little bit of everything: a monte Cristo like story structure,  a stellar ensemble,  and an original song from BTS's V. The Netflix series was adapted from a Kakao webtoon of the same name from Jo Gwang jin. It is one of the most famous webtoons on the platform and became one of the highest-rated dramas in Korean cable TV history. 
Webtoon – Kakao
Series – Netflix
9. Hellbound
It is a story about alternate earth in which people are dragged by supernatural creatures to hell. It is even scarier than Train to Busan which Hellbound created Yeon Sang ho made before this, and is sure to take the streamer by storm. This series was adapted from a 2019 webtoon,  which Yeon also actually wrote with illustrations by Choi Kyu seok. Hellbound, which was released on Netflix in November, was the third incarnation of the story. 
Webtoon – Naver
Series – Netflix
10. Rugal
Rugal can be found on streaming platforms like Netflix and it's amassed quite a viewership, despite its considerably low ratings. Before coming to life on a small screen it was a webtoon authored by rel.mae. Webtoon was created back in 2016 and was a hit. The sci-fi/action genre series followed a cop who was looking for revenge after his family was killed. To make things interesting he was approached by the NIS and equipped with biotechnology to make him superhuman. 
Webtoon – Naver
Series – Netflix
The Movie Culture Synopsis
If you are a fan of any other form of media pertaining to the Hallyu (Korean wave) then you should try out webtoons or manhwas as well. They have different genres and amazing stories to pick from. That potray creative stroytelling, amazing art styles and is not restrictive to any theme. But watching just their k-drama adaptations is fine too. Though you might be able to find more uniques stories in manhwas that are more fleshed out through the chapters and entertaining.