Cinderella (2021) is yet another adaptation of the classic, and it is directed by Kay Cannon.
Cinderella Movie Cast
Camila Cabello as Cinderella
Billy Porter as Fab-G
Nicholas Galitzine as Prince Robert
Idina Menzel as Vivian
Pierce Brosnan as King Rowan
Cinderella Movie Plot
Cinderella is an Aspiring Dressmaker who wants to start her own business and earn a livelihood and respect for herself, and when she falls for Prince Robert, her entire life takes a sparkling turn.
Cinderella Movie Review
The amount of adaptations Cinderella has had is a number I have lost count of. Live Action, Musical or both, Cinderella is a story which has been presented, time and time again, through a different creative direction. And to talk about Camila Cabello's Cinderella, well, let's just say it doesn't really wow me.
The expectations that I had when I first became aware about its existence, were met, but they weren't absurdly high to begin with. While a few songs work towards creating some sort of Magic and Mysticism, others come of as borderline cringe and dull.
That combined with some surprisingly ragged editing choices and cuts which just don't compliment each other, Cinderella is an amalgam of a lot of poor directions which end up wasting the talent it marketed itself upon.
I don't think I really need to explain the plot any more than it already has been. The whole premise takes off and there's a weird tonality which can be pinpointed from the very beginning.
We see Cinderella working in her dusty basement and with her are three little rats who, all things considered, are quite entertaining. Her egoist step mom and two bratty sisters are always getting in her way and end up disrupting her ultimate goal of becoming a self made businesswoman and cloth maker.
At the same time, Prince Robert (Played by Nicholas Galitzine) is looking for the love of his life, and to find the one, his father hosts a ball and invites all the women of the village. And Cinderella, with the prettiest dress that has ever graced the town, makes her way to the ball, with magic and perseverance guiding her.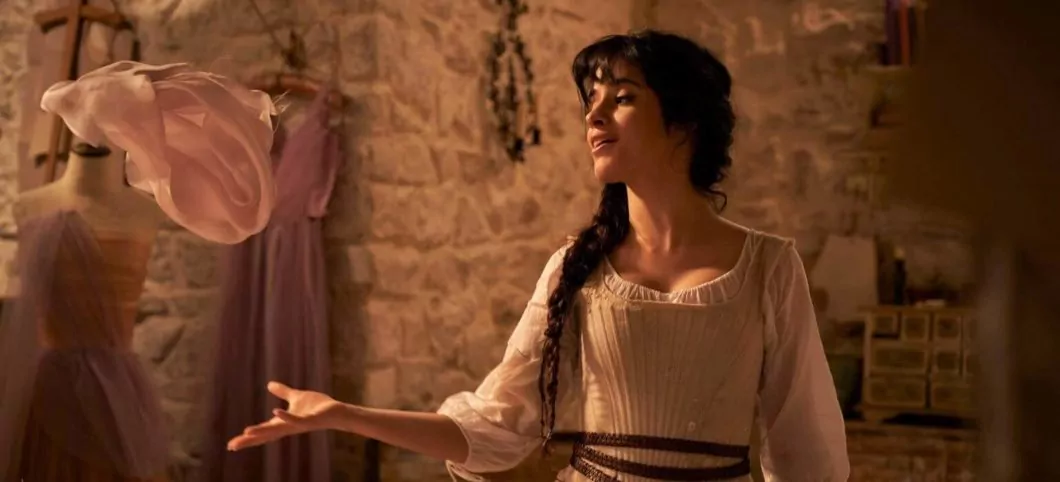 Cinderella Movie: Do We Really Need Another Cinderella Movie?
Now the production quality of this movie is fantastic, everything emanates a sense of childlike fantasy where glitters sparkle as Fab G (Played by Billy Porter) shows up and Cinderella dances with Prince Robert in one of the most exquisite and lavish balls ever. Its grand and awe inspiring, and its certainly what works towards the movie's advantage.
A surprisingly fitting rendition of Seven Nation Army is welcome. Idina Menzel's Vivian works really well and she her mildly innocent yet evil version of Step Mother felt fresh. She really had one of the better character progression arcs in the movie. The Songs kept the mood alive for most part, but in almost every single one, the weird editing which keeps cutting back to faces and wide shots gets increasingly annoying as the movie progresses.
All the actors seem like they are trying too hard while moving their lips in a way which should give the sense that they are somehow modulating the voice, but it more often than not came off as looking somewhat dumb. Cabello's Cinderella isn't the best among the many Cinderellas we have seen so far and even with all of the range and emotion she has on show, the sloppy jokes and the forced emotional arcs hardly work in her favour.
This movie headed off in a really intriguing and hopeful direction wherein it promised a self made Cinderella who has dreams and aspirations of her own, but how that alters the main story and renders it almost anti climactic and dull felt really off putting.
The introduction of Fab G in place of Fairy Godmother was a win though, watching Billy Porter as he acted out a revamped and a much more relevant Fairy was undeniably fun, but again, the amount of things that are genuinely fun in this yet another adaptation of a classic, are very low.
With this adaptation, I think it's high time we actually realize that milking a classic until it loses its original semblance and aura, isn't the best way to move forward. I would be surprised if people are actually interested in watching this, but then again, it has the "Camila Cabello star power" to it, and that's where the entire marketing of this movie is placing its bets towards.
Cinderella is a musical which promises magic and grandeur, and while it delivers both of those, the other massive flaws of the movie hardly make it inviting. Songs like Rhythm Nation and Million to One set the tone, but what Camila achieves in her music, she never fully does in her performance. From a lot of different standpoints, this film would be a hard pass, but some part of me believes that Cabello's fans would have a fairly good time with it, and that keeps me hopeful for its release.
The Movie Culture Synopsis
Cinderella isn't an adaptation which is going to immensely impress you, but its fresh take nonetheless which people might admire, all things considered.
There are some good songs to look forward to, but the forced humor and some mildly dull performances render this adaptation bland. Cinderella will be available on Amazon Prime Video to stream from the 3rd of September 2021.