Marvel has been blessing us all with so much content! It is almost overwhelming. While the world is still reeling from the shocks of Spider-Man: No Way Home, it is still ready to consume anything and everything Marvel sends their way. Recently, the trailer for Moon Knight was released; the series is set to release in March on Disney+. 
Oscar Isaac as Moon Knight
What we know till now is that Oscar Isaac will be playing the role of Marc Spector who is an ex-mercenary/superhero. He was revived after his death by the Ancient Egyptian god Khonshu. After being brought to life he faced several after-effects that included dissociative identity disorder.
Apart from the ex-mercenary/superhero personality, Spector is also a rich playboy named Steven Grant and a taxi driver named Jake Lockley. In the 1 minute 58 secs trailer (Marvel didn't even give us 2 minutes) there was more focus on Steven Grant who has now become a museum employee. 
Marc Spector's Brain to Brain Contact with God
The dissociative identity disorder results in him having blackouts and memories of another life. Enemies of both (Marc Spector and Steven Grant) start their hunt for them and so "they" are left navigating their own complexities while also solving the mystery of Egypt. For him comprehending the world, in general, is difficult because according to the comics, Marc Spector has a brain to brain contact with god. Fantasy builds itself around him and alters the way the world is seen, so much so that he also finds himself drowning in them. It caused him to believe that he was being treated in a brutal asylum. 
Unlike Phase 1 starter, WandaVision which was a sitcom, we already know this is going to be a psychological thriller. This genre will allow Marvel to explore the territories they haven't before. WandaVision was an experiment that people loved so making a heavily dark series for a completely new character is with the same hopes.
Ethan Hawke Makes His Way to the Marvel Cinematic Universe
Joining Oscar Isaac is reportedly May Calamawy, whose role in the series is not confirmed yet. We can expect her to be a prominent character because the Ramy star does a fantastic job as all her characters. Joining them as the antagonist of the movie, Arthur Harrow who from the look of it is going to be one heart-throbbing villain is Ethan Hawke.
About his character, all we know is that there will be a climactic battle scene that will have Ethan showing up curbside in a suit and leaving all of us weak in the knees. In his conversation with Seth Meyers, he revealed that he was approached by Oscar about the show in a coffee shop in Brooklyn. He also told that the inspiration behind his rendition of the villain will be the real-life cult leader, David Koresh. 
Unlike all other Marvel characters, Oscar Isaac as Moon Knight had a lot of media presence. Mad Gene Media, a production company founded by Oscar and his wife Elvira Lind has released multiple videos of him training for the role. The captions would be quotes from the comics. Till now what we have is an almost 2 minutes' trailer and videos of Isaac training. Life is good.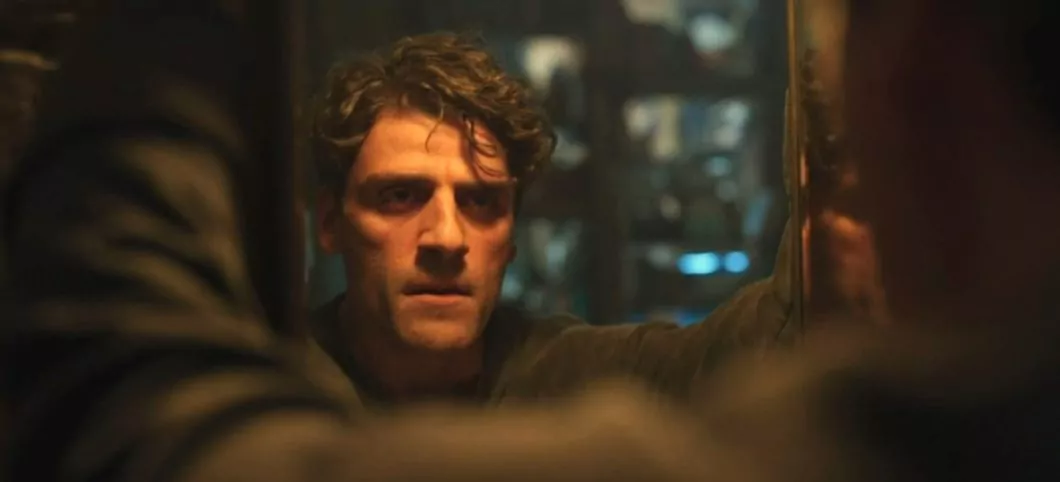 The Egyptian Writer-Director Behind the Making of Moon Knight
Another great decision of Marvel is to have Egyptian writer-director Mohamed Diab directing the series. The six episodes have a backdrop of Egyptian Iconography that would be presented best by a person of the heritage.
With all the accusations and criticisms that are flooding the entertainment industry today of culture appropriation, lack of representation and better diversity, with Marvel taking a step we can hope for a representation that is less forced than Eternals. 
Who is Khonshu, the Egyptian Moon God?
With his knowledge of Egypt, we can expect there to be a great character for Khonshu. The mysterious Egyptian moon god. From the comics, we know that he will be bestowing powers upon Steven. He will also be the one to help him confront his reality. These powers include super-strength on full moon nights, prophetic visions and dreams and also the curious power of draining a person of life energies by a simple touch. Moon Knight's costume resembles an Egyptian Mummy with bandages wrapped across and a dusty quality to it.
Khonshu explains that long back Egyptian Gods would roam the Earth amongst Egyptians and would toy with the humans. They were locked out of the world into their "Othervoid." After they learned how to still communicate from the humans in form of projecting their thoughts and possessing individuals, the gods would still visit Earth. Khonshu had thus possessed Marc to be able to cross the barriers. As divine as the entire thing sounds, it is suspicious. 
Was Avengers: Endgame an Origin Story for Moon Knight?
Now to the more speculation part. Avengers: Endgame could have been the origin story for Moon Knight. Based on the timeline of production that we have, Marvel had begun ideating the series back in 2008, giving them enough time to merge the two. An interesting and sometimes frustrating thing about Marvel is how everything is beautifully interconnected. Even movies that seem separate from the mess have been given the foundation to join the Marvel Mess, for example, Shang Chi has Wong who we know is going to play a major part in Doctor Strange: The Multiverse of Madness. 
In Avengers: Endgame, we saw half the living culture turn into dust. When they were returned five years later, we don't know if things remained unchanged. According to Doctor Strange, a sorcerer cannot use the Time Stone to see anything beyond death but in Avengers: Infinity War, Strange is seen looking beyond death and suggesting that the snap didn't kill anyone. Thus, if they didn't die then it is fair to say that when they turned to dust, their energy was stored in a different dimension. It is then possible to say that it would have exposed these energies to other dimensional figures like the Egyptian Gods. 
Although there has been no evidence of them yet, this isn't a problem with the notion because the Egyptian religion had just 2,000 deities, whereas Thanos alone snatched 3.5 billion humans. There's no reason why viewers should have seen them at all – until today. This idea would help place Marvel's Moon Knight Disney+ TV show in the MCU, clarifying how it ties into the MCU's larger narrative; after all, every MCU Disney+ TV series to date has in some way been inspired by the events of Avengers: Endgame. It would also make the release of Moon Knight appear timely, as it coincides with the big-screen premiere of Doctor Strange in the Multiverse of Madness, which promises to include other extradimensional invaders like as Shuma-Gorath (renamed Gargantos for the MCU).
The Movie Culture Synopsis
Marvel's Answer to The Batman
In conclusion, the series will have way too many twists and turns and also feature pretty cool gadgets like Mooncopter, crescent dart and the moon themed limousine. It was after all a reply to the fame Batman comics got when it was released. Starring Oscar Isaac, Moon Knight will release on March 30th.